Nick Dovgopolyy

Senior Partner
Manager

(+44) 20 3239 3504
Search engines don't have holidays though, so I recommend you to find some time between cocktails to work on your SEO.
Have a great month! 🙂



Let's talk about backlinks today!
So what are backlinks? Backlinks, also known as incoming links, inbound links, inlinks, and inward links, are incoming links to a website or web page.

Quality backlinks are crucial to SEO success. While with on-page content optimization it seems easier because everything is up to you to do and decide, with backlinks it looks like you have to rely on others to work for your success. Well, this is partially true because while backlinks are links that start on another site and point to yours, you can discuss with the Web master of the other site details like the anchor text, for example. Yes, it is not the same as administering your own sites – i.e. you do not have total control over backlinks – but still there are many aspects that can be negotiated.

So what YOU can do to get some backlinks to your site?
Look for dating directories and submit your site there. Use anchor text in links. Use the keywords you're targeting as anchor text. E.g. <a href="http://sitename.com/">dating site for people with disabilities
Submit your site to DMOZ.org
Look for the sites relevant to your dating site (e.g. vegetarian communities are good for placing your backlinks at if you're promoting vegetarian dating sites) and try to discuss with the site owners possibility of placing your backlinks on the sites. One of the practices to be avoided is link exchange. The principle is simple – you put a link to a site, they put a backlink to your site. Take care about the ratio between outbound and inbound links. If your outbound links are times your inbound, this is bad.
Create an account on http://gserp.com/, add your domain and keywords you're targeting to track the trends

The importance of switching on Ads
This month I want to remind you that switching on Ads is very important to raise your revenue. I've noticed a lot of you have switched this feature off, I recommend you to turn it on not to miss out good revenue possibilities. To do so please choose Ads from the main menu, Edit ads, select the level, select the type of banner, here you can either check DF banners or if you have your own ones check "My own banners" and add your code in the space below.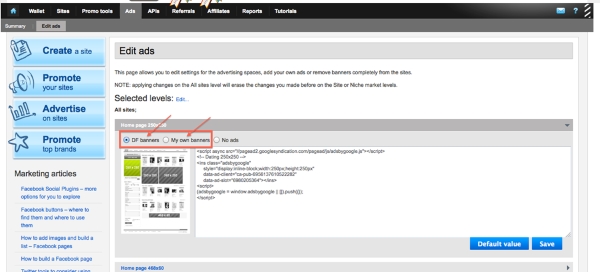 Discounts and free tickets
We offer you a special treatment for September shows:
iDate Cologne – click on the link below to get 50 Euros off the conference rate:
http://idate2014.com//discount-cologe-2014-50.php?id=DatingFactory

The European Summit – click on the link below to register for free
http://www.theeuropeansummit.com/en/registration-affiliate
If you have any questions or if you need any kind of assistance, please get in contact with me, I'm always happy to help!


August 1, 2014