The Festive season is just a couple of days away, and almost all the holiday preparations are finished. The Dating Factory team hopes to catch these last moments you are spending near your PC this year to wish you Merry Christmas and a Happy New Year!
This year was very successful for our platform as we have launched many new markets and created many opportunities for you to be able to make 2011 even more prosperous than 2010. We will not stop even over festive season, and while you are celebrating, we will be performing a major upgrade of our hardware to address the continuing growth of new and returning traffic.
This week we are also launching some new tools to help you communicate with your members and track your campaigns. Please read on to find out about the newest platform improvements.
Improved newsletter interface in your Dating Factory admin
Based on your requests we have now launched the new, enhanced interface where you can not only send newsletters to your members, but also send test ones to your own mailboxes, save them to drafts and use the previous newsletters as templates for your new email campaigns.
To do this, login to your partner admin interface and follow this route:
"Sites → Newsletter to members"
Choose your niche market, set user filters if needed, add subject and newsletter body (either plain text or HTML) – as you do usually. Now is when all the fun starts.
Click on the "Test email" tab and you will be able to choose additional parameters to test your newsletter prior to sending it out: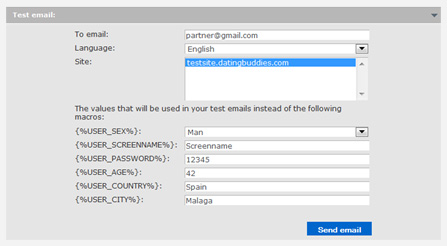 Enter the email address and language you want to test and choose the web-site you want your newsletter to come from (makes sense if you are sending one newsletter from multiple web-sites).
Then, if you are using any macros in your newsletter, put in the values you want to appear instead of them in your test email. The system will put these values into your test, but real users of the system will see their information instead. When ready, hit the "Send email" button, and check your mailbox.
If you are happy with its look, just check and send it out to your members. If not – keep working on it and testing your newsletter till you are certain it will appeal to your audience.
If you have some problems with the newsletter but don't have time to work on it right now, save it to drafts after checking the number of emails it will go to:

You can get back to the drafts you save any time in the "History of newsletters" tab and either keep working or submit your newsletter to moderation:

Make sure you use this new tool to wish your members a Merry Christmas and a Happy New Year, it will definitely add that personal touch and bring some extra conversions.
Add tracking codes to your affiliate and promotional campaigns
Good news for those of you who run affiliate campaigns and are promoting sites belonging to others on the Dating Factory platform. Now you can track the traffic you are sending to these sites by putting your own tracking codes on them. These tracking codes will in no way interfere with the tracking codes the site owner is using and will not appear for the traffic that is coming from any other campaigns or natural traffic on the sites.
Those who use our landing pages and promotional campaigns can benefit from this tool as well – add separate tracking codes to different campaigns now if you need!
To do this go to either "Affiliates → Campaigns" or "Sites → Promotional campaigns".
Then click "Edit" in the "Tracking codes" column, and add your own tracking codes…

…to registration attempts, registrations, sales, or even add your own Google analytics or similar codes to track your traffic better.
This improvement will help you target your affiliate and other promotional campaigns better and view traffic reports not only in Dating Factory admin but in any other third party interfaces you are using.
Merry Christmas from Dating Factory team!
We hope you will enjoy your festive break and Dating Factory team again wants to wish you a Merry Christmas and a very Happy New Year!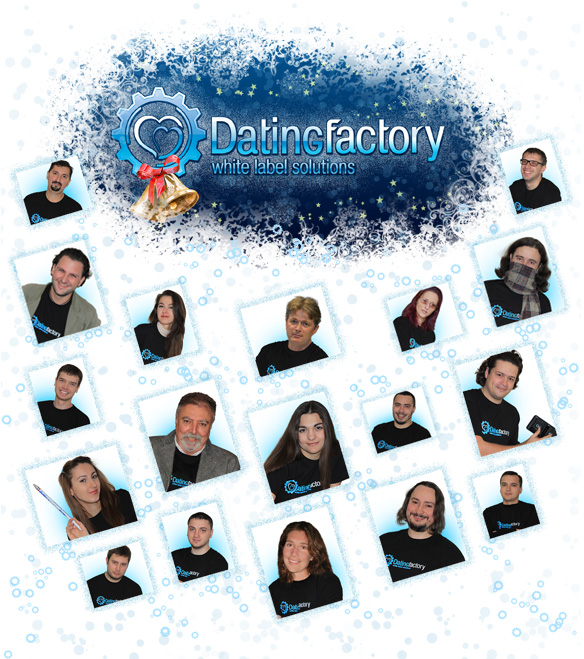 We promise to keep working on improving and growing the Dating Factory platform in 2011 at the quickest possible pace, and we will be back to you with more news straight after the New Year's celebration!
Meanwhile you can skip… 🙂
…making sure you stay up to date with the marketing and management news at our Blog:
https://datingfactory.com/blog/
…taking part in the discussion on the partner Forum:
https://datingfactory.com/forum/
…using your administration area tools to their full potential using our Tutorials:
https://admin.datingfactory.com/contact

…following us on Twitter: https://twitter.com/datingfactory

…joining our Facebook group: http://www.facebook.com/group.php?gid=172005894013


…joining our LinkedIn group: http://www.linkedin.com/groups?home=&gid=2416698&trk=anet_ug_hm
With the best wishes,
DatingFactory.com Team