This past weekend, I was fortunate to be able to represent Dating Factory at the first ever MUNDO Meet-Up held in the beautiful city of Barcelona. The Meet-Up was hosted by MUNDO Media and sponsored by media buyers and advertising network companies. The event took place May 24-26 at the Ayre Hotel Caspe Barcelona and offered a great opportunity to meet with some of the best and the brightest in the industry.
Friday night's welcome party, held in the Marmalade bar and restaurant, kicked off the event allowing all attendees the chance to begin networking while taking advantage of the free food and drink made available to us all night long.

On Saturday, we had back to back seminars accompanied by a delicious meal served at lunchtime to break up the morning and afternoon sessions. All of the panelists invited to speak were highly professional and experienced with a full and deep knowledge of media buying strategies, online advertising, tools, technologies, and traffic. I found all of the seminars extremely interesting and appreciated everyone sharing their own personal experiences running successful companies and giving out tips about current and future trends.
With work out of the way, we headed over to Dusk for beers, sangria, tapas, and to watch the Champion League Final.
Overall, the MUNDO Meet-Up was a great success, and I had a chance to meet with a number of Dating Factory affiliates. This included a very profitable meeting with BANG! Media Group where we discussed optimization of current sites and worked on developing new ideas to launch new ones. Here is a photo of me with Ivo and Nitin of BANG! Media Group following our meeting.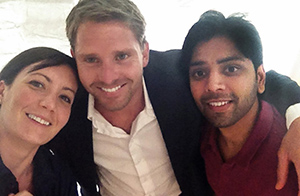 Though he did not attend the event, long time friend and partner of Dating Factory, Thomas Voullemier, lives in Barcelona and was good enough to meet with us during the evening events. It was priceless having him there! Thomas took the time to talk to potential partners about his experience being an affiliate and shared stories of his successful and long term business relationship with Dating Factory. This is Thomas and I meeting up for drinks at Dusk.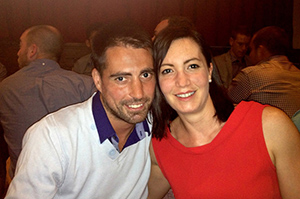 It was really nice to finally have been given the chance to put some faces to the voices and names I have become so familiar with, and to walk away with a number of new contacts I hope to connect with in the future. I would like to give a big thank you to Fraser, Moufid, and all the guys of Mundo who put together such a great event. It was a very handy and beneficial experience.
Cristiana Scolaro
Sales Manager