As one of the hottest summers in Europe is coming to an end, the autumn chill and the four major events for the online dating industry and online world in general are getting closer. Despite August being the quietest month for any business because of holidays people take, we are still reporting a steady growth in both the number of new partners and affiliates joining us a day and revenues being generated by you, our existing partners.
To celebrate this we are giving you even more options to promote sites on Dating Factory platform, expand your multilingual horizons and will be happy to meet up with you this September at any of the four major events taking place in Europe.
This September Dating Factory will participate in four major European events.
iDate Paris (15th to 18th of September): Of course being an industry leader in Europe we could not miss out on this event. Come and meet us in Paris, we will have English, Italian, German, French, Spanish and Russian speaking members of DatingFactory team there, so you can relax and speak in your native language to us.
Barcelona Summit (21st – 24th of September): Mark Harrison is invited to be a featured speaker there, do not miss out on the Q&A session.
AdTech London (21st – 22nd of September): Tanya Fathers will be attending AdTech in London, so if you are not going to the mainland Europe but would like to meet up in London, please let us know!
Amsterdam Webmaster Access event (24th – 26th of September): perfect event to meet other affiliates and webmasters, we will have Mark Harrison, George Carter and Lisa Moskotova there, feel free to come and ask any questions about what added value our system can give to your existing web-sites and projects you've planned for.
If you would like to schedule a meeting with us please email any of the people mentioned above or just let your account manager know – we are happy to meet our partners and affiliates in person and share our ideas as well as listen to yours!
As promised – your voting results!
Based on your votes our current logo has won by far. Please bear in mind that the voting took place on English, Italian and French versions of Dating Factory as well as some other sister sites, so here are the results: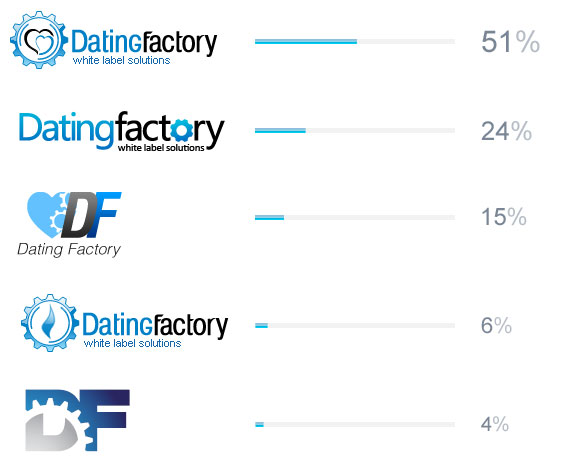 Thank you everyone who has taken time to vote, your opinion is really valuable to us! We will continue our poll in the next newsletter – watch out for it in early September.
Some more new templates for you to use
| | |
| --- | --- |
| Disabled dating | Professional dating |
| Casual dating | Casual dating |
| Lesbian adult dating | |
New dynamic promo tools in the affiliate network
As we promised you, we keep working on adding new promotional tools to our affiliate network to help you bring more traffic and generate more revenue from your marketing campaigns.
This time we have enabled pop-up IM style banners that will help you increase your impressions to clicks conversions dramatically.
To view the new tools you need to go to:
Affiliates → Campaigns (create new campaign if you don't have any yet)
And there choose to add promo tools to any existing campaign. When you are on the promo tools page you will find the list of them on the left. You are looking for the "IM Popups" in the "Dynamic banners" section.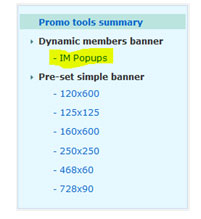 After you've selected the type of the tool you will see many settings you can choose for it: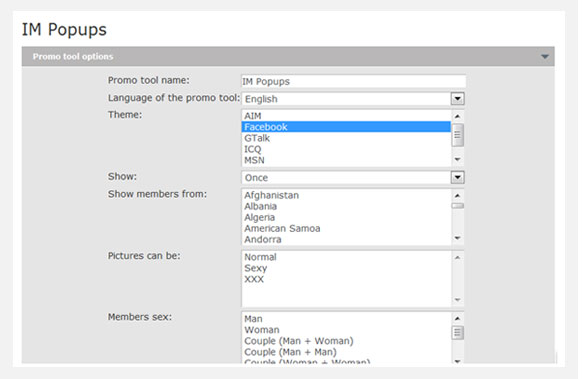 Put in the name for it to be able to remember what it's all about later, choose the language of your promo tool, theme. Then choose how many times you want it to appear while the viewer stays on your page if they do not click it when it appears.
You can also choose countries, sex, orientation, preferences, age group of the members who are shown on the banner.
You can select the maximum adult rating of pictures to appear on the banner for the adult site, choose to open it in the same or in the new window and even change the actual member location with the viewer location by IP address or remove the location altogether from the actual banner.

When you are ready with your banner, click Preview and if you are happy with the result, save the promo tool to get the code that you will be able to place on your site.
Remember that you can always adjust landing pages to fit to your promo tools and affiliate campaigns you run!
These are all the hot August news items. Not long to go till our next newsletter is out – watch out for our special autumn offer and September questionnaire to make sure you take full advantage of all the advanced features and amazing conversion rates Dating Factory offers.
This September you will be able to make 10% more money on your sites with Dating Factory! Stay tuned to learn how to do it!
Thank you for reading, and…
…make sure you stay up to date with the marketing and management news at our Blog:
https://datingfactory.com/blog/
…take part in the discussion on the partner Forum:
https://datingfactory.com/forum/
…use your administration area tools to their full potential using our Tutorials:
https://admin.datingfactory.com/contact

…follow us on Twitter:
https://twitter.com/datingfactory


…join our Facebook group:
http://www.facebook.com/group.php?gid=172005894013


…join our LinkedIn group:
http://www.linkedin.com/groups?home=&gid=2416698&trk=anet_ug_hm
With the best wishes,
DatingFactory.com Team