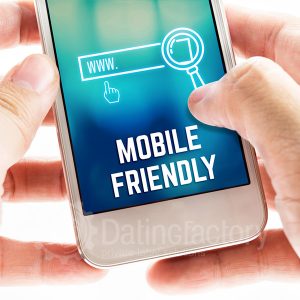 Our mobile platform has officially been improved!
Using a technique called responsive web design, datingfactory.com was updated to provide the users with a better experience while browsing through our website and pages via their mobile devices.
This new design layout will automatically adjust our pages and content to perfectly fit the screen of your smartphones or tablets, allowing you to easily maneuver through our pages and digest the content that's displayed across our websites.
In order to go mobile, we were obligated to:
Set the default for all landing pages on the desktop layout, so that responsive designs take over on mobile always (all of our templates were switched to responsive about two years ago)

Adjust the mobile CSS for the default view of all sites

Make changes to the most common emails sent to customers to make sure they were responsive and look good on the most common mobile email apps
Why The Sudden Changes?
Like many other digital businesses today, people visit our domain on-the-go via their smartphones. Google reported that there are more searches happening on mobile than on desktop. Hitwise confirmed that by examining hundreds of millions of queries across eleven different categories, they found that nearly 60 percent of the entire number of searches comes from mobile devices.
In addition to that, just a month ago, Google announced that they will be rolling out a new mobile-first index update. As the company explained on their blog, this means that the engine will start to calculate and organize the search listing according to the mobile versions of the content, even for the results which are being displayed to users who search the Web on their desktop devices.
The masterminds behind Google have certainly detected that the majority of entire web traffic now comes from mobile devices, so they are doing everything they can to acknowledge that fact and adjust their algorithm accordingly in order to better serve its majority of users.
Regardless of the fact that the people in charge of the world's most popular engine went on record and assured the public that the changes won't affect websites that already have responsive layouts, a lot of active SEO practitioners feel that this particular announcement has completely changed the game of digital marketing.
We at Dating Factory are changing as well.
What Happens Now?
In order to keep their positions in search for targeted keywords in the upcoming year, brands will need to make sure that the mobile versions of their sites are fully optimized, like their desktop ones. Maybe even more so, because the Google's staff wasn't really shy about explaining how the engine will calculate the rankings in the near future.
According to everything written above, in 2018 it will be of crucial importance to:
Update you mobile platform

. Having a mobile-friendly and responsive site is quite the same. Be sure to improve your design and make it responsive, so that you don't lose your hard-earned traffic and rankings over a silly mistake.



Create and optimize your content for mobile

. If you think about it, creating content specifically for mobile should be on top of your to-do list in 2018. Now that Google will start favoring mobile version of the site, you must focus on how your content will look on those devices. Do your best to refresh your current strategy; publish shorter sentences and thinner paragraphs on your future landing pages and blog posts. The same goes for images as well. Be sure to choose images that look good on both platforms and make it easy for the user to digest the messages via their favorite device.



Think about voice search

. Most mobile searchers rely heavily on voice search. Google says that

20 percent of mobile searches come from voice search

. The popularity of this particular way of searching the Web is continuously growing, especially among the younger audience. People formulate questions differently when making these kinds of queries, and expect succinct answers, making brevity your friend.
Now that we've covered top three changes related to mobile search webmasters will have to think about in 2018, it's time to discuss a few things regarding the switch in user behavior.
How do You Take Care of UX in the Mobile Era?
Desktop engagement has been pushed aside as a majority of users prefer surfing the web on-the-go. In the past, webmasters would have two separate websites – one for desktop and the other for mobile. As a matter of fact, some still do. However, having one responsive website implies easier maintenance and lower costs, as well as having all the analytics and reporting consolidated in one place. Most importantly, it provides a seamless user experience.
Although responsiveness is only a piece of the great puzzle called UX, it is rewarded with a steady flow of traffic to your site. This helps you retain site visitors as well as new traffic. As you know, in the affiliate world, it is crucial to make the most of every traffic source. This is why you cannot risk losing mobile traffic because of jumbled texts, poorly resized images or endless scrolls.
The most tangible benefits of ensuring your website is responsive revolves around great UX. Here are the top three ways mobile responsiveness affect UX:
Better site usability and easier navigation.

The time users spend on your page acts as a signal of relevance to Google. It's logical: the longer they stick around, the greater the chances they are genuinely interested in your content. No mobile visitor will stand poor navigation and badly displayed content on their device. Instead, they will bounce off your page and search for better content elsewhere.



Easier social sharing.

Being an affiliate, you need to focus on growing your audience. Social media is your powerful ally here, which is why you need to place social sharing buttons at the end of your content and make them functional. Giving the fact

users spend an average of 69 percent of their media time on their mobile devices

, a fair amount of social shares is generated from mobile platforms.

Faster page load.

Users won't forgive a snail-speed website. According to Soasta,

53 percent of mobile users will bounce off a page that takes longer than three seconds to load

. Three seconds isn't much, so the bar is set pretty high – but satisfying users should be your top priority. And remember, Google is all about what users need. This is why page loading speed is a relevant ranking factor. When you set mobile responsiveness properly and mind the design, page load time will follow.
This may sound a bit overwhelming, but as a webmaster you're obligated to keep in mind the changes in user behavior and adapt. Luckily, if you're looking to become a dating affiliate, Dating Factory has white label solutions that are preset and fully ready for launch!
As an international, white label dating solution provider that has a massive global database of users and helps people instantly set up their dating site, make money online, generate revenue and traffic, we at Dating Factory felt obligated switching to a system that will improve the performance of clientele and provide everyone who partners with a competitive edge in this cutthroat business.
Being a part of an affiliate world is all about measuring the pulse of your audience and keeping up with the trends, so you always stay at the top of your game. Today it's about switching to a mobile responsive site, tomorrow – who knows? Being agile is the key.