Another hot summer month has gone by, nevertheless Dating Factory platform keeps growing at 12% a month in revenues regardless of the general summer stagnation in the industry. Every day we welcome over 15 new partners to our system and activate more than 20 sites.

Our offices:

Switzerland
Caerus AG
Lauriedstrasse 1
CH-6300 Zug
Tel.: +41 56 634 2202

France
3 Clos Buisson
Meylan, Grenoble, France
38240
Tel.: +33 950235336

United Kingdom
25 Ives St., Knightsbridge, London SW3 2ND
Tel.: +44 7775 852973

Italy
Via Coriano 58, Int 78J
47900 Rimini (Rn)
Tel.: +44 7551331621
We work on improving our platform every day based on your input and our market research. Some very exciting new development are coming up in August, and here is the summary of what was done in the second part of July to improve your and your members' experience on the Dating Factory platform.
New Dating Factory b2b site design is launched!
The Dating Factory design team was busy creating a new more WEB 2.0 look for our main b2b web-site – www.datingfactory.com.
We have given it a completely new look and changed the structure. Now all the webmasters you refer will see clearly what Dating Factory has to offer and why we are different from the rest of the white label dating solutions on the market.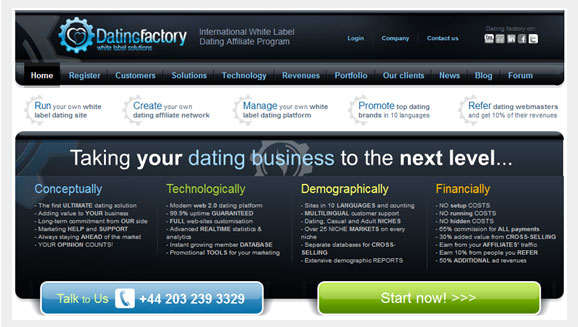 Dating Factory takes the dating business to the next level as nobody else is able to provide the ultimate white label dating and affiliate solution that has everything you need.
Now your referrals will be coming to the new site and the conversion rates will increase dramatically. So if you are not promoting the referral programme yet, it's time to start doing it now and to get someone else to earn you some money!
As a part of our site's re-design we want to update the logo of Dating Factory. And of course we need your advice!
We need you to tell us which logo you like the most so we could decide which one to use on the site and in our promotional campaigns. Please choose the one you prefer from the five options below:
Your opinion counts! We will tell you the results in our next newsletter – and of course will use the logo you like on the site and all our artwork for the exhibitions that are coming up this September. 🙂
Control adult pictures on your sites' outside pages
It is very important for your marketing campaigns, especially for PPC, to be able to control the pictures that appear on your sites' front pages. A couple of months ago we have given you the possibility to choose the country of the members who appear on your front page and other pages outside the logged in area. Now we've made one step further in helping you succeed in your advertising campaigns. We have added the possibility to filter out any XXX and Erotic pictures from your sites so search engines and any other networks where you advertise do not consider your sites to be of the adult nature.
How do you do this?
As always, go to the "Sites – Edit – Front page (advanced)" section of the admin panel.
Choose the "MembersNewMacro" there and click "Edit". Select the "Attributes" tab and you will see the following on your screen: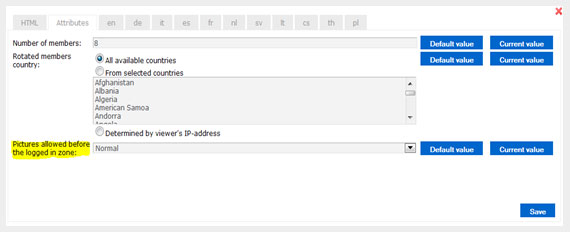 In the "Pictures allowed before the logged in zone" section choose the maximum adult rating of the pictures to appear:
Normal – only pictures with no nudity will show on the front page and other non-logged in member lists
Sexy – erotic pictures will be showing, topless women, but no below-the-waist nudity
XXX – all the pictures will be shown on the searches and inside pages, but not on the front page as it is not allowed even for the adult dating sites
Use "Normal" option if you want your campaigns not to be classified as Adult – this will help you get more traffic to your adult niches domains from your paid campaigns. If your traffic is of adult nature and from the adult resources we recommend sticking to the "Sexy" or "XXX" options to get good conversion rates from visitors to registrations.
New Help tools for you and your affiliates and referrals
We went one step further in educating our new partners about our platform! That is why you will see the new Help messages appear when you log in next time into your admin area.
These Help bubbles are designed to explain you more about the endless opportunities you have in the Dating Factory admin and show you what you can do with it: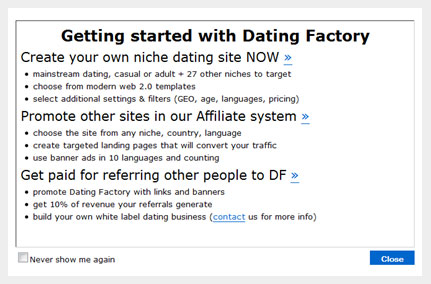 If you do not want these messages to appear again, just check the box "Never show me again" and close the window, and you will never see this particular message in your admin panel.
It is a really useful tool for every new partner who comes on board to help them get started with the Dating Factory platform. It also increases your chances of getting revenues from your referrals who register with us – now they get help not only from online Tutorials, Blog, Forum or their account managers, but also from this admin guide meaning they see what they can do on the Dating Factory platform straight away!
These are the most exciting news for the end of July, and we will keep you posted about the new developments and opportunities on our platform. August will bring us many great news developments – cross-selling, exhibition plans and new promo tools, so watch this space!
Thank you for reading, and…
…make sure you stay up to date with the marketing and management news at our Blog:
https://datingfactory.com/blog/
…take part in the discussion on the partner Forum:
https://datingfactory.com/forum/
…use your administration area tools to their full potential using our Tutorials:
https://admin.datingfactory.com/contact

…follow us on Twitter:
https://twitter.com/datingfactory


…join our Facebook group:
http://www.facebook.com/group.php?gid=172005894013


…join our LinkedIn group:
http://www.linkedin.com/groups?home=&gid=2416698&trk=anet_ug_hm
With the best wishes,
DatingFactory.com Team