This February has brought us many exciting developments, we are very pleased to share them with you in our regular newsletter.
Our offices:

Switzerland
Caerus AG
Lauriedstrasse 1
CH-6300 Zug
Tel.: +41 56 634 2202

France
3 Clos Buisson
Meylan, Grenoble, France
38240
Tel.: +33 950235336

United Kingdom
25 Ives St., Knightsbridge, London SW3 2ND
Tel.: +44 7775 852973

Italy
Via Coriano 58, Int 78J
47900 Rimini (Rn)
Tel.: +44 7551331621
iDate 2010 in Miami turned out to be a great event that brought us many new contacts. Some partners we met there have started sending traffic to the sites on Dating Factory platform already which means that many more new members are joining all the niche markets every day.
Read more about iDate at our Express updates.
As we already mentioned in our last newsletter our Affiliate program beta version is catching up with the well established FriendFinder and BeNaughty brands, so watch out for the first release in March this year. Meanwhile if you would like to participate in it with your web-sites please let your account manager know now as we are currently building the list of affiliate network participants.
Besides this here is what we were keeping ourselves busy with:
New BeNaughty web-sites are launched on the Dating Factory platform!
Easydate Ltd and Dating Factory partner to address new online dating markets in mainland Europe: Easydate owns one of the top ten UK dating brands www.BeNaughty.com, and with this partnership can now address the German, French, Spanish and Italian speaking markets using Dating Factory's white label dating platform.
We have already launched eight European versions of BeNaughty and will keep developing the new ones as we add new languages and markets to our platform.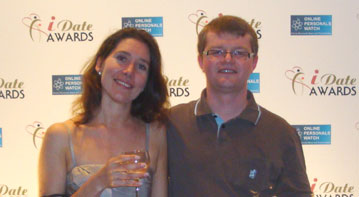 Tanya Fathers, CEO of Dating Factory and Max Polyakov,
CEO of EasyDate Ltd. at iDate Awards 2010
The European market is very attractive for the major brands because of the high conversion rates and high member value in these less competitive markets. Dating Factory provides the multilingual infrastructure and next generation white label dating technology. All our partners can use this to build highly competitive web-sites for different markets. As you already know, Dating Factory reporting tools are second to none which makes it so much easier to be successful.
Your Dating Factory sites are now available in Polish!
We are trying to add at least one new language to our system every month, so this month we are launching Polish language for your Dating Factory web-sites!
The Polish market is one of the most dynamically growing in Europe, and Polish is a great add on to our platform. Don't forget that it's not only Poland but also millions of Polish expats across Europe that you can target – so don't limit your web-sites to Poland only, otherwise you will lose out on a lot of traffic and potential revenue!
If you are from Poland or know this market well, please don't hesitate to contact us and advise on a new payment model or any other tweak that you think the sites need in order to enjoy the full potential of Polish dating!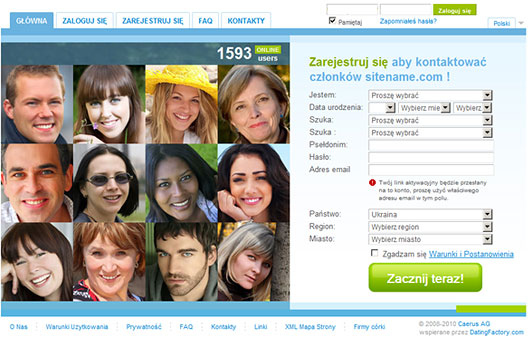 To add the Polish language to your web-sites just go to:
Sites → Edit → Initial Settings:
…and choose the languages you want to use on your site from the list.
We have Dutch and Portuguese languages as our next priorities, but if the language you would like to have on your site is not yet available or planned on our system, please contact your account manager and we will add it to our priority list.
Dynamic landing pages performance analysis.
We were talking about the dynamic landing pages launch in our last newsletter and we can see that many of you are using this tool on your web-sites.
We have conducted a case study on one of our test PPC campaigns – this showed us how dynamic keyword insertion tool affects the clicks to registration conversion rates, and we were really amazed with the results!
Of course we expected the keyword Quality score in AdWords campaigns to go up, that this would lower our Cost per click but the effect was really mind blowing.
We were sending the traffic from the Google AdWords campaign to the main index page of our web-site with the generic set of keywords:
Our results were as follows:
Average keyword Quality score – 6
Average CPC – EUR 0.23
Average Conversion (clicks to registrations) – 11.69%
Cost per conversion – EUR 1.77
Then we have created a landing page and used Dynamic keyword insertion macro instead of the general header, in one place ONLY (the macro insertion is highlighted in yellow):
And our results were now as follows:
Average keyword Quality score – 8
Average CPC – EUR 0.15
Average Conversion (clicks to registrations) – 22.68%
Cost per conversion – EUR 0.68
Please mind – we made no changes to the campaign itself! So if you are still not using this tool for your PPC campaigns, this should be your next step in optimizing your campaigns after you finish reading this newsletter!
Hey, are you still reading? 🙂
The full tutorial on how to use landing pages can be found here:
https://admin.datingfactory.com/tutorials/editsite/Landing_pages.pdf
New article from our marketing expert Tim Taylor from T3Active.co.uk is also available now at our Marketing blog: https://datingfactory.com/blog/marketing-blog/
As you will see there he also speaks about the dynamic landing pages and how you can benefit from them in your PPC campaigns
St. Valentine's offer success – 3 days Gold membership offer stays to remain!

As you know we were offering 3 days Trial Gold membership to all your web-sites' members to try the system out and decide whether they wanted to join for the Full Gold membership.
Based on the results of this offer we decided to try it for a longer period – till the end of this month – and if it continues to perform this well, 3 days Trial Gold membership has all the chances to become a standard subscription on your web-sites powered by Dating Factory.
We are always open to all your suggestions – please contact your dedicated account manager if you have questions or need more detail about the features we are adding or offers we run, and they will be happy to help you!
We will keep you posted on all the new developments happening at Dating Factory in our March newsletter, and meanwhile keep an eye on the news and updates on our web-site!
Thank you for reading!
Best wishes from
DatingFactory.com Team