November is coming to an end, and the Dating Factory team is happy to share its achievements for this month with you, our partners and affiliates.
We always are one step ahead of the competition by offering you 13 languages, 30+ high converting niches, international database that is growing at unprecedented rates, the most reliable software and the best reporting in the industry, banners and dynamic promo tools to promote your sites, and of course multilingual support team for you and your members.
We are sure that these are the reasons why Dating Factory is the only one nominated in four (!) categories at the iDate Awards among all the white label dating providers out there.
Meet us at iDate in Miami this January!
"Innovate, don't imitate" remains our motto and that's why we are proud to be nominated for the "Most innovative company" and the "Best new technology" awards this year! Here is the full list of nominations where you can cast your vote for Dating Factory: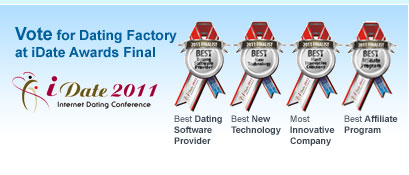 Voting has already started – don't forget to vote now – http://idate2011.com/vote-miami-2011.php
Dating Factory is again sponsoring the event, and our team will be happy to see you in Miami this coming January! As a sponsor we have a special link to share with you so you can get a discount for attending the event:
http://www.idate2011.com/spons-dating-factory.php
Be sure you register early and book your flights and hotel to save as much as you can. The discounted price is only available till November, 30th meaning that there is only one week left to decide!
Landing pages became even more customisable
As you already know we have new dynamic promotional campaigns available for your sites now. They include not just banners you can use to promote the sites but also the landing pages these banners should go to.
This works very well for two reasons. First – you can target every campaign (and even every banner in the campaign) to a different target audience and adjust landing pages to address the needs of this audience for better conversions. Second – you can track every campaign separately in your Reports, just view the rows by the campaign.
As you may have noticed, in the previous release the landing page the members landed on first time appeared instead of the front page of your site. Now you have the ability to choose the behaviour of your landing pages.
Go to the landing page editor in the Promotional campaigns section of the site editing interface in the admin: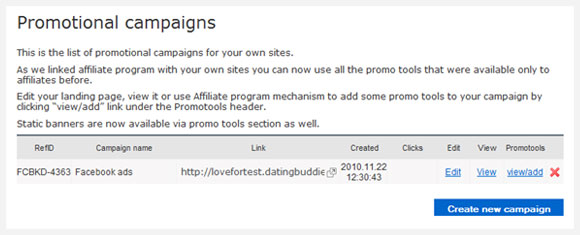 Click "Edit" and choose how you want landing page to behave:

This way you can determine whether you want your member to see the landing page always when they come to your site or if you want them all to come to the usual front page after they register for example.
Generally landing page tool allows you to adjust your site completely for different user groups, so if you haven't tried it yet, you absolutely must do in the nearest future!
New templates and a new niche on the Dating Factory platform
Here are some new templates we created for you this autumn:
| | | |
| --- | --- | --- |
| Disabled dating: | | Divorced dating: |
| | | |
| Nudist dating: | Casual dating: | Swingers: |
| | | |
Plus we are happy to announce a new niche we created together with one of our new partners – Derek Collinson, the owner of a great site for dog lovers – www.doglover.biz. Derek has come to us with his idea in August, and we have transferred his existing site with members to our platform, which required setting the new niche up.
We did not open it up for all the partners because we wanted to make sure we collect some database for it first. Now that we've seen the success and many new members joining ever day interested in dogs, we are happy to announce this great niche to our partner community. Available in all languages and with new great templates – give it a go and see for yourself!

Christmas is approaching quickly!
This week the Dating Factory team is preparing its platform for the rapidly approaching Christmas and New Year Holidays!
We will offer members various discounts, and will give you some great tools to give that special Christmas look and feel to your sites.
We will provide you with all the instructions for these at the beginning of December, but if you would like to opt out from the member offers on your sites, please contact your account manager ASAP.
That's all the news for today, but we will be back to you with something even more exciting in a couple of weeks! Thank you for reading, and…
…make sure you stay up to date with the marketing and management news at our Blog:
https://datingfactory.com/blog/
…take part in the discussion on the partner Forum:
https://datingfactory.com/forum/
…use your administration area tools to their full potential using our Tutorials:
https://admin.datingfactory.com/contact

…follow us on Twitter:
https://twitter.com/datingfactory


…join our Facebook group:
http://www.facebook.com/group.php?gid=172005894013


…join our LinkedIn group:
http://www.linkedin.com/groups?home=&gid=2416698&trk=anet_ug_hm
With the best wishes,
DatingFactory.com Team