Despite the nice weather and lots of sunshine it seems that people are becoming more and more interested in online dating. Dating Factory is having a record month so far in both traffic and sales with daily growth compared to the same days last month averaging at stunning 22%.
We attribute this success to the new partners who join every day and start promoting their sites to take advantage of the special 65% commission offer; to the partners who are with us for a long time but have given a new life to their marketing campaigns this spring, and of course to our brilliant marketing and development teams who are working every day on improving the platform and therefore conversion rates.
In our May newsletter we will share with you some improvements to the platform we've made and will also tell you more about some upcoming events where you will be able to meet the Dating Factory team.
Meet Dating Factory in Majorca this week!
Being a sponsor and active participant of all the major events for internet based businesses the Dating Factory team is happy to be the part of the Eurowebtainment show that is taking place this week in Majorca.
Dating Factory will be represented by the CEO Tanya Fathers and VP Sales Mark Harrison. Please come round our meeting space and we will be happy to chat with you about your sites, development and marketing opportunities, new business deals and plans for the future. And of course we are looking forward to having a lot of fun under the hot Spanish sun too!

May platform update report
As you may have seen in your administration interface this Thursday, May, 12 we were performing an important system and database update that may have affected the web-sites productivity for a short while. Our development team has been working between 2 and 3.30 a.m. GMT when the traffic to the system was at its minimum and therefore the chances of losing member payments were at their lowest.
We have updated the structure of our Oracle database that sped up the sites performance and have added the new servers to our hardware infrastructure making sure we cope with the new traffic you are sending to your sites as it has grown dramatically over the last couple of months.
The updates have been successful, and the system performance has improved as you can see by the growing number of sales this month. A big "thank you" goes to our development team members who are keeping an eye and improving the platform daily and nightly.
Cash Payments launch for the Latin American market
As Dating Factory's Latin American membership grows we are looking for ways of getting more and more people to use our services and pay not only with credit cards or text messages but do it in a way that they are used to and comfortable with.
Together with LatamBilling's payment solution we have introduced cash payments for Latin American users, and are now running the tests on the two high traffic Latin American sites on our platform.
Successful so far, this, solution means that more of your Latin American traffic will be able to convert into paying members bringing you a better ROI and more activity to the sites on this market.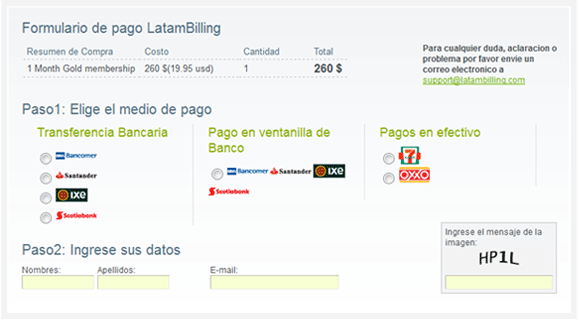 If you have traffic from Latin America and would like LatamBilling turned on for your sites before it is rolled out to the whole platform, please contact your account manager and it will be done in no time!
Free tickets for our partners to The European Summit in Prague in September
Dating Factory is also sponsoring The European Summit in Prague this September, and our team will be happy to meet you there, so start planning your journey!
The best news is though that as a Dating Factory partner or affiliate you will be able to attend the summit free of charge!
http://gfy.com/showthread.php?t=1011409&page=4
All you need to do is just register, book your plane tickets and the hotel early – the rooms are being sold at a very high speed. All the members of the executive team will be coming to Prague, so don't miss the chance to meet up and have a drink or two with us there.
This is all the major news for today, and we will be in touch with you early next month with some even more exciting developments we are working on right now. A quick note for our Spanish speaking partners – tutorials are now fully available in Spanish, so please feel free to review them if you run into any problems or need help with the sites!
Keep up the good work and also don't forget to…
…make sure you stay up to date with the marketing and management news at our Blog:
https://datingfactory.com/blog/
…take part in the discussion on the partner Forum:
https://datingfactory.com/forum/
…use your administration area tools to their full potential using our Tutorials:
https://admin.datingfactory.com/contact

…follow us on Twitter:
https://twitter.com/datingfactory


…join our Facebook group:
http://www.facebook.com/group.php?gid=172005894013


…join our LinkedIn group:
http://www.linkedin.com/groups?home=&gid=2416698&trk=anet_ug_hm
With the best wishes,
DatingFactory.com Team