September has been a very productive month for Dating Factory team and for you, our partners. We sponsored the iDate Internet Dating Conference in Paris, and also attended Barcelona Affiliate Summit and Webmaster Access event in Amsterdam.
We have also implemented many improvements in administration area, and keep working on it as well as working on the b2c web-sites. Don't panic when you open the Wallet section and find it divided into three parts, the money is still there! And now based on our increasing conversion rates we trust there will be more money in it than ever before. Please read on for our detailed report.
Our offices:

Switzerland
Caerus AG
Lauriedstrasse 1
CH-6300 Zug
Tel.: +41 56 634 2202

France
3 Clos Buisson
Meylan, Grenoble, France
38240
Tel.: +33 950235336

United Kingdom
25 Ives St., Knightsbridge, London SW3 2ND
Tel.: +44 7775 852973

Italy
Via Coriano 58, Int 78J
47900 Rimini (Rn)
Tel.: +44 7551331621
Paris iDate event was not a huge one, but we were happy to meet those of you who attended. It was also very productive for our continuing penetration into the French market. We met up with many French webmasters as well as our French Master Partners who are driving our French presence forward. During the months of August and September conversion rates on the French market have increased by 1.48% meaning that with the increased return on investment you will be getting even a better ROI from your French campaigns. It will be growing even faster going forward as we have the new arrangements in place.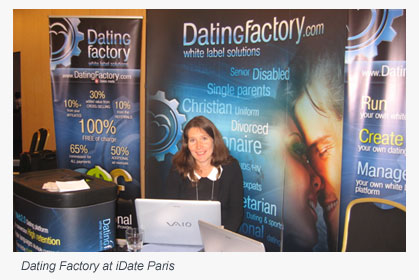 Mark Harrison, VP Sales, spoke at both Barcelona Affiliate summit and Webmaster Access in Amsterdam, and we enjoyed some wild parties that took place in Amsterdam. It was also great fun to meet our existing partners there and make many new connections that will help Dating Factory grow even faster.
We will definitely make sure we use all the experience and the expanded network of contacts to maximize your revenues on our platform.
Dating Factory offers its platform to members and affiliates of World Dating Partners
As you may already know, Dating Factory has partnered with World Dating Partners in order to provide WDP's partners with the newer and more technologically advanced platform to diversify their revenue streams.
CEO of Dating Factory Tanya Fathers says:
We are pleased to provide our technology to such a recognisable brand as World Dating Partners. Dating Factory is a next generation white label dating and affiliate network. We constantly stay ahead of the market by continuing to invest in innovation and our technology to deliver customers and partners the best possible experience as marketers or daters.
Chairman of World Dating Partners Peter Albinsson says:
Since taking over the company less than a year ago we have implemented many improvements and changes to the structure of the business. The latest step was to upgrade the platform to deliver a more scalable and customizable service for our members and better conversions to our partners. Working with Dating Factory was an easy decision after we had evaluated our options.
WDP partners will benefit from their multi-lingual service, extensive administration area with statistical and demographic information, highly customizable websites with a comprehensive set of promotional tools, their own affiliate and referral system and importantly shorter payment cycles.
Dating Factory brings to the table its top converting consumer dating sites, adult dating and casual dating websites. These categories are split into multiple targeted niches within the larger niche markets.
New promotional tools launched for affiliate network
As we progress we implement more and more of your requests, and one of the really hot topics were the member feeds. The main idea behind it is that partners now can use dynamic member pictures and some basic profile information to promote the sites in the Dating Factory affiliate network.
To access this feature you need to go to:
"Affiliates" – "Campaigns" (create one if you don't have any yet!)
Then click "View/Add" in the "Promo tools" column of the table:

Then you will have an option to choose:
1) The language
2) The block layout
3) The block colours
4) Header and text before and after the member block
5) Member characteristics (sex, orientation, looking for, age, country, region and city)
6) Location that is shown on the ad (actual or determined by viewer's IP)
And of course preview and safe promo tool: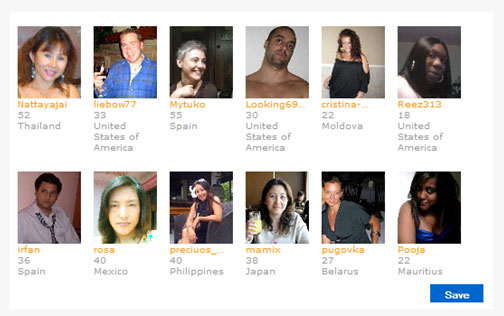 After saving the tool you will get the code that you can place anywhere – as simple as that! Next step we will be creating these dynamic promo tools for your OWN web-sites – so watch this space!
Two new languages launched – opening up Serbian and Croatian markets
We cannot say that it was planned this way, but it was our great pleasure to discover that Dating Factory platform is becoming more and more popular in former Yugoslavia republics. We are happy to see that we've got great partners out there who just wanted to add their native languages to our platform and did it within one week! Amazing, isn't it?
Now Dating Factory platform including the administration interface is available in Serbian and Croatian languages – so please feel free to promote your sites in these countries too! Also there are many expats living all over the world, so we cannot stress enough – the more languages your site has, the more potential to convert your trial members into paid ones!

As you know we were working on our system last weekend and asked you to put your advertising campaigns on hold. We are happy to announce that the improvements we made to the system considerably speeded up the web-sites and boosted system performance by 21%. We are now also seeing 23% increase in daily registration and overall 1.7% increase in absolute free-to-paid member conversion rate.
Thank you everyone who create and promote your sites with Dating Factory – we will keep improving partner and member experiences every week, and please tell us what you want to see on our platform, and we will try to put it into our schedule!
Thank you for reading, and…
…make sure you stay up to date with the marketing and management news at our Blog:
https://datingfactory.com/blog/
…take part in the discussion on the partner Forum:
https://datingfactory.com/forum/
…use your administration area tools to their full potential using our Tutorials:
https://admin.datingfactory.com/contact

…follow us on Twitter:
https://twitter.com/datingfactory


…join our Facebook group:
http://www.facebook.com/group.php?gid=172005894013


…join our LinkedIn group:
http://www.linkedin.com/groups?home=&gid=2416698&trk=anet_ug_hm
With the best wishes,
DatingFactory.com Team