After recovering from holiday season and trade shows the Dating Factory team has had a very productive October developing some really cool new features for you and improving some of the existing ones.
Whether we were successful at it or not is of course for you to judge, so let us show you what we've done, and as always – we value and need your feedback!
New simplified Promo tools are now live
After receiving a lot of requests for this, we have re-designed the promo tools interface to make them as simple and intuitive as possible.
Now promo tools for the site owners are separated out and very simple to create: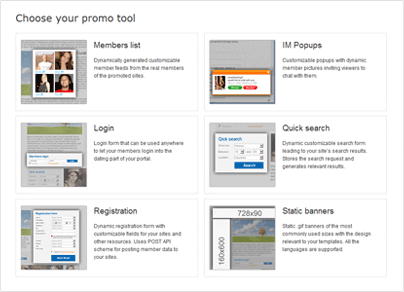 No need to create a promotional campaign any more as promo tools can be now created for the site itself as well.
Specify simple settings, just don't bother with the advanced ones if you don't really want to filter too precisely. Then preview and save your promo tool to get the code and place it anywhere you'd like to.
You will also enjoy a new simplified summary page where you can go back to the promo tools you've already created or add new ones to your sites and campaigns:

We hope you'll enjoy the new interface and next time we will be adding some more dynamic promo tools for you to use in your marketing campaigns.
Payment reserve explained and new payout invoices
We were getting many questions from you about how your payouts are calculated and why the payout amount was never the same as the balance on the account. To resolve this problem we have added the "Reserved" amount to the account summary that shows how much money is not available for the payout yet:

You can see the detailed report with payment dates and the possible payout dates by clicking on the figure next to the new field or by going to the Wallet section of your admin: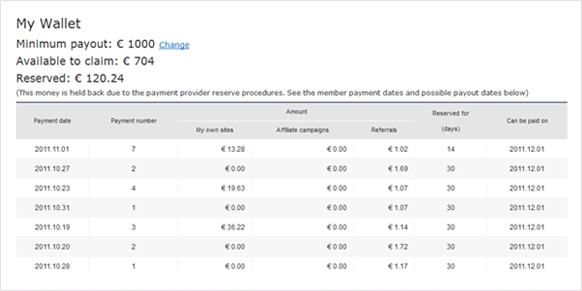 Remember that you set your minimum payout yourself. So if you want to get paid sooner and have money available to claim, just change the minimum payout amount in your Payout options.
Also make sure you enter all the payment data in the Payout options interface so we can prepare your payout invoices and pay your commissions in time! You can download your invoices in the Payments section of your Wallet:

GEO communication restriction is available
We've got good news for those who want to have the sites fully dedicated to a specific geographic area.
When choosing geo filters before your members could still theoretically be contacted by people from other countries on the international sites. Now you have the ability to change this.
Just go to your site's Initial settings section and select "Yes" next to the Restrict communication option that appeared this week: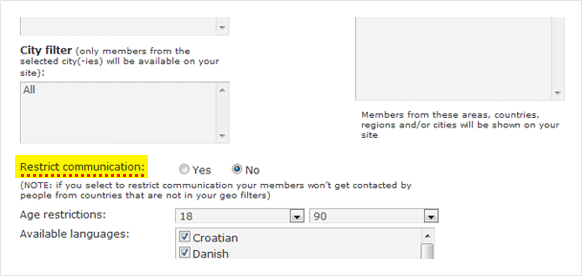 Note that your members will not get any contact from the countries that are not included into your geo filters, so use this feature very selectively.
Member lists reports launched
And here are some new reporting opportunities for you to get more information about your members.
If you go to the Reports section of your admin interface you will see the new report type available – Lists. You can select filters as usual and generate the list of members on your sites who match your filter criteria: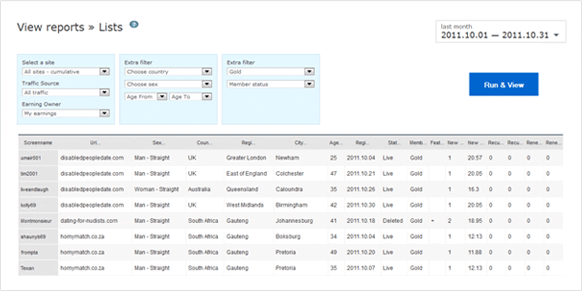 This simple and easy to use report will help you analyze your members and their payments. Some other in-depth and useful reports are yet to come!
We are also making many improvements to the user interface on your niche dating sites at the moment, and we will prepare a report about them for our next newsletter.
You will hear more about what we are up to next month, but stay connected with the Dating Factory team by…
…making sure you stay tuned with the marketing and management news at our Blog:
https://datingfactory.com/blog/
…taking part in the discussion on the partner Forum:
https://datingfactory.com/forum/
…using your administration area tools to their full potential using our Tutorials:
https://admin.datingfactory.com/contact

…following us on Twitter:
https://twitter.com/datingfactory


…joining our Facebook group:
http://www.facebook.com/group.php?gid=172005894013


…joining our LinkedIn group:
http://www.linkedin.com/groups?home=&gid=2416698&trk=anet_ug_hm
With the best wishes,
DatingFactory.com Team