We keep rolling out new features and improving partner and member experiences every month, but not all of you use the tools Dating Factory platform provides to improve your marketing campaigns performance.
That's why we decided to focus our first June newsletter on marketing – how to analyse and improve your marketing campaigns and your return on investment.
We have also added some marketing tools that you were asking for – please read on!
Improved reports interface – and more improvements will keep coming this June!
With the growing number of metrics and reports data we provide you with, we have been working on making the Reports interface ever more convenient and easy to use. Last month we changed the look of the reports and added more space for the columns making them easier to view: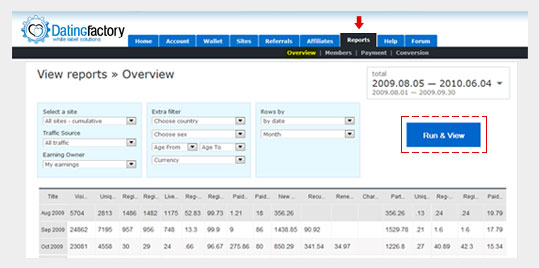 Now you will need to choose the report type from the top menu, and then select the dates in the dates tab in the right hand corner of the page. After that select your usual metrics (we have included traffic breakdown into own and affiliate, plus site owners can get earnings broken down by the owner – affiliate or site owner) and press Run & View button to generate your report.
Now there is much more space for the table to fit it into your screen, and this is only the first tiny step – you will be able to customise and email your reports by the end of the month!
Using reporting to track your business performance
We are improving the reports mechanism to make sure you can use the data we provide to its full potential to analyse your marketing campaigns performance.
At its most fundamental level, a dating site is a direct marketing business. In order to ensure it's working well, you need to have access to marketing data at a very granular level, and understand what it's telling you. Within Dating Factory's "Reports" section, there's everything you need to track your business effectively. Our marketing expert Tim Taylor will take you through some of the key metrics that are in there, and how you can use them to your advantage in his newest article on Dating Factory marketing blog:
https://datingfactory.com/article-10-using-reporting-to-track-your-business-performance/
You will find out how to calculate cost per subscriber and lifetime visitor value to make sure you are earning rather than just spending money on your marketing campaigns.
Control what members appear on your sites' front pages
You have asked us how you could change the country of the members that appear on your sites' front pages to make them more targeted to your campaigns without limiting the actual web-site's database to the specific country.
Now you can not only define the country of the members on your front page, but filter the members to the front page by the viewer's IP-address!
How do you do this?
Go to the Sites >>> Edit >>> Front page (advanced)
There choose the MembersNewMacro from the macros list and press "Edit":

Click "Attributes" in the tab that appears and set your new member macro behaviour: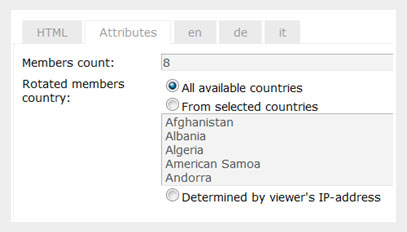 "All available countries" is the default setting and will show all the new members available based on your web-site's niche and initial settings.
"From selected countries" will show people from the countries you choose – use Ctrl + mouse key to select multiple countries.
"Determined by viewer's IP-address" will determine the new member list by the visitor's IP-address, and will show profiles from neighbouring countries as a second priority.
And even more exciting changes to macros editing and settings are coming soon!
Even safer payment processing and improved performance for the dating niches
We keep improving our payment processing success rates, and with the new payment provider we integrated – SafeCharge – we can process even more credit and debit cards than we could before!
New cards we started processing from Monday on all the dating niches are Maestro, Visa Electron, AMEX, Diners, Solo and Switch!

We will be analyzing processing rates on a daily basis and will send you the first results in our next newsletter. Adult and casual niches may be also included into SafeCharge processing list based on the results we see this month.
What is even more exciting – with SafeCharge address verification system combined with Dating Factory's own anti-fraud monitoring procedures we are aiming to bring the number of chargebacks down by 15% till the end of June, and by 30% by the end of the season.
These are the most exciting news items for May, and we will keep you posted about the new developments and opportunities on our platform on a bimonthly basis!