The relentless monthly growth has become a good habit for Dating Factory. Our other regular habit is adding new features to your sites and the administration area to help you get the best out of your marketing efforts.

This first November newsletter will tell you all about the new promotional tools now available for your web-sites, a new matching tool for your members and some other interesting news we have for you this month. We will also answer some of the questions you ask us to help you work more efficiently with your sites.
Thank you for your great feedback!
As always we want to thank you for your great feedback, which tells us that you are quite happy with your sites and administration area as well as support we provide you with on our platform. You are giving us many good ideas, and we will of course implement many of them on our system.
We would also like to answer some of the questions you posed right here in this newsletter, as we feel it will help many of you work with our platform more efficiently:
Q: "Is it possible to delete my own websites so I don't have to contact you every time?"
A: "Websites you delete may have members and these members need to be notified of the site's deletion and given access to the site on the same niche market to decrease the risk of chargebacks and complaints"
Q: "Is there an ability to filter by age, geo location, gender, etc. rather than using just a dating niche?"
A: "Of course! With Dating Factory system you get over 30 pre-set niche markets with logic, designs and databases tailored to this specific niche market, and on top of that you can filter out members by their geographic location (and select regions from different countries if you need to) and age group you would like to target on this niche. If you have niche ideas that work well for you, just tell us and we will set it up for you and other partners – this way we will make sure we get traffic going to this niche and you get the best conversion rates you can from the satisfied customers."
Q: "May I add AdSense to my sites?"
A: "Of course. Just bear in mind that AdSense can be placed only on the dating sites based on Google's rules, so for adult and casual niches you may think of some other banners to add to your internal pages and footers. Don't overdo it of course as you want your members to buy subscription on your dating site first as compared to AdSense this will generate much more revenue for you as a site owner."
Q: "May the "powered by" statement be removed from the sites?"
A: "We give you the possibility to edit the front page as much as you need and remove this statement from there. On the internal pages this is a legal requirement of the banks and payment providers to be able to process payments for all our white label sites"
Q: "May I have trial period for myself to test how my sites are working?"
A: "Of course. Just contact your account manager about this option"

If you have questions about the platform or you really feel you need a dynamic Q&A section in your admin area, please let us know. We are trying to help you as much as we can – thank you for working with us to improve Dating Factory platform!
New matching tool for your members
As our member database grows users of your dating sites require more and more precise matching to filter out people they are not interested in. One of the most frequent comments we were getting was the lack of the ability to define what matches they would like to receive.
Our development team has released an update of member interface that allows members to define who they want to see as their ideal matches: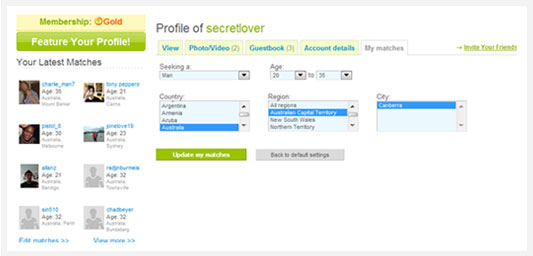 Based on the conversion rates and retention rates figures that we were closely tracking after this update, the new matching feature has improved your sites' profitability by 2,3%!
In the next release of this functionality members will have the possibility to limit contacts from people who do not match their criteria and also define some other characteristics for filtering their matches.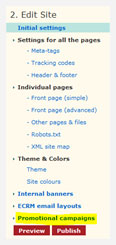 New promotional tools for your own sites
As we linked the affiliate program to your own sites you can now use all the promo tools that were only available to affiliates to advertise your own sites. This includes not only static banners but dynamic "IM popups" and "Member feeds".
Now you can create promotional campaigns for your sites that will consist of landing pages and promotional tools assigned to them. To do this just go to "Sites → Edit → Promotional campaigns":
Click "Create new campaign" button at the bottom of the page to set up your new promotional campaigns.
You will be prompted to fill in the campaign name and edit landing page. Leave it as it is if you would like to keep it the same as your site's home page or adjust it if you want it to be more targeted to your traffic.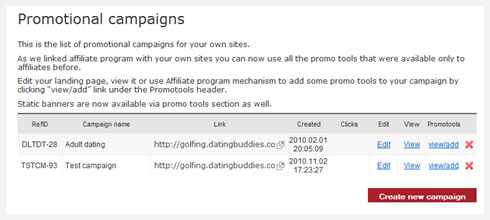 Your existing landing pages will appear in the campaign list, and you will be able to assign the new promotional tools to them.
To use the new promo tools just click on "view/add" link next to the campaign you want to assign them to, and you will be taken to the promo tools selection:

Choose promo tool type on the left, its parameters, and then preview and save it to get the code of the banner: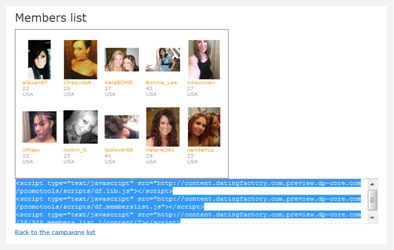 Now you can use this banner anywhere to direct traffic to your sites and also add other promo tools to the same campaign if you want to track the results in the same place. If would like separate tracking then create different promotional campaigns for each traffic source.
Just to remind you – you can track your campaigns in the reports when you select "by campaign" in the "Rows by" section.
Good luck with your marketing campaigns! Please keep giving us your feedback on what other tools you are missing – we will make sure we add them for you ASAP.
Vote for Dating Factory at iDate Awards
Dating Factory team would like to thank everyone who has nominated us for the iDate 2011 Awards. We appreciate your support and confidence you have in our platform. We are happy to announce that we will be competing in the following categories (www.datingfactory.com):
• Best Dating Software Provider
• Most Innovative Company
• Best New Technology
• Best Affiliate Program
Voting starts Wednesday, November, 10 – don't forget to give your votes to your favorite sites and platforms!
http://www.internetdatingconference.com/vote-miami-2011.php
That's all for now but we will be back to you with some more exciting news in a couple of weeks! Thank you for reading, and…
…make sure you stay up to date with the marketing and management news at our Blog:
https://datingfactory.com/blog/
…take part in the discussion on the partner Forum:
https://datingfactory.com/forum/
…use your administration area tools to their full potential using our Tutorials:
https://admin.datingfactory.com/contact

…follow us on Twitter:
https://twitter.com/datingfactory


…join our Facebook group:
http://www.facebook.com/group.php?gid=172005894013


…join our LinkedIn group:
http://www.linkedin.com/groups?home=&gid=2416698&trk=anet_ug_hm
With the best wishes,
DatingFactory.com Team