Firstly – we hope all of you have had a great holiday season. At Dating Factory we are back to work this new year with new ideas and new features for your sites and admin interface.

Following the successful database update that took place during the Christmas break, when the traffic was on at its lowest, we have added a new pricing model optimized for Latin American markets.
We are regularly updating our blog articles to bring you fresh news about the company and fresh ideas on how to run and promote your sites, so follow the links below to find out if you have missed anything useful:
Marketing blog – https://datingfactory.com/blog/marketing-blog/
Company insider – https://datingfactory.com/blog/management-insider/
As usual, here are some details about important updates that took place in December.
Latin American payment model
With the continued growth of Latin American market on the Dating Factory platform we have introduced a new payment scheme for members specifically adjusted to the Latin American market.
In one of our previous newsletters we mentioned we had integrated some local payment solutions allowing Latin American users to pay in cash ("en efectivo") – All Pago for Brazil and Latam Billing for other Latin American countries.
Now we've gone one step further, and based on the end user and our local partners' feedback, launched a pricing scheme that we advise to use if your site targets Spanish and Portuguese speaking markets. This goes for both Spain and Portugal as well, where the average market membership prices are a bit lower than overall EU levels.
To select the new payment model just login to your administration area and go to:
Sites – Edit – Initial settings
…and change the pricing model there:
Save and don't forget to publish your sites for the changes to appear on the live version. We strongly recommend that you use this model for your Latin American traffic – it will increase your free-to-paid conversion rate and therefore revenue per registered member.
Christmas countdown success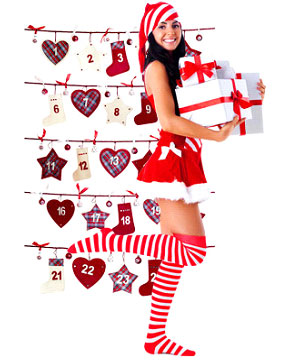 For the third year running Dating Factory platform treated your members to the Christmas countdown offer that takes place from December, 1st till the Christmas day – December, 25th.
The same as in both previous years, this year it's been a huge success that has brought 78% increase in the new membership purchases by members on all niche markets on the very first day of the countdown launch.
On the second day the increase was calculated to be 44% and averaged at 15% for the next two weeks.
We've had many emails from members of the sites saying a big "thank you" to the site owners and the Dating Factory team for this chance to find their partner before Christmas.
We will keep you updated about various offers we run for your sites' members, and make sure you take advantage of the New Year's traffic – it is known to rocket after the holidays end!
Dating Factory is looking to expand into the North American market
I guess the heading says it all, but the Dating Factory platform which already has a large database of members and partners in North America is making big strides in its growth in this market. As our partners know we were mainly focused on European countries and South Africa, Australia and New Zealand, and have launched in Japan and Latin America recently, but the demands from the market have pushed us into looking further into the Americas.
There have been numerous changes amongst the leading companies providing dating affiliate programs for North America, and currently there is a big demand for private label dating provider in that space.
The Dating Factory platform has recently earned a top of the year dating affiliate program nomination by Ynot webmaster community and Xbiz that leads the way in the adult industry Awards. In addition we have been a consistent finalist in the best dating software competition held by iDate – also largely an American awards show.
In the past few months our partners have launched a number of high profile dating sites for Canada: dating.ca, people.ca, lesbians.ca, as well as increased traffic in some well-established niches like disableddating.ca, singlechristians.ca, seniordating.ca.
It is of course natural that we as a platform will join forces with our partners and expand into the markets that experience the lack of good software providers, and where we see the space for company and market growth.
Read our CEO Tanya Fathers' comments on the subject in our recent press release – https://datingfactory.com/dating-affiliate-program-expands-into-north-american-market/
XML and RSS feeds: update
As you may know we have recently launched new promo tools for your sites: XML and RSS feeds. They were launched in beta mode as we were testing the mechanism and were also looking for your comments on the interface and functional characteristics of the feeds.

Thank you everybody who sent the feedback to the account managers and Dating Factory's technical team – we have updated the feeds the way you asked for and even added a new criterion – "Seeking a" – into the Advanced feed settings.
This will allow you to filter the members based on their preferences and sexual orientation, making the feeds more targeted to your site's or application's content: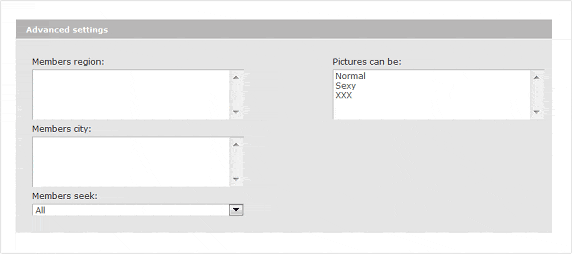 We have left feeds in beta mode for the next couple of weeks – so any further ideas or suggestions are welcome! We are always looking forward to hearing from you and are ready to adjust our system to your demands – and are already working on some PHP and JavaScript libraries to use with the feeds!

Meet us at iDate in Miami this January
As many of you know, the iDate Conference 2012 is nearly here! We are sponsoring the iDate Conference for the fourth year running, and this time it is looking to be a super conference indeed with the post-conference cruise planned.
The event will take place between the 23rd and 30th January 2012. It's being held at Miami Beach Conference Centre, Miami, USA.
Tanya Fathers, CEO, Co-founder of Dating Factory will be speaking about the new developments in social dating – http://www.internetdatingconference.com/agenda-miami-2012.php. Come and listen to Tanya's speech on January, 25th at 1:30 p.m.
The iDate awards ceremony is being held on the 24 January 2012 at 7:15 p.m. If you have not yet voted for Dating Factory as the best dating software provider please hurry up – voting ends tomorrow!
http://www.internetdatingconference.com/vote-miami-2012.php?aw=1
These were all the updates so far, but we will be launching some really exciting features this January, so don't miss our next newsletter and development update!
In the meantime don't forget to stay in touch by…
…making sure you read our marketing and company news at our Blog:
https://datingfactory.com/blog/
…taking part in the discussion on the partner Forum:
https://datingfactory.com/forum/
…using your administration area tools to their full potential using our Tutorials:
https://admin.datingfactory.com/contact

…following us on Twitter:
https://twitter.com/datingfactory


…joining our Facebook group:
http://www.facebook.com/group.php?gid=172005894013


…joining our LinkedIn group: http://www.linkedin.com/groups?home=&gid=2416698&trk=anet_ug_hm
With the best wishes,

Lisa Moskotova
COO, Co-founder
Dating Factory