In one of my recent articles, I discussed some key aspects of setting up the framework of a WordPress blog; you can revisit WordPress SEO basics here. The lifeblood of any blog is content and the posts that you create. This article will discuss how to optimise your WordPress posts and content for SEO.
There are a number of factors which influence and impact how your individual posts will be ranked by search engines. For the purpose of this article, I will be focussing on Google as the reference search engine. The same broad principles should broadly apply to other search engines.
The number one requirement, in my humble opinion, is unique content. Google has a raging thirst for unique, quality, relevant content that it can match to its user searches. This is the key area to focus on.
If you use a text spinner like Llama Spin, which is the one I use, make sure that you include additional content in each spun outcome, so the article is at least 50% unique. Another tip – change the placement and order of any links that you use from keywords or other content. One of the techniques used to detect duplicate content is whether the links are in the same place in an article – smart eh? This emphasizes how serious the search engines are about finding unique content, and rewarding it with high rankings. If you want free traffic, you need to work harder for it.
There is also a debate about the length of an article or post – is it 300 words, 500, 1,000? The longer your content, the better it will rank. I would aim for between 600 and 800 words per post. The reason behind this, I believe, is that it is relatively easy to throw together a 300 word article; it's more of a challenge to put together a 600-800 word article, and this simple measure, to an extent, distinguishes serious article writers from the masses. Google is looking for authority in content, and this will be explored in more depth in a future article.
Google Ranking
I have been having some success over the last few years in getting my WordPress blog posts ranked on Google Page 1. This is a screenshot from Google for a WordPress post of mine from Dating Personals Directory which ranks number 2 on Google page 1 for the search term "british milf contacts":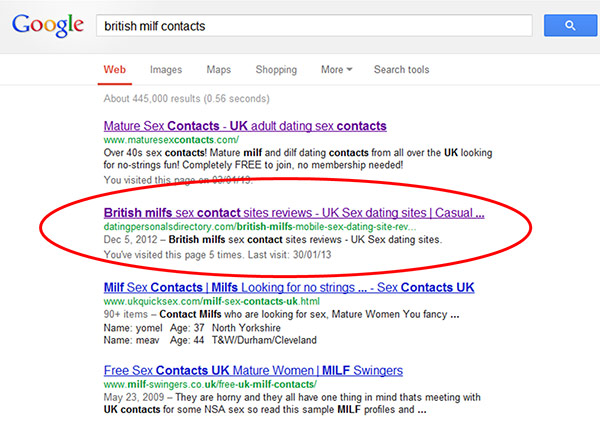 And this is what the blog post looks like (my blog uses a Pinterest theme, which you can find here):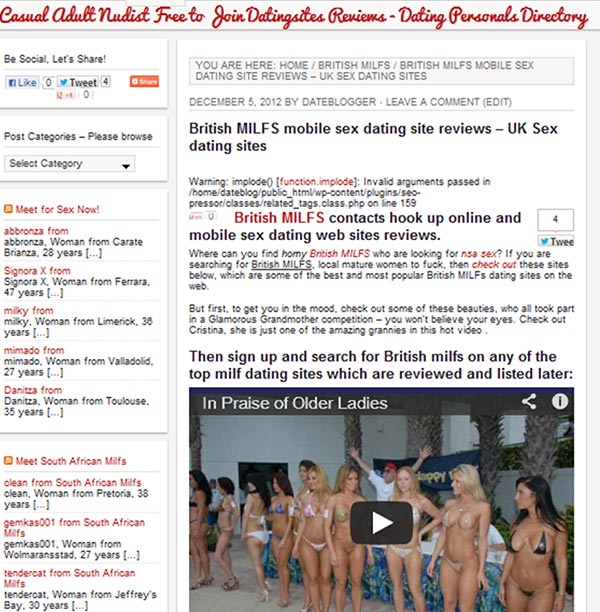 The URL for the site is http://datingpersonalsdirectory.com/british-milfs-mobile-sex-dating-site-reviews-uk-sex-dating-sites/ – you can see that the URL is packed with keywords and lifted from the post description. This is driven by a general setting for the blog covered in my earlier article. The keyword packed page description is certainly a factor in getting my post ranked, but it is one of many. Here are just a few of the factors that you need to take into account:
Keyword density should be between 2% and 5%, measured as the number of keywords divided by total word count;
Keywords should be in bold, italics or underlined;
Keywords should be included in H1, H2 and H3 title tags;
Your post should include an image with keyword "alt tags";
You should have an internal link to another blog post from your keywords;
You should have an external link from your keywords to another site, preferably with a high page rank, i.e. an authority site;
Your content should be at least 600-800 words long;
You should try and include a relevant video.
To try and manage all these elements manually as you write posts is impossible. I came across a WordPress plugin, SEOPressor, a few years ago, and use it it on all my WordPress blogs. I have no doubt that this tool has helped me to get page 1 rankings on Google for my blog posts, which can rank higher in natural search than my dating sites, in some instances. Blogs are a vital source of free traffic for me, as they can be for you, if you set out to achieve it.
WordPress SEO Plugins
There are a number of WordPress SEO optimisation plugins to choose from; I selected SEOPressor as its developer Daniel Tan is very knowledgeable, and has built a team of highly skilled SEO experts to build and develop the plugin. In fact, SEOPressor5 has just been released which includes much more functionality to build authority and social signals through Twitter, Facebook and Google+. I am in the early stages of applying the updated plugin, but so far I am highly impressed with the results.
It's just like having an SEO expert sat with you as you write and develop your blog; the plugin advises on the key steps you need to take to optimise your post. And CRITICALLY it will tell you if your post is OVER-optimised, a recent aspect introduced by Google to downgrade posts which it considers to be too full of keywords. How can you possibly work this out yourself?
If you are serious about blogging and optimising your posts for SEO, then a support tool like SEOPressor is a must. It costs $47 for a single site licence, or $97 for a multiple site licence, and well worth the investment. Even if you only have one dating site, set up a blog, write about your own site and the affiliate sites you can find on Dating Factory. And optimise your posts with SEOPressor. All I can say is that this great plugin works for me, and many of my posts are ranked high on Google by following the SEO guidelines in this very effective plugin.
In Summary:
On page SEO for WordPress is both essential and complex to manage manually;
A plugin to manage and guide you through the SEO optimisation process is essential;
SEOPressor is my recommended WordPress SEO plugin, based purely on my results.
I hope this article has been insightful and helpful ion understanding more about WordPress and how to get to the top of search engine rankings in a very competitive market, best of luck!
Steve Bolton aka Dateblogger