Every new month seems to be better than the previous one for Dating Factory white label and affiliate platform – we keep adding new tools for our partners, yours and our end customers and the most reassuring is that the revenues and conversion rates keep growing every day too.
A big thank you goes to you personally as if it wasn't for you, our partners, we would never be here and we could never enjoy such a tremendous growth.
Besides this – what's new on the Dating Factory platform and what's planned for the next releases of our system? Keep reading to stay tuned!
Sites colour editor – changing your site's colours made easy!
Were you wanting to change your site's colours for a long time, but didn't know how to do it with CSS styles sheets? Now you can not only change the pre-set theme in two clicks of your mouse, but with the next two change any single colour on your site's pages. Read further to learn how…
You already know that in the "Themes" part of the "Theme & colours" section of the admin you can select one of the available pre-set color themes for your web-site.
Now you have an ability to change any color that is used on your site. Go to the "Site colours" section of the "Theme & colours" tab, and you will see the main colours used on your site.
Just click on the element you want to change on this preview picture, and all the relevant colour elements for this section will be filtered out so you can edit all the colours that are used in this element separately: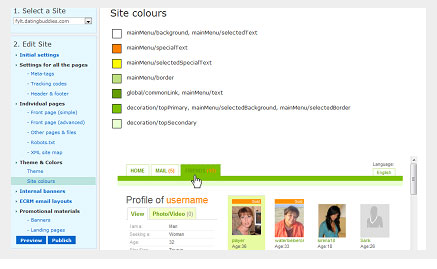 Click on the colour, and edit it with the easy to use colour picker: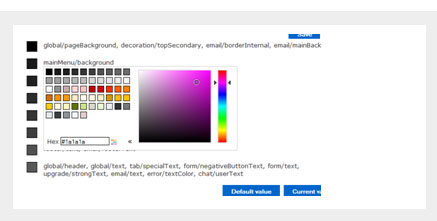 Do not forget to press the Save button when you are finished and publish your changes!
Click here for the full Tutorial >>>
New niche market launch – lets help those lonely souls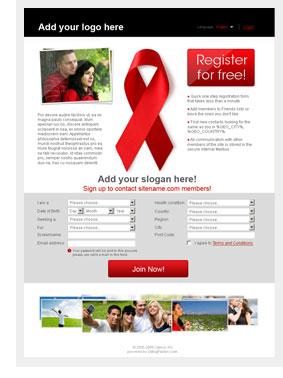 As the new month started Dating Factory launched the new dating niche market, but this time it is not just connecting people with the same interest, but with the same problem. As you know bad things happen to good people, and sometimes the worst things happen to the most innocent of all. That is why, and of course following your advice, we have launched the dating niche for those HIV positive singles who managed to keep a positive outlook on life, and are looking for other likeminded individuals. Living life to the fullest is a new habit these people need to develop and continue to maintain, and Dating Factory friendly team will be very happy to be able to help HIV positive singles still enjoy their lives and find happiness.
You can help do this too – create a site on the AIDS/HIV dating niche market (we suggest you use the discount payment model for it) and promote it to the world! This way you will give HIV positive singles a chance to find their second halves and new friends.
Members of your HIV positive dating sites will not get mixed up with the general dating niche. We provide relevance, anonymity and security that matter to your members. You can send newsletters, run support groups, blogs and forums using our dating platform as a basics.
Make sure you are using the full potential of Dating Factory system!
Our affiliate program that was created for both white label site owners and affiliates is one month old now, and the first month's results are really impressive – you created in total 3421 affiliate campaigns!
But not every partner is enjoying the full potential of Dating Factory affiliate programme yet, so we decided to highlight the benefits of doing so if you haven't started working with it yet.
Dating Factory affiliate programme is the right choice for you if:
1) You do not want to maintain and promote your own dating site, but still want to benefit from the dating market by advertising other high converting niche dating sites in 10 languages
2) You are a directory, shop or community site owner and want to monetise your traffic but again, do not want to create a dating site of your own
3) You already have your own sites on Dating Factory platform, but not on all the niches and available languages – and you still want to benefit from cross-selling and increase your revenues by at least 30%
In any case – you have nothing to lose, give it a go and see your revenues going up with virtually no extra effort!
Site owners – if you feel that your site performs well and you want it to participate in Affiliate program – please contact your account manager now.
Some new templates we added to the existing niche markets:
Sugar Daddy

Gay dating

Nudist dating

Casual dating
We keep working on our dating sites engine every day
To keep you tuned and informed of the latest developments for your members – in April our programming team has increased your sites loading speed by 12% that resulted into the 1.2% increase in registration to paid members conversion rate throughout the system.
Our mailing team works day and night on white listing our system with mail service providers and increased emails deliverability that has allowed us to increase the average email confirmation rate to an amazing 84,3%!
And of course we have more tricks up the sleeve that we will uncover in our next newsletter! Just to open up a curtain a little bit – new matching technique, unique cross-selling mechanisms and new payment providers are coming soon.