New At Dating Factory!
Dating Factory is constantly working on making improvements and bring online both new templates and niches.

Last month we announced Jewish dating, and this month we have templates for the Muslim Dating, Russian Brides, Motorsports, Muslim dating, and Equestrian dating. If you have any questions about our niches, please contact me and let me know!
Richard Buss

Partner Account
Manager
USA & Canada

(+1) 916 270 2122
Vegas Baby!
I will be in Las Vegas from January 10th through January 15th for a number of shows. If anyone wants to meet up with me please let me know in advance. I love meeting all of our affiliate's so please let me know if you want to spend some time with me.
Making the most of members for you…
Launched this week is a new feature enabling us to try and get you more revenue out of members visiting your sites! Statistics prove that a user who registers as a free member on your site will pay within the first three days in most cases, so we have put in place a new system to cross register the members who don't pay to try and get the most out of them and increase your revenue.
So, here's how it works. After five days we will offer the member the possibility to use an affiliated site without having to register again. If the member chooses to take up a paid membership you will receive a revenue share of 50% for the initial payment and 40% on any recurring or renewal payments.
You can track all cross registered payments in your "Reports" section in your admin. Chose the filter "Traffic Source" then "Traffic as an affiliate" and in filter "Rows by" choose "By campaign". This will show all your affiliate campaigns, you will know the sales from this feature as they will be named "System cross-selling campaign" followed by the niche.
A new look for our affiliate program
We have given our affiliate program a facelift! It's now much simpler to use, you can see the available sites by country or by niche with a preview of each site in the program.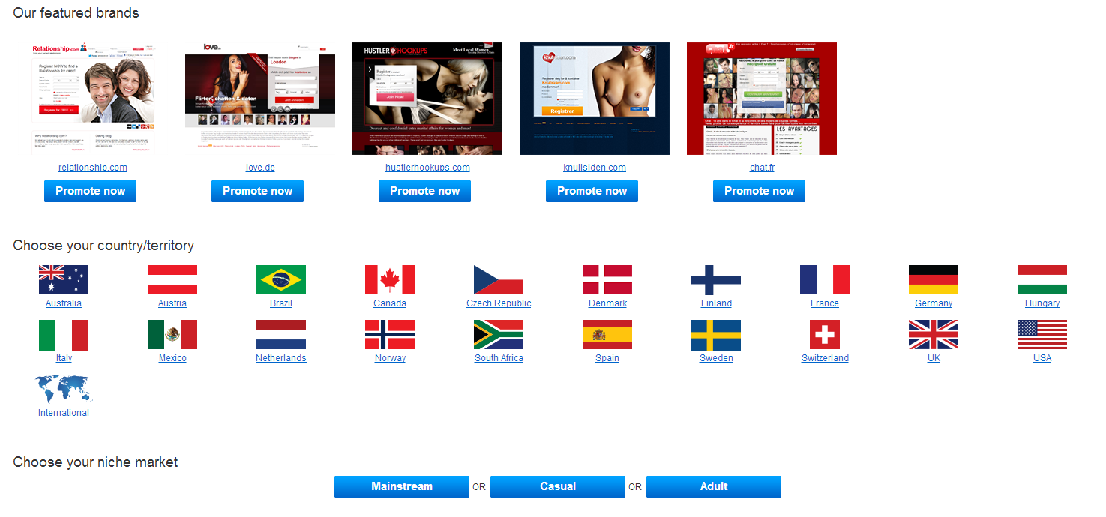 Nothing has changed in the reporting section, we just gave it a new, fresh and better look that is much more user friendly. For information on the Affiliate program if you have not yet used the feature, feel free to contact me about it.
Logo Designer!
Every day I am asked if I know a designer who can design good logos at a good price. I've been working with a designer named Elle who runs http://purplechestnut.com/. I highly recommend Elle. She charges $50 for a logo, which is a fair price.
iDate awards
Many thanks for nominating us for iDate awards 2014. We're in 2 nominations:
– Best Dating Software & SAAS Provider
– Most Innovative Company
Another thing which we are so proud about is that there are 2 dating sites using our platform are nominated for iDate awards 2014:
– Relationship.com
– CorpsSocial.com
Please do me a personal favor and vote for us to support Dating Factory and give us another reason to work harder!
http://www.idateawards.com/vote-las-vegas-2014.php
Promote Your Website!
Looking for links and promotion for your sites? Professional back links always help! Jason Lee's DatingWebsiteReview.net offers promotional services such as written and video reviews. Depending on the traffic levels you are at and how many members you have Jason may be able to offer you a complimentary review of your dating site. These reviews include video review on YouTube and social sharing across his growing fairly large network of social media followers who are interested in online dating sites. You can contact Jason at Jason@DatingWebsiteReview.net. Only serious webmasters and those truly committed to their online dating businesses will be considered.