As the weather keeps surprising us in all the parts of the world the Dating Factory team are back on their desks after a very successful September. As well as bringing new contacts and new opportunities from the September shows we have improved the platform security and made it stronger than ever with optimization the development team implemented last month.
In this newsletter we will give you our road show report and share some figures to present you with the new marketing opportunities on the Dating Factory platform.
Dating Factory road show report
After a busy September the time has come to sit down and recap on the results of the shows we attended and sponsored this month.
Mark Harrison, Co-founder
"A good presentation should be like a woman's skirt: short enough to rouse interest, but long enough to cover the essentials." – This one is mine
September brought for me in particular and most of the rest of the Dating Factory team a period of conference hopping. It all started on a train to Amsterdam for the Webmaster Access where I met with some of our established partners and some who are joining the fold, all in all a good show and I enjoyed a couple of good nights out with key partners, in the night spots of Amsterdam.
From there I was off to Prague for the Prague Summit the biggest show of the month, where I was joined by Lisa, Tanya and George as well as some of our major partners and some new major partners who have joined the Dating Factory team plus some familiar faces who are going to start doing business with us going forward. We made some great connections with some of the top players in the industry, so congratulations to Andreas and Walter for organizing a great show worth every penny of expense and sponsorship we put into it.
At this point everyone deserted me again as I headed to London for XBiz where we were a major sponsor and I was on a panel with Live Jasmin and Pussy Cash explaining how to cross sell products and maximise revenue from you traffic. XBiz was another great show, which in spite of the previous two, still yielded some more new business for Dating Factory.
Tanya then caught up with me for the last leg of my marathon as we went to the first of many gatherings to promote the new Online Dating Summit that will be taking place in March 2012. It's run by Andreas and Walter from the Prague Summit and all the signs are it will set a new benchmark for the dating industry. We are proud to be involved at such an early stage and be featured so prominently throughout.
It's almost exactly 2 years since we launched Dating Factory and we have now become the most prominent private label dating brand throughout Europe. So a big thank you to all our partners and staff who've made my life a lot easier by providing a great service for partners and consumers alike. It's made promoting the brand very easy."
I myself attended the iDate show in Moscow and brought back some useful contacts even though it was a smaller show than the other ones we've been to this month. You will hear more about these contacts as we are negotiating some good deals for our partners for buying traffic and advertising your web-sites at the moment.
GiroPay payment solution launch for Germany
With the European market growing every month we are introducing the new payment methods for European dating and niche dating sites users to make their experience smoother and your revenues higher. This month we are introducing GiroPay for Germany.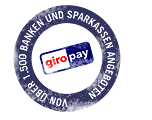 GiroPay is an online payment method for German consumers based on the PIN and TAN procedures commonplace in home banking process. It is a quick, secure and simple solution to process payments online that is widely used and accepted by the conservative German market.
How does it work? The consumer is presented with pre-filled transfer forms in both payment procedures and they just need to complete the payment by providing PIN and TAN numbers.
Benefits of this solution for our partners include avoiding chargebacks and debit reversals which are the big disadvantage of other payment methods on the market and can have a significant effect on your bottom line.
We will keep you updated on this payment method performance and will be introducing more global and localized solutions in the months to come.
Latin American market rapid growth
Initially strong in the European market Dating Factory platform continues its growth into the Americas. The internet population in Latin America has increased 15% to 112.7 million visitors based on the Internet World Stats report. Representing the 10% of the world internet users now, Latin American market continues to be one of the least penetrated markets in the world.
Latin American Spanish has become the 5th popular language on Dating Factory within the last three months, so we were watching the performance of these countries with interest to find out what happens next. The system has seen very rapid growth in the member base and conversion rates in the big Spanish speaking Latin American countries, namely in Argentina, Chile, Mexico and Paraguay.
With over 27 million internet users Argentina is a good target for any internet marketer considering the traffic and advertising costs there. 35 million internet users make Mexico an attractive market as well especially if you take in mind that Argentineans and Mexicans both are more engaged than the regional average. An internet user in Argentina is spending an average of 25.5 hours online per month and an average user in Mexico is spending 25.3 hours. (comScore, March 2011)
Dating Factory has achieved the 56% growth in Spanish speaking Latin American member base this summer and continued to grow rapidly in September. The revenue increased by a fantastic 23%, so if you don't have a site currently on this great market, get on board early and enjoy the ride!
When addressing these markets we recommend of course using the discount payment model as the typical Latin American user is not prepared to pay $24.95 per month on the dating or adult dating web-site, whereas $15,95 sounds like a good deal. It may look like a low member value, but considering the traffic cost (Latin America is still in the 3rd tier for advertising networks traffic) your ROI can be quite high if the traffic is properly targeted.
Dating Factory provides all the tools necessary to monetize the Latin American market including Spanish and Portuguese languages and local payment solutions, so don't hesitate and try these new untapped markets for your future growth.
These were our major updates, and in the next newsletter we will present you to the new promotional tools, advertising opportunities and some more useful marketing advice.
Meanwhile stay connected with the Dating Factory team by…
…making sure you stay tuned with the marketing and management news at our Blog:
https://datingfactory.com/blog/
…taking part in the discussion on the partner Forum:
https://datingfactory.com/forum/
…using your administration area tools to their full potential using our Tutorials:
https://admin.datingfactory.com/contact

…following us on Twitter:
https://twitter.com/datingfactory


…joining our Facebook group:
http://www.facebook.com/group.php?gid=172005894013


…joining our LinkedIn group:
http://www.linkedin.com/groups?home=&gid=2416698&trk=anet_ug_hm
With the best wishes,
Lisa Moskotova,
Co-founder, DatingFactory.com