To celebrate their 6th birthday, Dating Factory explores the past, present & future of dating
On the 24th March 2015 Dating Factory celebrates its 6th year in business and we look back at not only those 2191 days since we started but also beyond and to the very beginning of online dating and the evolution that has taken us to the present day. We will also take a look at what the future of online dating may look like.

How did Online Dating begin and evolve?
Online dating in its current form first reared its head around 1994 with the registration of the domain name Kiss.com, with Match.com following a year later.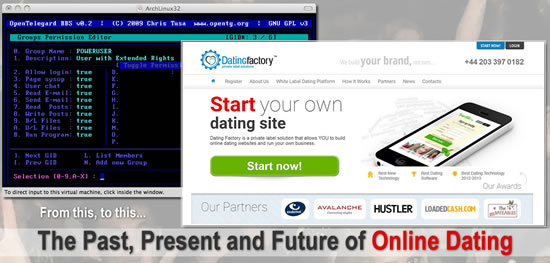 There were of course some other methods of meeting or communicating with people online before that. Using Computer Bulletin Boards accessed via modem, Chat rooms were previously used as a way of meeting strangers and would often result in relationships forming. People would join chat rooms in their local city or even shared interest chat rooms, making them an ideal place to meet people of the opposite sex as you already had either a common interest or you simply lived near each other.
Some people may be surprised to find that the first ever chat room software was launched in around 1980… Yes, that's not a typo… actual 1980. This was created by CompuServe (you may have heard of them) and it used the electronic Bulletin Board System (BBS) allowing people to join chat rooms or chat privately, much like the popular CB radio systems that many people used then, but using a computer with a modem instead of the radio.
Telephone chat rooms were also used to meet people in the early 1980s and still exist today. So, we have used technology in the past for dating to an extent. And, of course, we must not forget Newspaper Classified ads, which, whilst not necessarily technology based, did form the basis of what has now become online dating.
So, back to internet dating. By 1996 there were still less than 20 dating sites in existence, but things were beginning to shape up. Dating sites were allowing people to build reasonably detailed profiles of themselves, sharing their interests, hobbies, likes & dislikes as well as sharing their most flattering photos.
Since those early days of online dating the evolution has seen the introduction of advanced matching algorithms and learning engines that can learn from your use of the sites what you are really looking for and show you relevant profiles.
We have also seen the introduction of video, voice and various technologies that enhance the experience such as emoticons and virtual gifts.
However, the biggest development has been the shift in device usage. The evolution of dating has gone from the desktop PC to the mobile device and we have truly seen that come to the fore just in the past few years. After a fairly stagnant period of time where the main development in online dating was to enhance the software, we have recently seen hardware become the focal point of how the dating experience will be played out.
These vast shifts in technology have led to companies like Dating Factory growing from small operations to substantial development teams covering the multitude of skills required to create a large, complex network.
And during those 'growing up' years substantial investment has been piled into research and development to specifically keep the private label dating platform up to date and functioning with the current devices, operating systems and various other related technologies that determine the full functionality of the overall online and mobile dating experience.
In fact, as the internet itself and its various vertical industries 'grew up and matured', so too did the need to find an entirely new pool of talent. Which is exactly what we have done to date. By tapping into an exclusive pool of talented and experienced individuals we have created a team with a broad range of experience across so many disciplines.
Exciting Times for White and Private Label Dating Providers
So, here we are with almost half of online daters using a smart phone and a third of them using a tablet device for their online and niche dating experience, we are firmly set in an era of dating revolution compared to the previous years of evolution.
If you look at the success stories of more recent times such as Tinder and Grindr, where the service was designed specifically for smart phones and to take advantage of the technology within the smart phones such as GPS and Touch screen capability, you get an idea of how the device is now the new focal point with these new dating apps.
As a provider of white label dating services, it is important that Dating Factory also evolve to fit the trends and for the past couple of years we have adapted our dating platform to suit perfectly the user's device, regardless of whether they are on a smart phone or a tablet. By embracing responsive web design standards across our templates, any site created with us will give the user an interface specifically for their device type.
And it's not just the technology that has changed, it's the people too. There are more and more people using online dating services to meet somebody with no signs of that slowing down. The stigmas of the past are gone and people are now happy to confess that they met their partner online.
Most dating sites will provide a subscription service where the member will pay a monthly membership fee in exchange for the services of the dating site, and in a very clear indicator that online dating is now mainstream the UK govt. include a dating subscription in the 'cost of living' calculations (Consumer Price Index).
One in ten Americans have confessed to using online dating sites, with nearly 70% of those people taking it to the next stage and going on a date with someone they met through and online a site. A similar picture is seen in the UK with over 5 million people using dating sites there.
Responsive Dating Sites, Dating Apps and the Future of Online Dating
Forecasts have suggested that as many as 35% of couples in UK will meet online within the next few years and that more than 50% of the couples will have met through online dating within 20 years. As more people get access to fast internet and mobile devices, the online dating industry will move into those areas and spread its services to adapt to those trends.
Technology is where substantial change will be seen. Clearly as the shift to mobile devices increases and fewer people use desktop PC the focus will be on smart phone and tablet users and specifically around what these devices can offer in terms of technology. Yet again we are seeing that even in the future the developments in online dating will be driven by the hardware. The camera, touch screen, voice recognition and location features of a smart phone are likely to play a significant role in the evolution of online dating.
So, whatever the smart phone manufacturers decide to include in the phones of the future, this will determine how the dating industry evolves. We could see 3D holograms projected from the screen (think Star Wars).
And, of course, it is not only phones that will contain software designed to complement our lives, but watches and glasses.
Augmented Reality is likely to play a part in how online dating as we know it, evolves. The ability to include digital elements in a real world environment could be the next stage in virtual first dates.
Of course we are not all going to adorn wearable gadgets in mass, so phones are definitely here to stay and the online dating industry will likely focus on those as being the platform on which any new developments will be made.
There are exciting times ahead and the future of online dating will go through periods of evolution and revolution and we intend to be right there at the heart of it. We fully intend to continue our program of investment and growth and expect to be here for many years to come while contributing to the very changes the online dating industry will see along the way. See you all in 2191