Only one month has gone by since you received our last newsletter, and we already have some exciting news and big system updates to share with you. This time we have made some great improvements both in the partner administration interface and on your sites. We will be monitoring how these new features improve end user experience and retention as well as facilitate user acquisition process for you.
Here is what we've got to share with you this time…
Co-registration (POST) API update and manuals
We have improved our Co-registration API by adding the ability to accept all criteria that you pass into the system as well as photos and profile description fields. But what is this API? Here is a quick overview of what Co-reg (POST) API is and what it does.
Usually private label systems and affiliate programs require you to send traffic directly to your website or to their web-sites via the referral link with tracking ID. With the Co-reg API you will be able to upsell or cross-sell your existing members/leads to your dating site without making people add their details again and fill out a new registration form.
You just need to create a simple script in any programming language that will post user information to your dating site on our platform. This is done when they either submit their details to you or they agree to join the dating community by an opt-in tick box, or clicking on a link on your site or the email you sent them.
We have updated the API so it can now determine your user location by IP address, user orientation based on what sex they are looking for you and pass on photos and video files (in .flv format) together with the profile description fields.
We have added the description of the API to the partner administration area and added the API activation form so you could submit all the information to us and start POSTing user information in no time: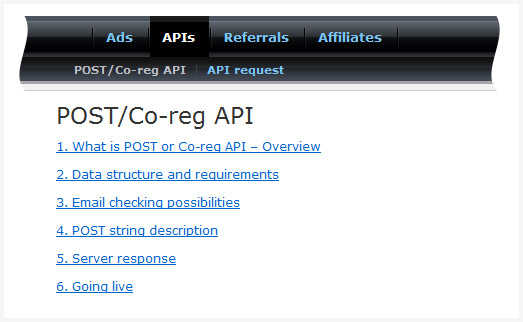 Using Dating Factory's Co-reg (POST) API allows you register your users data on multiple sites and niches simultaneously and without having to fill in individual forms for each site. By giving your members an easy choice you maximize your chances of them spending on at least one of your sites. This ultimately leads to a higher value per acquired member making your marketing much more profitable. If you have any questions on how to implement this please discuss it with your account manager.
Member mailbox fresh look
Based on your members' feedback we have also updated end user mailbox on your dating sites. It now looks the same as what your users are used to in many familiar email service providers and social networks.
User communication is grouped into threads by the subject of the email and the user, and it has now become very easy to communicate and keep track of the discussion with every member on the site: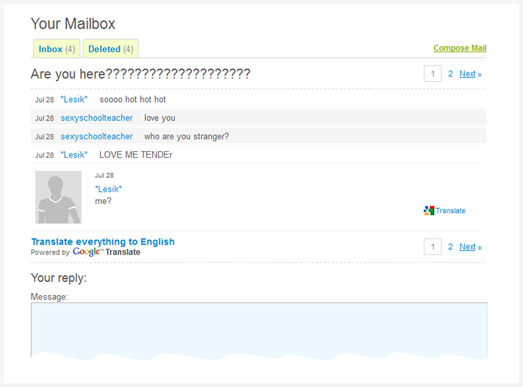 It is so easy to use and intuitive that your members will spend much more time communicating with the others now!
Google translator tool integrated into the dating sites
With 15 languages being available on the Dating Factory platform and new languages coming up every couple of months many of you create the sites that support more than one language.
Love knows no borders, and looking at the statistics, your members are happy to communicate with people from other countries and in different languages. To make things easier for them and improve communication flow we have now added Google translator tool to your sites. Now your members can translate other members' profiles, comments in other languages and even emails in their mailbox: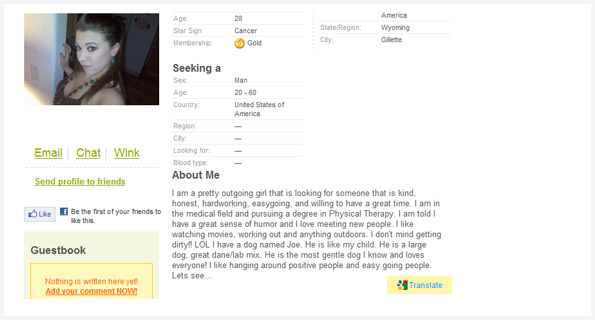 By just clicking the "Translate" link the text gets translated to the language that your members are viewing the site in, and of course there is an option to return to the original version.
Of course you will be able to turn this feature off for your sites on the "Advanced settings" page in your Sites editing interface in the admin – just look for the "Social network plugins" section.
New marketing articles released
And of course our marketing experts keep adding new articles to Dating Factory's marketing blog. This time we have written about the importance of choosing a good domain name for your niche dating sites.
The article is about the fact that good domain names are hard to come by but it is worth it to spend some time getting it right. We advise you to consider buying a domain that has already been registered by somebody else, maybe an expired domain or one that was registered for the purpose of resale.
Consider the market you will be addressing, if you are targeting a German audience, try and obtain a local domain such as .de for Germany. Look for a domain that includes keywords that would show up in the German search engines, foreign word domain names are easier to find than English ones.
Using sub-domains of your main domain for niches is another good way of building the brand awareness and saving money – Dating Factory system allows you to do this very easily, so don't miss the chance of expanding into new markets.
Also there is some advice on how to configure your site before you actually submit it to the directories and search engines. We all know that just throwing up a dating site and trying to get people find it by doing a search on the word "dating" is not going to work. That is why the article touches upon the issues of finding good keywords, explains how to do this research and how to use the words you have chosen for your site in meta-tags and site content.
For the full articles go to our Marketing blog:
https://datingfactory.com/choosing-a-good-domain-name/
https://datingfactory.com/configuring-your-site-for-search-engines/
This is all the news we have for you at the time, but there will be more exciting developments in August and we will keep you updated in the next newsletter. One of our big projects is coming to a conclusion – try to guess what it is and the best guess will get the bonus from our development team. 🙂
As always have fun, work with pleasure and of course don't forget to…
…make sure you stay tuned with the marketing and management news at our Blog:
https://datingfactory.com/blog/
…take part in the discussion on the partner Forum:
https://datingfactory.com/forum/
…use your administration area tools to their full potential using our Tutorials:
https://admin.datingfactory.com/contact

…follow us on Twitter:
https://twitter.com/datingfactory


…join our Facebook group:
http://www.facebook.com/group.php?gid=172005894013


…join our LinkedIn group:
http://www.linkedin.com/groups?home=&gid=2416698&trk=anet_ug_hm
With the best wishes,
DatingFactory.com Team