Here at Dating Factory, we believe that exceptional customer service is paramount in this business and we love to hear from our customers to see whether we're hitting the mark. We are always striving to do better and our aim is to provide outstanding service because happy customers mean a happy business. When we get positive feedback, we really appreciate it – we know we're heading in the right direction.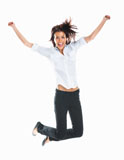 As part of our mission we've been reviewing the emails that our customer support team receive and have picked up the 5 most commonly used phrases:
"Thanks for the quick response"
"You've been a great help"
"Fantastic service"
"Excellent support"
"You have really friendly staff"
Two of our members were so pleased with the service they received, they went out of their way to let us know:
"Thank you for the excellent support! You've made solving the problem very easy and now you've got a very happy customer."
"Your response was so quick and your staff are so friendly and helpful – thanks!"
Please click here to see some feedback from our partners.
Thank you for providing us with this feedback, it's always valuable to know what our customers think of our business.