Before you go on holiday for Christmas we thought you might still take some time to read some Festive news about your DatingFactory.com websites.

Support DatingFactory.com with your vote!

For you

For your members

Our offices:

Switzerland
Caerus AG
Lauriedstrasse 1
CH-6300 Zug
Tel.: +41 56 634 2202

France
3 Clos Buisson
Meylan, Grenoble, France
38240
Tel.: +33 950235336

United Kingdom
25 Ives St., Knightsbridge, London SW3 2ND
Tel.: +44 7775 852973

Italy
Via Coriano 58, Int 78J
47900 Rimini (Rn)
Tel.: +44 7551331621
This week Dating Factory have introduced an optimised pricing model for those dating affiliate partners who run Disabled Dating sites with us. This pricing model will keep your income up. It has been designed to reduce chargeback risk and possible potential losses in a long run. Just go to your admin, choose the site and find Disabled niche optimised pricing model to choose in Initial settings.
There are some more dating template designs for you to use and different niche markets to try. We just wanted to remind you that at Dating Factory you can cross promote not only to different niches (Adult, Dating, Gay) but also different niche markets within one niche. For example if you create a Senior dating site and Single parent dating website, you can cross promote both of them to your general dating niche. Even though it's a common database, there are clever database filtering rules that will allow your members to register, see different members and pay on all three websites separately.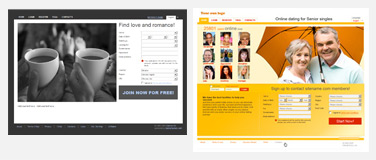 Consumer website optimisation.
We've been working on improving your websites clicks to registrations conversion rate. We did some AB testing on selected websites and came up with interesting results regarding how particular colours and design layouts affect your customers. New templates resulting from these tests have been implemented and are now available for you to use!
For your members
To get your customers into a Festive mood we introduced the BIG Christmas Countdown. It is still going on and has increased free to paid conversion rates on the sites throughout the system by 3.7% so far!

While you are on holidays we will keep working on improving our system and your web-sites, and of course we will keep you posted with the latest news and updates. Please feel free to contact your account manager for more information and if you have questions about your sites – we are always here to help!
Thank you for reading!
Seasonal greetings from
DatingFactory.com Team