The world leader in white label dating and the world's most famous transgender man are collaborating on the first ever online dating specialty site for transmen and the people who love them.
Zug – (August 31, 2012) – Adults interested in meeting transmen for relationships and fun now have a place to safely connect, thanks to Dating Factory and Buck Angel Entertainment, with the release of BuckAngelDating.com.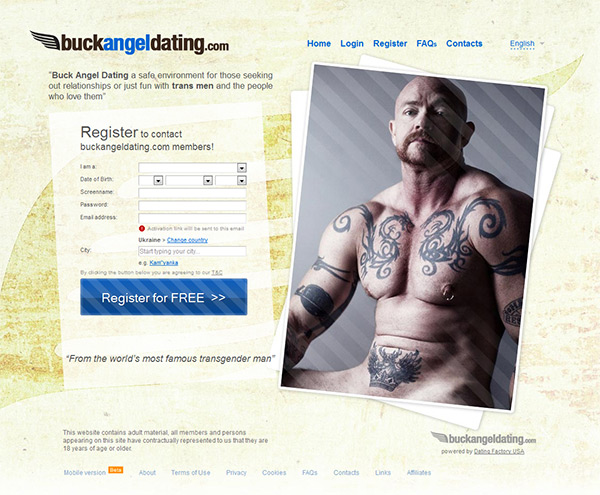 The online dating world is filled with thousands of sites that fit almost any niche imaginable, but were still some, like transmen, who hadn't been able to find an online dating destination, until now. BuckAngelDating.com is the new home for thousands of adults from all walks of life who are in search of connecting with female-to-male transsexuals through online chats, dating, and casual encounters.
"I had been getting lots of requests from fans on how to meet up with transmen, and from transguys on how to connect with other people. So I knew that there was a market for this," said Buck Angel, founder of Buck Angel Entertainment. "I knew I wanted to go with a white label dating solution, but I needed to make sure that they would be understanding about the unique needs of the transmale niche. After spending some time talking to Dating Factory I felt confident that these needs would be a priority in the handling of the site."
Buck Angel's followers and fans can now easily connect with Dating Factory's millions of like-minded users across the world who have an interest related to this niche.
About Buck Angel Entertainment:
Buck Angel Entertainment, launched nearly a decade ago, is responsible for sharing with the public a new understanding of sexuality through female-to-male adult media. As the pioneer of this new genre in the adult industry, Buck Angel Entertainment focuses on education through motivational speaking and award-winning documentary films, while striving to spread the message of empowerment through self-acceptance.
About Dating Factory:
DatingFactory.com was established in 2009 and is an international white label dating platform with over 12,000 partners worldwide. DatingFactory.com operates in 18 languages, and supports 42 niches.