As you may already know – the August promotion is up and running and you can be the one to get an extra EUR 5,000 with your September, 15 payout! How do you do this? Just make sure that you expand your August marketing campaigns as much as you can. The winner will be determined based on the revenue growth for the month of August compared to the previous three months' average. It means that new partners can also join the competition, and your revenue for August will be your growth figure!
What other hot news have we got for you this month?… please read on.
More headline details below
New partner administration area design:
As part of our plan for re designing the Dating Factory b2b platform we are happy to announce that our new improved administration interface is now live: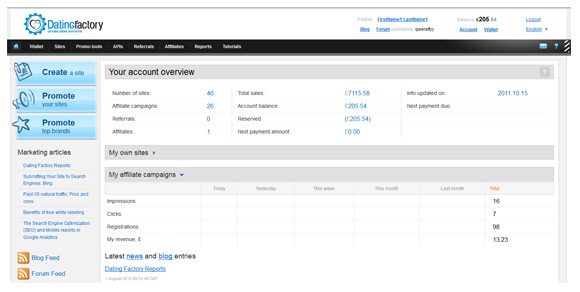 You now have an instant feed of our marketing articles to help you promote your sites and analyze your marketing campaigns. In addition to Tutorials, we have added a FAQs section so that you could find answers to the quick questions that appear while working with the admin interface.
We have enhanced the look and usability of the reporting section – you may have seen the screenshots already in the recent Marketing blog article about Dating Factory reporting.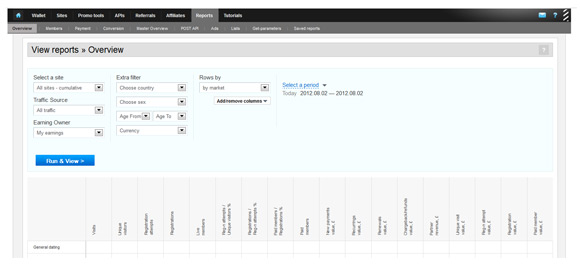 We hope that you like our new admin look. If you have ideas about further improvements – please send them my way, we are always looking forward to your feedback and ideas!
New default meta tags for your dating sites SEO
SEO is a very hard work, but we at Dating Factory are doing everything to make your life easier. Our next update is meant to help those of you who are serious about optimizing your sites for search engines.
What have we done?
First of all, we have made changes to the default meta tags to make sure that when you launch your site there are no duplicated meta content on it. Now they consist of dynamically changing elements only, and all you need to do is just make sure you add your site specific keywords and keyword phrases.

We have also made changes to the language tags on your sites based on the latest recommendations on Google blog.
We are doing everything to make sure that your dating sites are SEO friendly, and after your optimization tricks are done they will rank well in search engines. Just make sure you choose keywords carefully for all languages and work on the unique content of your site.
Dating Factory now pays out with Payoneer:
Here is some more good news about our payout methods to partners. Dating Factory has partnered with Payoneer, international prepaid MasterCard payment solution. Now we can pay out to your pre-paid MasterCard in addition to your bank account.
Payoneer offers an easy, convenient and cost effective way to get paid.
Payments available in minutes
No bank account is required
Use in stores, online or ATMs that accept MasterCard®
Live chat, telephone and e-mail support offered in multiple languages
To get your new Payoneer card or enter your existing ID just go to the "Wallet" section and choose the "Payment options" section in the menu.
In the "Payment method" choose "by Payoneer":

If you have a Payoneer account, choose "Already have an account" option under the "Account information" heading. Then you will be directed to the Payoneer web-site to confirm and link your card to your Dating Factory account, after this is completed Payoneer payments will be possible.

If you don't have a Payoneer account it is easy to create one. Just select the "No" option and follow the link that appears:

When you are done and your account is created, wait for your pre-paid MasterCard to arrive by mail and your Payoneer ID will appear in your DF administration area.
iDate Awards – Vote for The Best
The 2013 iDate Awards (Internet Dating Industry Awards) will be held in January 2013 in Las Vegas. iDate Awards highlight the best and most innovative aspects of the online dating and matchmaking industry. The 2013 iDate Awards are now accepting nominations, and if you're happy with your Dating Factory experience, we'd appreciate it if you would cast your vote for us! You can do this in three easy steps:
Click the "Nominate now" link
Nominate Dating Factory in those categories: Best Dating Software Provider, Most Innovative Company or Best Affiliate Program
Include your details to validate it.
Thanks very much for taking the time to vote for Dating Factory.
One click mobile payments are active for Italian sites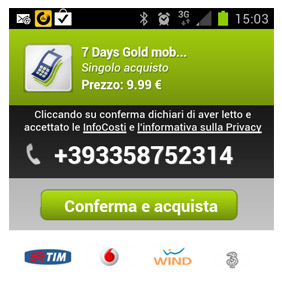 We have announced new SMS payments for Italy with CashLog mobile payment provider in our previous newsletter. Now we have gone one step further.
Italian users can now pay from their mobile phones without SMS or having to enter their mobile phone number – straight from their mobile phone bill.
Users just need to choose subscription, and click "Pay". On the next screen they just need to confirm their purchase, and it's done!
We are watching statistics closely and the results have been encouraging so far with 10% increase in mobile payments for the Italian market. We are working on some more updates to our mobile platform – we will keep you updated in our next newsletters!
Creative ways of promoting your dating sites – QR codes
If you missed our new blog article last Friday, here is the link to our very fresh marketing article about PPC and SEO traffic and campaigns:
With the mobile platform launch we get more and more feedback from you about creative marketing methods. This time we wanted to share a QR code campaign ran by one of our partners for his web-sites:
When people scan or read a QR code with their iPhone, Android or other camera-enabled Smartphone, they then can link to digital content on the web; activate a number of phone functions including email, IM and SMS; and connect the mobile device to a web browser.

The campaign that you see focuses on the ability of the mobile phone to connect to the website's URL. If you have promoted offline in the past, your potential users had to type the URL in their browser. Now everything is much easier – just scan the QR code and you are on the web-site.
Don't forget to track your traffic via landing pages so you know how well your users from the QR code campaigns convert to members and paying members later.
Apart from our main headlines we have also published two new articles on our Marketing blog and created the ability to track your UTM parameters on landing pages. Make sure you ask your Account Manager about this if you are using these parameters in your marketing campaigns.
That's all for now, but we will be in touch this September to announce our busy schedule for this autumn's events. We are looking forward to meeting you in person – just let us know if you are going to any events this autumn, and we will definitely meet up!
Make sure you read our marketing and company news at our Blog:
https://datingfactory.com/blog/
Take part in the discussion on the partner Forum:
https://datingfactory.com/forum/
Use your administration area tools to their full potential using our Tutorials:
https://admin.datingfactory.com/contact

Follow us on Twitter:
https://twitter.com/datingfactory


Join our Facebook group:
http://www.facebook.com/group.php?gid=172005894013


Join our LinkedIn group: http://www.linkedin.com/groups?home=&gid=2416698&trk=anet_ug_hm


Stay in touch on Google+: https://plus.google.com/107876291608517033848/posts
Best wishes,

Lisa Moskotova
COO, Co-founder
Dating Factory