Sometimes when viewing member reports you see a certain number of members who register on your sites and then get deleted by moderators. Why do we do this and what members have a good chance of being deleted?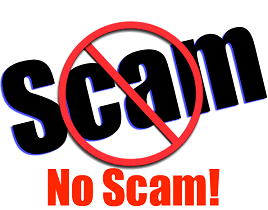 It is not a secret for anyone that the dating industry is prone to "scammers" – people who set up fake profiles in order to sell something to the other site members, promote other sites, scams or escort services, etc.
Some of them are trying to make other members send them money (so called Nigerian dating scam, or romance scam). They pretend to be the foreign specialists working in Nigeria or Ghana (usually originally from US and UK, but it may also be Canada, Australia or any other European country). After they establish some correspondence with your dating site members, they will either ask for financial help, or try to use your members to help them in risky illegal financial transactions. In a few weeks, these transactions will come back and be reported as fraudulent and your members will be responsible for paying back the money to the bank.
When we say "Nigerian scam", it doesn't mean it originates from Nigeria only. These types of scams may also originate from any other West African country such as; Ghana, Ivory Coast, and Senegal etc. Also Malaysia has become a real hotspot for Nigerian scams recently.
In order to have their messages delivered to as many members as possible; scammers will buy VIP packages using stolen credit cards. This is a serious problem as this could eventually result in chargebacks.
This is an issue that ALL dating sites face but very few tackle.
In one of our previous articles we mentioned that in order to maintain a good dating site with minimal scammers you need to either spend a lot of time moderating profiles on your site yourself or hire a moderation team experienced in dating industry; this is very costly. An important benefit of using the Dating Factory white label platform is profile moderation services are provided free of charge.
Our dedicated Moderation Team checks every single profile, IPs, photos, videos, descriptions and guest books. There are also some insider tactics we'd rather not disclose as scammers could read and learn about them and become smarter.
Unfortunately, there are already "smart scammers"; they create very genuine looking profiles, which are almost impossible to detect initially. These scammers are the main reasons for the majority of the chargebacks you may see in your account. However, despite the fact that "it happens" sometimes, we can proudly say that we have one of the best moderation processes on the market. As well, we have the lowest % of active scammers in the database combined with one of the lowest chargeback level indicators in the industry.
Our moderation techniques ensure that members on the sites are genuine. This increases the safety of the members on your dating sites and most importantly, improves their website experiences and not to mention, helps keep your chargeback levels on a low side.
Nick Dovgopolyy
Head of Partner support