As March comes to an end we arrive at the funniest day of the month – All fools day or April, 1. The Dating Factory team has prepared many funny jokes for you and your members and of course quite a few new releases. Some to help you promote your sites and make money, others to help your members find love or score – depending on the niche.
Dating is fun, and to make it even more enjoyable for millions of people on your sites we have introduced the "Happy weekend" that starts tomorrow and finishes at midnight on Sunday. By just uploading a photo to their profiles your trial members will get Gold and Featured membership for these two days, and Gold members will get Featured on the sites for free. This way we will not only increase the activity on the sites, but also the quality of your databases and therefore conversion rates.
Read on to find out what other surprises from our platform wait for you just around the corner.
Dating Factory cooperates with SaveTheChildren fund to help children in Japan
As many of you have noticed Dating Factory platform has partnered with SaveTheChildren fund to help Japanese nation recover after the massive earthquakes and tsunami waves this March.
We ask your members to add one dollar, euro, pound, etc. to their purchase that will then be transferred to the charity and directed to the Japanese rescue funds. Dating Factory will double the amount the members of the sites donate, and of course if you are interested and would like to make a donation – please speak with your account manager about it.
Control your sites' registration and confirmation pages
With the launch of Extramarital affairs and Extramarital dating niche markets we have received quite a few comments from you that you want to be able to remove member pictures from the area that is available to search engines and outsiders who are not logged into the sites.
Of course for these niches the privacy of your members is what matters the most, so now you can remove the member pictures not only from the front pages of the sites, but from the other pages where they were available before.
This is how to do it quickly and easily.
As always – go to Sites → Edit → Other pages and files section of the admin. There you need to choose the page you will work with first – either Activation or Registration: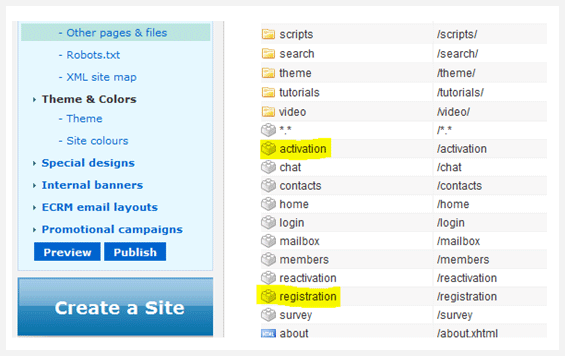 Click on the page of your choice, and you will find the new macro that is available for you to edit – it will be either ActivationTextMacro or RegistrationTextMacro depending on the page you selected. Click Edit next to the macro and you will see the following layer: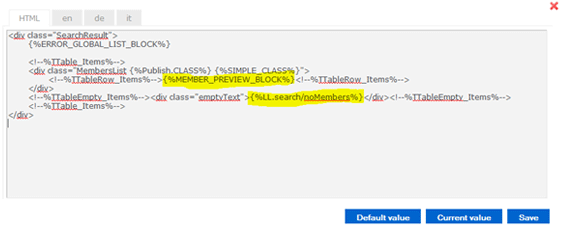 is the macro that displays members on the left of the registration/activation forms.
is the text that is displayed if there are no members to be shown on the page.
Edit the texts in the language tabs or replace these macros with your own texts or URLs to the graphics you want to use instead of the member pictures.
Now you can protect your members' privacy even more than before. Please ask your account manager if you are not sure how to replace macros, etc. – our friendly team is always here to help!
The First Steps guide is now available on marketing blog
We have not posted many articles lately to our Marketing blog as we were preparing a big article for those of you who want to create their own dating site and promote it, but simply do not know where to start.
"The First Steps guide" was published yesterday on our blog, and it aims to show you all the steps that you need to take to create the successful dating site. You will learn how to choose a good domain, where to buy it, how to select keywords and what they are for.
The important thing is that the guide is tailored to Dating Factory system and you will be able to get the information on how to customise the site in the admin to make it search engines friendly.
We will tell you how to use and analyse your reports and statistics, where you can get more traffic, and of course what you can do to add more revenue streams to your dating business. Make sure you read it as you will find some very useful things there regardless of whether you are a newbie or an experienced marketer.
The launch of the new "Passion Play" sexual performance measurement tool
This multi faceted revolutionary new development in the adult dating arena boasts an online rating system for your members to score your prowess based on foreplay performance, duration and number of orgasms achieved.
For the members with smart phones we have developed a whole new Android and iPhone app that accompanies this new tool. Download the "Passion Play" app before going on your casual date. Just before you start to perform, start the app and place the phone beside you on the bed. The app will then evaluate your performance, without the emotion that goes with sex. It measures the rhythmic movement of the bed to ascertain the duration of sex, using the apps motion sensor. The phone's microphone then records the noises made and rates you for pleasure given and orgasm's achieved based on key noises it is programmed to recognise. When you are finished press the stop button and your score will be displayed.
For those not happy with their score there is a "one more time" button, assuming the partner is still willing. Scores can be uploaded and compared with other members of the sites and a national and global champion can be crowned.
We hope you took our newsletter seriously even though it is the All Fools' Day today. Enjoy having fun and making money with Dating Factory while we are working on further improvements to our platform.
We will keep you updated in our next releases, and in the meantime…
…make sure you stay up to date with the marketing and management news at our Blog:
https://datingfactory.com/blog/
…take part in the discussion on the partner Forum:
https://datingfactory.com/forum/
…use your administration area tools to their full potential using our Tutorials:
https://admin.datingfactory.com/contact

…follow us on Twitter:
https://twitter.com/datingfactory


…join our Facebook group:
http://www.facebook.com/group.php?gid=172005894013


…join our LinkedIn group:
http://www.linkedin.com/groups?home=&gid=2416698&trk=anet_ug_hm
With the best wishes,
DatingFactory.com Team