Spring is the busiest time of the year – you are trying to clean up your marketing campaigns, analyze the performance of the dating sites and optimize them for better performance. The Easter week has been a relatively quiet period, but make sure you are prepared for the after-Easter traffic spike – it is starting to kick in now!
We have delayed our April newsletter a bit because we wanted to include some very important news. If you have checked our press-releases yesterday you may already know, but for those who have missed it, it is something really worth a closer look!
Read more about the exciting acquisition Dating Factory made in March 2012 in our Press releases. Make sure you follow this link as World Dating Partners acquisition means that our database will become more than twice as large and there are new possibilities for cross-selling and earning more from your dating business with Dating Factory!
In March we gave you some info about Google Webmaster Tools in our Marketing blog and Company insider blog updated you on the Dating Factory Phoenix Forum success.
Today we bring you some more news on the development updates on our system and what new markets Dating Factory system now caters for:
Choose only hot members for your landing pages
Do you think that your landing pages and promo tools could convert better? Experiment with the new feature we have implemented just now – "hot members".
Just go to Front page (advanced) section of the Sites editing interface and edit the MembersNewMacro:

Tick the checkbox and save the macro, but do not forget to check on preview whether there are enough hot members for your particular market – in some cases with smaller markets it is better to show all the available members.
You can also control the ratio of male and female pictures that appear on your index pages, so make sure you use this feature for your various landing pages to get a better conversion rates and ROI from your marketing campaigns.
Of course both features are available for various member settings in promotional tools – generate some new ones with hot members now to test the CTR!
Facebook login is now complemented by Google, Live and Yahoo IDs
Have you heard much talk lately about social dating being the next big thing on the market? Follow the trend and add social connect features to your dating sites!
Go to Sites – Edit – Advanced settings and select your preferred options:

On the front page the social connect buttons will appear on the left hand side as a fixed bar, on the login page on the right of the login form, and in the menu on the right of other tabs: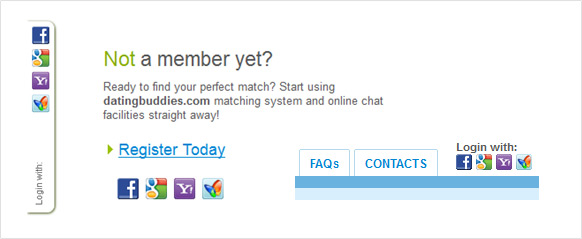 If you are adding social plugins to your dating sites make sure you mention that nothing will be posted on Facebook and other networks without user's consent as privacy is one of the biggest user concerns with social connect features.
Not sure I would recommend doing it on the adult and extramarital affairs sites though – people tend to keep their affairs private, and even registering with Facebook or Google account may not sound as a good idea for them.
Welcome www.datingfactory.us – Dating Factory has officially launched in USA
As you may have read in the various press-releases last month, Dating Factory now has expanded its presence into the world's largest market, the United States of America.
Since the market's official launch in the middle of March Dating Factory has signed up over 500 partners from the USA and Canada and created more than a thousand sites for the US/Canadian market. Our North American member database has grown by 24% since then and continues to grow quickly with the recent acquisitions we've made.

Tanya Fathers, the CEO of Dating Factory, says: "We are impressed with Mo's great track record with webcam sites and with B2B platforms like YNOT, and we're pleased to welcome him onto the Dating Factory team. He has exciting ideas for promoting Dating Factory in the US market, and we're expecting great things in 2012 from our new Dating Factory USA division."
We are all really happy to welcome Mo and Richard to our team, and are happy to work with such talented and dedicated people to drive the US dating market forward!
Snakker du norsk? Your sites are now available in Norwegian
As a next step of our continuous expansion into new markets the Dating Factory team is happy to announce the launch of a new Nordic language on our dating, casual dating and adult dating platforms.
This time it is Norwegian with about 4 million Norwegian speaking people in Norway and about 1 million outside it. This is definitely a new potential market to consider when building your marketing campaigns.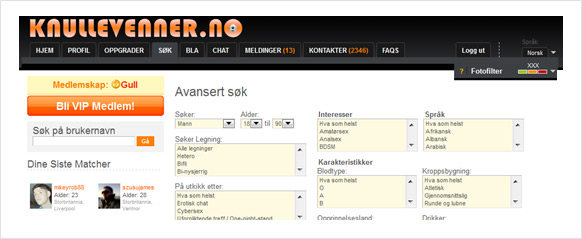 The Dating Factory platform already has a database of Norwegian members in all dating niches, and if you run a report by country for your own sites you will see how many of them have visited the system through your sites.
Even if you do not plan launching Norwegian campaigns right now but have international traffic, you may consider adding Norwegian language to your dating sites as it will definitely help you monetise in areas where you didn't have any sales before.
This is the main news for now. Our development team keeps working on some very cool features and updates for the platform that I will announce in our next newsletter at the beginning of May. There are still many surprises to come before the holiday season as we are making our platform better to stay ahead of the competition every day.
As always I will be happy to hear your thoughts and ideas about the system and what you would like to improve – Your opinion always counts! So don't hesitate to write me at l.moskotova (at) datingfactory.com
See you again in May, and in the meantime stay current with our news and updates by…
…reading our marketing and company news on our Blog:
https://datingfactory.com/blog/
…taking part in the discussion on the partner Forum:
https://datingfactory.com/forum/
…using your administration area tools to their full potential using our Tutorials:
https://admin.datingfactory.com/contact

…following us on Twitter:
https://twitter.com/datingfactory


…joining our Facebook group:
http://www.facebook.com/group.php?gid=172005894013


…joining our LinkedIn group: http://www.linkedin.com/groups?home=&gid=2416698&trk=anet_ug_hm


…and keeping in touch on Google+: https://plus.google.com/107876291608517033848/posts
With the best wishes,

Lisa Moskotova
COO, Co-founder
Dating Factory