These were a busy two weeks for the Dating Factory team as many new projects were started with our partners and affiliates coming back from holidays.
We have been working together with you on improving our reporting and registration attempts to registrations conversion rate as well as adding partner forum to our site,
to help you exchange web-site building and marketing experiences with each other.
Our offices:

Switzerland
Caerus AG
Lauriedstrasse 1
CH-6300 Zug
Tel.: +41 56 634 2202

France
3 Clos Buisson
Meylan, Grenoble, France
38240
Tel.: +33 950235336

United Kingdom
25 Ives St., Knightsbridge, London SW3 2ND
Tel.: +44 7775 852973

Italy
Via Coriano 58, Int 78J
47900 Rimini (Rn)
Tel.: +44 7551331621
Many thanks for the feedback you provided – we will keep integrating your ideas to make our system even more user-friendly and provide you with all the tools you need to create and successfully promote your niche dating web-sites.
So how you will benefit from the new features at Dating Factory:
Analyse your members' behaviour with the new Action and Entry date reports.
As you may have already seen, we added the possibility to filter your reports by Action date and Entry date. So what does this mean?
Action date is the date when your member does something – sends emails, makes a payment, or deletes his profile. Entry date is the date when your member registered the account.
So if you need to see how many of your members who registered in November paid in January for example or deleted their profiles in January, you enter the following:
Action date 2010.01.01 — 2010.01.15 (till today)
Entry date 2009.11.01 — 2009.11.30 (November, 2009)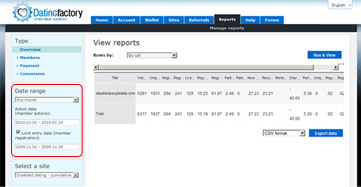 This way you will see what your members who registered in November 2009 did in January 2010.
If you need more information on how this works or want us to explain this in more detail, please contact your account manager.
See how many members are still live on your sites.
We have also added the new metric to your reports and Home page of the administration area – Live members. What does this mean?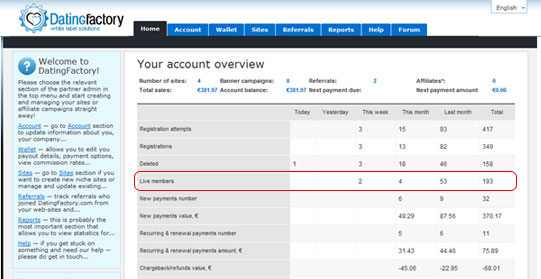 Live members are members who registered and confirmed their registration on the date of the report and are still active on the site – have not deleted their profile or were not deleted by moderators.
In Total statistics Live members = Registrations – Deleted members, but for separate dates the figures may not coincide as the member may have been deleted at an earlier date.
Conquer the Lithuanian market with an additional new language.
With new partners joining Dating Factory white label network we are opening our doors into new markets. This month we have added Lithuanian language to our sites, and it is now available for you to choose in Sites → Edit → Initial Settings: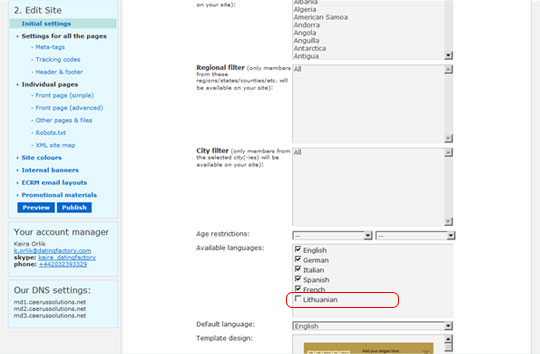 Litas can be added to your sites by request as a display currency too, so you are fully equipped now to address the Lithuanian market!
Share your online marketing experiences with other partners on our Forum and ask Dating Factory team for advice.
We have now fully launched our partner Forum where you can talk to each other and share your dating business experiences, get some advice and ask us any questions you like.
Select Forum tab in your admin area and login using your forum username and partner password. You can find your forum username at the top of the admin page – next to your name and surname:

So login now and read our new admin tutorials, industry and marketing updates and leave your comments!
Benefit from our bimonthly internet marketing tips with the new Marketing blog.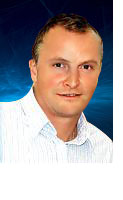 DatingFactory.com together with Tim Taylor, the co-founder of T3Active.co.uk, a company specialising in all aspects of creating and marketing brands online is starting a new Marketing blog to help you grow your online dating business with us.
Over the next few months Tim will be writing about how you can improve your online marketing, and drive more, qualified leads to your dating site. The key areas he'll cover are PPC, SEO and Conversion Maximisation (how to get the most out of every click). These are the areas you simply have to get right to create a successful dating business online. If you have any questions, please don't hesitate to ask, and he'll try and answer them either directly or through this blog.
First article coming up is "Go for growth – but gently does it…" about growing your PPC campaigns.
See better registration attempts to registrations conversion with the new and enhanced reverse activation mechanism.
Improving the ratio of members confirming their emails to the members who try to register on your sites is a task that we are working on every day. We decided that it's always better not to depend on mail service providers and implemented Reverse activation mechanism for your members.
This way, members do not have to wait for the activation email to arrive in their mailbox, but can just send an email to us to have their email confirmed and be able to enjoy all the features of your dating sites!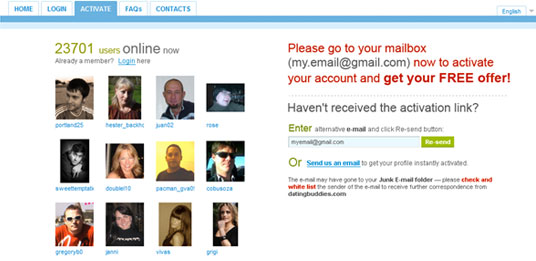 We are sure that this will improve registration attempts to registrations conversion rate and will bring you more revenue in 2010!
We are open to suggestions and if there are any features that you think will be a great add-on to your dating sites or administration area, please let us know and we will do our best to have them implemented in the nearest future!
Just give your account manager a shout if you have ideas or need our help, and of course we will keep you posted with the latest news and updates!
And as always – thank you for reading!
Best wishes from
DatingFactory.com Team