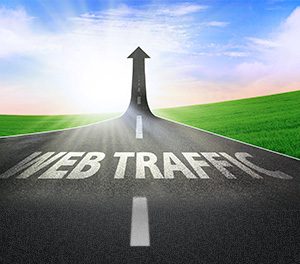 Even though Google now processes roughly around 3.5 billion unique searches per day, generating quality traffic to your site has never been a more difficult task; especially if you work in the dating industry.
Believe it or not, there are over one billion active websites on the Internet today. The vast majority of them are doing everything in their power to get as many users as they possibly can to visit their domains, browse through their pages, and eventually conduct one of the many desired actions that count as a conversion.
If we, for the sake of the story, assume that only one percent of those sites is dedicated to dating, that leaves us with a number of 10,000,000 websites. That's right, to put in words – 10 million competitors! Every single one of us is faced with an insane task of competing with 10,000,000 brands for the same traffic.
Crazy, right?
And the worst thing about it all?
The competition has never been bigger or better, and the audience never quite as demanding.
Standard marketing tactics are no longer as effective as they used to be. People are becoming impervious to all sorts of pop-ups, banner ads, and adrolls, which is why the publishers from all corners of the world are starting to experience enormous difficulty with generating traffic to their sites.
Mindlessly chasing people around the Web via basic paid media is continuously bringing worse ROI, which is why a lot of online business owners are starting to eliminate it from their overall marketing budget and strategy.
It's time for a revolution! If we want to maintain a steady flow of visits to our site, we need to rethink our processes and current strategy. It's imperative that we update our marketing playbooks and fill them with tactics that actually stimulate people to conduct any of our desired actions.
In this day and age, people don't like being sold. We now live in the ad-blocker era. As PaigFair claims, more than 200 million Internet users use ad-blockers today. Wall Street Journal did a great piece on this subject, in which it was explained that these blockers are costing publishers significant amounts of money. According to their findings, publishers lost $21 billion in 2015 alone.
To everyone who runs any type of online business, these are quite alarming numbers. Traffic is the lifeblood of every successful online business. Without a constant flow of new visitors coming in, your business will surely fail. Relevant website traffic is what all online businessmen and webmasters want, regardless of the niche or the market in which they operate. The number of intelligent visits to your website is often interpreted as the number of possible, highly-interested customers you'll have at your store. The more you drive to your site, the better the chances you'll have of making a sale or generating new subscriptions.
Maintaining a steady flow of quality website visits is the first step to generating quality leads, gaining new customers, and growing your business. It's the only way to earn more money and provide yourself with enough reasons to expand your product lines, hire more people, open new locations, and invest in research and development for new ideas, etc.
In order to help you grab a slice of that desired traffic, we have listed four surefire practices on how to grow your brand online, gain new customers, and increase site visits in this highly competitive and demanding market.
Start Blogging
Every online business, regardless in which market or niche in which it operates, should have a blog. A quality company blog can turn your entire business around. It can help you develop authority online, drive intelligent traffic to your site, create an actual base of readers that will frequently revisit your site and pages, and engage your potential clientele.
Apart from bringing new people to your site, a quality blog also has the power to convert those visits into actual leads. If you prove your quality and worth to your potential clientele, it will be a lot easier to convert them into your actual paying customers.
When you really think about it, each relevant topic or keyword presents another opportunity for you to reach out to the right audience and convince them you know what you're talking about.
Creating trust is probably the best thing you could do for your business online. If people start to remember you for your knowledge and expertise, they'll start to organically share your content, and thus significantly increase your site visits and the possibility of making new clients or customers.
Blogging is a necessary marketing tool today that drives long-term results. It works because it actually offers something useful or interesting to the users. A blog is not an aggressive strategy for promoting your brand and business. If done right, a blog will only attract visitors that are interested in what you have to say about a particular topic. It will only appear in front of people who are actually searching for what you're offering. That's why it's so effective.
If you want to make some real ROI with blogging, you need to come up with a sound strategy. Research your competition. Try to figure out what's going well for them and what you can do to beat them in their own game. Also, pay attention to their writing style and formatting. Focus on the design, user interactions, and keywords and topics your competitors are covering on their blog.
Once you do all that, it's time to move on to the second phase and identify your blogging goal and demographic. Before you even type a single word into your CMS, you first need to identify why you should have a blog in the first place. You need to know what's in it for you, and what for the readers. Your goals should be ambitious, but realistic. They should push you to work hard and smart. When you check all these things from your list, tailor your content strategy around these goals, plan your plots, and invest time in creating and publishing relevant, unique, and in-depth content.
Content Marketing
Even though 53% of questioned marketers say that blog content creation is their top inbound marketing activity, you shouldn't stop there. Blogging is great, but it's not enough. Running a company blog should represent one of the many activities you do under the roof of your overall content marketing strategy.
Content marketing is the ultimate solution for those who are struggling to generate quality visits to their site. It's the first step to getting your leg in front of your competitors and beating them for your desired traffic. As you probably know, content is a strategic approach to creating and promoting compelling messages that have the power to influence how your targeted audiences sees and feels about your brand. Its main purpose is to grab people's attention and guide them through your sales funnel until they make a conversion on your site.
This technique has proven itself valuable to most brands online because it provides their potential shoppers and clients with something useful. Every intelligent content marketing strategy is designed with having in mind the user's needs and interests. It's a reliable and cost-effective source for generating new, quality traffic and potential clientele. It also does wonders for your returning visitors metrics. If people get what they came for when they encounter your content, the chances are they're gonna keep coming back to your site.
Content marketing gives us the chance to demonstrate how well-educated, experienced, and creative we really are about our niche and industry. If you understand your targeted crowds' interests, what troubles them, and what you can do in order to help them overcome their issues, you are going to see some significant increase in your site visits and conversions.

Aligning your users' interests with your expertise and business objectives will surely help you win big with your content marketing.
SEO
If you want to steal some quality traffic from your competitors, one of the things you could do is best them at SEO. Optimizing your website, pages, brand and business for search is still one of the most intelligent ways you can achieve success on the Web.
A lot of digital marketing experts claim that, if done right, SEO brings the best ROI out of all popular marketing and advertising practices. The best thing about investing in SEO is that it allows you to intelligently advertise your brand to your desired audiences. Your site and pages only appear in front of the users the very moment they are searching the Internet for keywords that are relevant to your website, business and offerings. Nobody is being exposed to unwanted material here. That's why SEO works.
In case you're not familiar with the statistics, Google now processes more than 40,000 searches per second. Users from all corners of the globe are constantly using the world's most popular search engine to find answers to numerous questions and problems. Having these numbers in mind will help you find a way to climb the ladder in Google's search, especially if you are running a small site and company.
Investing in search engine optimization helps small to medium sized businesses grow on many different levels online. It increases their brand visibility in Google's SERP and improves their credibility. It doesn't really matter what you do or sell online, your rankings in search matter. Having awful rankings is no longer acceptable. In this day and age, no one really trusts a business that doesn't appear on the first page of Google's search results for relevant topics.
Native Advertising
Even though people now hate classic advertisements, they still buy stuff. They are still interested in learning about new products and services, only in a way that isn't really all that aggressive and boring. The only thing that has really changed is the fact that today's Internet users demand more from brands than just lazy call-to-actions. "Buy now," "click here," "visit," "sign up" – these phrases now drive potential customers away. People are sick of them, especially the Millennials.
Even though they despise classic advertisements, recent studies have shown that Millennials trust branded content. Having these findings in mind, we can easily infer that in order to survive in today's world and drive traffic to our site, we must first analyze our targeted audience, see which sites they frequently visit and why, and figure out how to "organically" appear to them.
This is where native advertising comes to shine. For those who are not really familiar with how this concept works, native advertising has very little to do with generic brand and product placement. This agile way of promoting your business online focuses on distributing educational, emotional or just plain ol' entertaining content on platforms that have large followings of people you're trying to reach. Native advertising provides brands with an unique opportunity to casually appear on mediums that are frequently visited by their targeted audience, and thus create a whole new level of trust and understanding for their own business in the heads of your potential followers and clientele.
Over to You
Thank you for taking the time to read this blog post from top to bottom. I hope it helped you understand that in order to drive some quality traffic to your site, you have to really cater to your audience's needs and desires. You have to provide them with something that's truly valuable in their eyes, and not just bombard them with boring and predictable advertisements.