November leaves no doubt that autumn has arrived! Autumn is an exciting time of year marked by the abundance of vegetables gathered from fields. When you look at all the big round pumpkins that represent the fall harvest, have you ever stopped to think that each of them was nothing more than a tiny seed in the spring?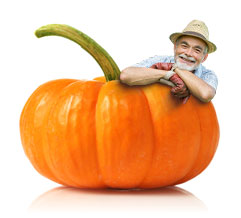 Here is a wonderful example relevant to any job, even if you have never stepped foot in a field and work mainly at your computer. If you take that tiny seed of your dream (which is full of power and potential) and nurture it, with hard work and time you will gather the fruits of your labor.
Every time a new site is ready we hope that we have remembered to cover all the bases. Is there anything we might have overlooked or forgotten about? There is no need for worries anymore, because now you have a checklist from Steven Bolton. This checklist starts from the point at which you have sourced your domain name, chosen your template, changed your DNS settings and your site is live. So now you are open for business, what next? Make sure you have everything set up properly! Read more…
Get to Know a Few of Our Best Affiliates
Today we want to introduce our good friend Carmen V. Alonzo, who has been working on the Christian dating niche site. Carmen came to us with crystal clear idea of what her dating site should look like and what kind of service she wanted to offer to her members. Step by step she built the site according to her criteria and promoted it with careful tracking of her promotional campaigns cost. Carmen's site is a good example of a niche site run by a person who knows all the subtleties of the niche. We are sure that this is the way to guarantee success!
Who are you?


My name is Carmen V. Alonso.

Where are you from?


I was born in Puerto Rico and moved to USA in the 80s.

What do you do in life?


I have worked as an accountant for the last 30 years.

When did you start working in the on-line dating industry?


In 2009, after many disappoints with all the major dating sites and scammers, a friend and I decided to investigate how to start our own dating site. We didn't know anything about the business and our IT knowledge was very limited. After plenty of research, we launched SinglesFreeOfLoneliness.com on September 29, 2010. At the beginning of 2011, my partner became frustrated and decided to leave the business. I believe that the dating business can very lucrative, but requires plenty of time, money and patience.

What are you going to spend your first payout on?


I'm going to invest it back into the business. I believe in this business and I want it to continue to grow.

What is your favorite promotional method?
I have a blog and pages on Facebook and Twitter in which I write about relationships. I also advertize on Plentyoffish and write press releases to distribute to different companies.

Can you tell us your words of wisdom for newbies?


The dating business isn't a piece of cake, you have to work hard and be very creative. Do not give up, because eventually you will see the fruits of your hard work.
Best wishes and good luck from DF team
Make sure you read our marketing and company news at our Blog:
https://datingfactory.com/blog/
Take part in the discussion on the partner Forum:
https://datingfactory.com/forum/
Use your administration area tools to their full potential using our Tutorials:
https://admin.datingfactory.com/contact

Follow us on Twitter:
https://twitter.com/datingfactory


Join our Facebook group:
http://www.facebook.com/group.php?gid=172005894013


Join our LinkedIn group: http://www.linkedin.com/groups?home=&gid=2416698&trk=anet_ug_hm


Stay in touch on Google+: https://plus.google.com/107876291608517033848/posts