Hi Partners!
This month let's focus on optimizing your site by increasing Visibility, member
Retention and Traffic.
Yvette Fearon

Sale & Account
Manager USA

Tel: (+1) 888 274 1326
Mob: (+1) 626 297 8790
Search engines are your secret weapon and key to internet success. Every day, millions of people use search engines by typing in words or phrases to describe what they want. If your name pops up in the results list at Google, Yahoo!, MSN, Ask or any of dozens more like them and the benefit's are golden.


4 Steps to SEO (Search Engine Optimization) and why these are crucial steps to a successful online dating site
Get your Facebook Blog Started!
1. Keyword Search
The first part of SEO involves choosing the right keywords for your campaign. If you choose the right keywords, the ones that your target audience is using when they search on Google, you are creating a strong, solid and sustainable foundation for your SEO campaign.
If you choose the wrong keywords, you'll spend the next months wasting your time and money. So make sure you get this step right. Characteristics of good keywords include:
Relevant to your offer
High search volume
Action-oriented (as opposed to research-oriented). A keyword like "computers" is most likely to get a lot of visits from people doing research. A keyword like "Dell X105 prices" is a lot more likely to bring you people ready to buy.
2. Part 2: On-Site Optimization
The second part of SEO involves optimizing your own site with the inclusion of the keywords you have decided to target. The following are some of the places on your website where you should put your keywords:
Page titles
Meta tags (not very important anymore, but it doesn't take a long time and you will get a small gain)
H tags (H1, H2, etc.)
Your URLs
The body copy
Avoid frames
Use DIVs instead of tables for layout
Avoid 100% Flash sites
Don't put your text in images
Make sure you structure your pages and folders right
Make sure search engines can follow your links (avoid Flash links and JavaScript links if possible)
Use keyword-rich anchor text for your links
https://admin.datingfactory.com/tutorials/editsite/Editing_META_tags.pdf
3. Part 3: Content Creation
Once you've optimized all the content on your site, it's time to create new, robust, compelling content. Create amazing content so people tell their friends about it and their friends correspondingly link to your articles. The search engines feed on content and reward high quality links, so create as much relevant content as you can and make sure it's of great quality.
And, don't forget to include your keywords here and there whenever it makes sense.
Place content under Frontpage (simple)
4. Part 4: Link Building
The most important factor that determines which websites rank at the top of Google is inbound links (from outside of your own website). Make sure that:
You get a lot of links from external sites (Easy, low-hanging fruit would be to get links from your business partners.)
Those links contain your keywords in the anchor text
You get as many links as possible from high-authority sites (you can check the PageRank of a site or its Compete.com ranking
You get as many links as possible from sites related to yours
You get as many links as possible from blogs covering topics in which your target audience is interested
(You link to your own pages from within your website using your keywords, too)


Use Facebook to Market your site here are a couple of tips:
1. Run Promotions
The number one reason people subscribe to you on Facebook is because they want deals or promotions; the same goes for email. Run a promotion once a month, such as giving away a limited-edition product of yours that they can't get anywhere else. This will get people engaged and visiting on a regular basis.
2. Use your Birthday
What's the most valuable space on Facebook that everyone sees? The birthday section. For years this space has stayed on the upper right-hand corner of the home page to alert you of your friends' birthdays. In the past, I've edited my birthday to match a handful of my major product launches. Change date to show new promotion launches
3. Implement our Facebook like feature and here's how: https://datingfactory.com/facebook-social-plugins-more-options-for-you-to-explore/


The importance of switching on Ads
This month I want to remind you that switching on Ads is very important to raise your revenue. I've noticed a lot of you have switched this feature off, I recommend you to turn it on not to miss out good revenue possibilities. To do so please choose Ads from the main menu, Edit ads, select the level, select the type of banner, here you can either check DF banners or if you have your own ones check "My own banners" and add your code in the space below.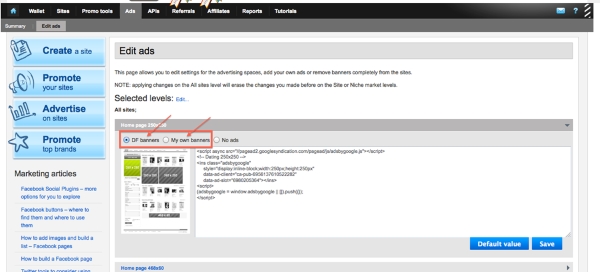 Events
Meet with us at the Affiliate Summit East in NYC!! August 10-12 to set an appointment contact me at yvette@datingfactory.com
We offer you a special treatment for September shows:
iDate Cologne – click on the link below to get 50 Euros off the conference rate:
http://idate2014.com//discount-cologe-2014-50.php?id=DatingFactory
The European Summit – click on the link below to register for free
http://www.theeuropeansummit.com/en/registration-affiliate
"Entrepreneurs average 3.8 failures before final success. What sets the successful ones apart is their amazing persistence." – Lisa M. Amos via Tanya Hamilton


August 1, 2014