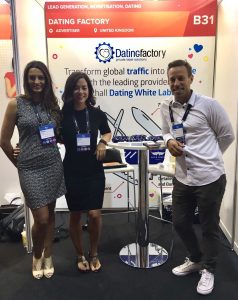 Affiliate World Europe hosted their biggest event to date on 14-15 June in Berlin, where affiliates poured in from the world-over, pooling ideas together, strategies and business philosophies together. There were thousands of affiliates in attendance, making it the optimal place to get the inside scoop on all of the latest trends in affiliate marketing.
Dating Factory representatives had prime real-estate (just beside the Beer Garden!), where they got the chance to meet their affiliates in person, and discuss Dating Factory's exciting plans for shared future success.
Here's what our reps had to say about Berlin:
Sharan Garcha, Business Development
"This was my 4th time attending an Affiliate World conference, and they never let us down! Each conference is an improvement from the last. AW does a spectacular job organizing which I would call, one of the top affiliate networking events held in Europe.  We always return very excited, with a tremendous amount of opportunities for new business."
Sharan's favourite part: Networking with the masterminds of the industry and discussing different trends, along with the very educational panel sessions. Last but not least, having the opportunity to spend time with existing partners and friends in person.
Jenna Stortini, North American Affiliate Manager
"It was my first time attending AWE and I was pleasantly surprised with the turnout!  The show was very busy – full of new faces, companies, and affiliates we have yet to do business with. I'm excited to get back, follow up, and get some new business rolling in!"
Jenna's favourite part: Getting to know her team, catching up with existing partners, developing relationships with new potential partners… all while repping an awesome team and a company that she believes in!
Niklas Fagerstrom, Affiliate Account Manager
"It was a very nice and eventful show. It was so great to meet the actual faces behind my accounts, as well as meeting new ones."
Niklas' favourite part: Interacting with, and meeting new and exciting affiliates.
We can't wait to keep our momentum going at our next event, Affiliate Summit East in New York City, July 30th.

See you in the Big Apple!