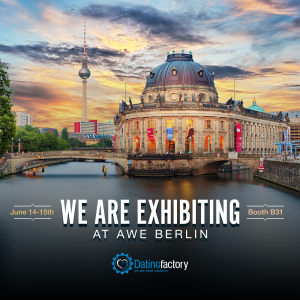 The AWE – Berlin Conference is only one week away, and we can barely contain ourselves! Are you as excited as we are?
Here are some events that we're particularly excited about:
1. Trey Lewellen's presentation
This keynote speaker will be detailing the peculiar story of a multi-million dollar niche's discovery known as The Flashlight Campaign. By the end of Lewellen's presentation, you'll have all of the juicy details and tips to help you cash in on any potential niche goldmines.
Lewellen's presentation, "The Flashlight Campaign That Ignited Native Advertising" is on Thursday, 15 June @ 12:20.
2. Best-selling Author, Drew Eric Whitman's talk
Best known for his groundbreaking best-selling book, "CA$HVERTISING: How to Use More Than 100 Secrets of Ad-Agency Psychology to Make Big Money Selling Anything to Anyone" – Drew is sure to reveal some fascinating morsels of marketing knowledge that will broaden your perspective on the industry.
Whitman's talk, "BRAIN BLOCKS: How to Fix 13 Hidden Ad-Response Killers Now Strangling Your Sales" is on Wednesday, 14 June @12:20.
3. The Breakout Sessions
Throughout the conference, AWE will host multiple main
speeches that will inspire and educate – and in between these speeches, you're invited to meet with various niche experts and explore your subjects in depth! Make sure to breakout and expand during these periods, it's worth it!
4. Martin Eyking's Seminar on Affiliate Outsourcing
Martin Eyking, CEO of New Media Services, will be leading everyone through a 45-minute, eye-opening training seminar on hiring and training new employees to bring your operation to the next level.
How to Train, Hire, and Scale for Affiliate Outsourcing will be held on Thursday, 15 June @14:25.
5. The Networking
Affiliate World Conferences all offer some fantastic events, but networking with passionate experts from the field is what makes conferences like these so invaluable. Make sure you get out there and make some new exciting connections!
Be sure to catch our Dating Factory representatives at Booth B31 – just beside the Beer Garden! We can't wait to see you in Berlin!