Hello and welcome to the first autumn newsletter!
September has come together with the end of summer holidays and vacations
season. So traffic activity is going to rise and let's grab that wave and ride it for
high tide of sales!
Serge Zhyrov

Partner Account
Manager Eastern Europe
& EU Others

(+44) 20 3290 2338
Let's keep on speaking about the key-element of you site's high rank in SERP – backlinks!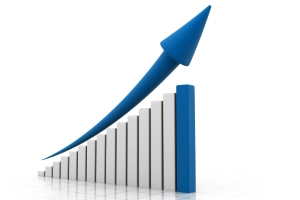 There some really new FREE sources for backlinks:
1. Submit to Audio Sharing Sites
SEOs never use audio sharing sites…which is CRAZY because they're ridiculously easy to get backlinks from.
And make no mistake: these audio sharing sites are PageRank powerhouses that can move your site in the SERPs.
All you need to do is create a piece of audio (preferably music) and upload it to these sites, which give you a nice dofollow link in exchange:
Reverbnation.com (PR6)
BandCamp.com (PR7)
Sutros.com (PR5)
YourListen.com (PR5)
These files aren't usually screened by people so you don't have to worry about winning a Grammy.
Just record something, upload it, and grab your authority links.
2. Give Testimonials
Companies big and small LOVE to show off their customer testimonials. If you're using a product or service that you love (or at least like), consider sending them a testimonial.
When you do, make sure to tell them that they can put it on their homepage or a testimonial page. To show that you're a real person they'll often put a link to your site for you…without you even having to ask.
Make no mistake, you can get some baller backlinks from testimonials (this one here is on a PR6 page):


When I see an authority site with testimonial links I sometimes buy their product just to give a testimonial and get a link.
3. Fiverr Blog Backlinks
It's very fashionable to hate on
Fiverr
because 99% of their SEO gigs are absolute garbage.
But the 1% that's left is solid gold bullion. The key is knowing how to find the 1%.
When I want to get backlinks at Fiverr I'm hunting for ONE specific type of gig: a webmaster who is selling a contextual link on his site.
And if you look hard enough there are site owners on Fiverr that have absolutely no clue how much a link on their site is worth.
Here's the link profile from a site I got a link from the other day (PR4):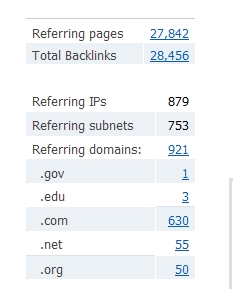 For this level of quality you'll usually have to provide the content yourself (no biggie).
And while this may seem like traditional guest posting, it's a VERY different ballgame because:
You don't have to follow any fascist "guest posting guidelines"
You can write content optimized around your keyword
You can drop links wherever and however you like
You usually get your guest post posted within a day or so
Luckily, finding these gigs is a cinch. Just type these into Fiverr's search field:
"I will post your content"
"guest post on my"
"I will post your article"
4. Submit Your Site to Blog Aggregators
You can get a dofollow link on most blog aggregators for free in three easy steps:
Submit your site
Add a special HTML code to your site to confirm that you're the owner
Wait for someone from the aggregator to stop by and take a look at your site
When they approve it you'll have your own page on the aggregator with a dofollow link to your site. Easy peasy.
In addition to Technorati (a must) here are some other blog aggregators to submit to:
Alltop.com (PR7)
Blogarama.com (PR2)
For more tips keep eye on my newsletter and any reference info I'm giving in them.
Now you have some great way to pump your site with natural traffic. So let's use some great tools to analyze how well your LP performs.
For example, ClickHeat is a visual heatmap of clicks on a HTML page, showing hot and cold click zones. This free tool gives you idea what your visitors are looking at the first thing your LP loads in their browsers.
You can check how it works on demo: http://www.labsmedia.com/admin/clickheat/index.php
Or you can use some alternative tools:
– http://www.mousestats.com/
MouseStats Visitor Playback will record thousands of real visitor interactions on your site and you can watch their page views like a movie. What they see, their mouse movements, clicks, key-strokes, scrolls and all activities on your website. This is a paid tool but very powerful. Demo is here: http://www.mousestats.com/sales/playbackdemo/
– of course let's not forget about totally free Google Analytics Motion Chart:
https://support.google.com/analytics/answer/1010059?hl=en
Feel free to send me your comments and share your experience using visitors behavior tracking tools.


Voting has begun…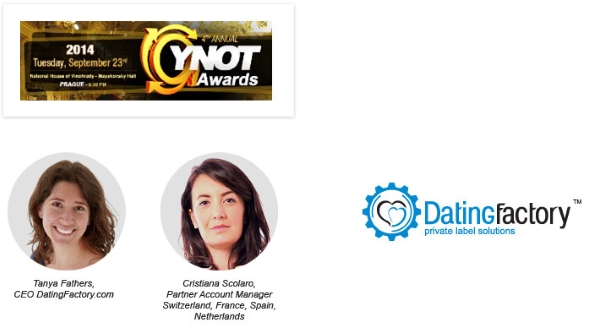 I'm proud to announce that Dating Factory has been nominated for two categories at the YNOT Awards taking place at the end of September. We are in the running for "Best Dating Company" and "Best White Label Provider."
Dating Factory CEO Tanya Fathers has been nominated for "Businesswoman of the Year".
Cristiana Scolaro has been nominated in the category of "Best Industry Representative".
You can vote here http://www.ynotawards.com/voter.htm
Also, you still have time to register for free for The European Summit – click on the link below
http://www.theeuropeansummit.com/en/registration-affiliate

Yours SEO-ly,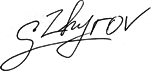 September 1, 2014