Hello lovely people!
Summer is over but we're still have time to enjoy last sunny days

Nick Dovgopolyy

Senior Partner
Manager

(+44) 20 3239 3504
This month I am going to be discussing press releases, SEO as well as voting for Dating Factory for the upcoming YNOT awards!
Have a great month, please contact me if I can help you with anything


The Importance of a Press Release
A press release is essentially a communicative tool that lets users know about your company and website. While press releases communicate with users, they also communicate with search engines. This means that they should be written for SEO, as they will help the site to be optimized, viewed and ranked by search engines.


Benefits of a Press Release
Your website will benefit from having a press release for SEO. The benefits of having a press release for SEO include:
It is a marketing tool.
It provides exposure for your site.
It will introduce your site to new users.
It can give your website better visibility for search engines.
You will increase the amount of backlinks from other websites.
It will increase your search engine rankings.
There are plenty of places where you can place PR releases for free and get noticed by a prospective.
So here is a list of a few free press release distribution sites:
www.free-press-release.com
www.pitchengine.com
www.24-7pressrelease.com
www.freepressreleases.co.uk
www.pr.com
www.pressabout.com
www.pressbox.co.uk
www.1888pressrelease.com
www.pr-inside.com
www.pressmethod.com
You can write about your site's features (5 free emails, Gold profiles for women, etc.). Maybe some success stories from your site's members. Show everyone that your site is one of the best on the market. Also think about paid releases on www.PRweb.com.
But be careful! After latest Google Panda 4.0 release, you need to make sure that you're posting GOOD CONTENT in your PR.
PR Newswire, and likely other similar websites, is instituting these guidelines:
– [Releases must have] insightful analysis and original content (e.g. research, reporting or other interesting and useful information);
– Use of varied release formats, guarding against repeated use of templated copy (except boilerplate);
– Assessing release length, guarding against issue of very short, unsubstantial messages that are mere vehicles for links;
– Overuse of keywords and/or links within the message


Voting has begun…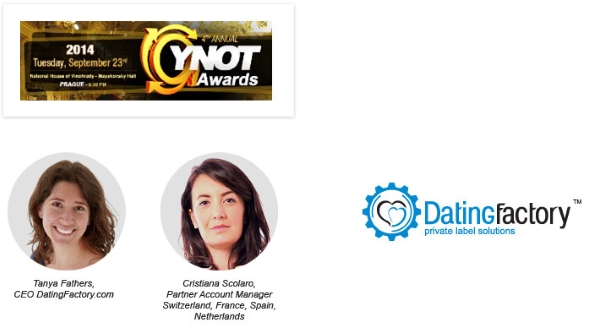 I'm proud to announce that Dating Factory has been nominated for two categories at the YNOT Awards taking place at the end of September. We are in the running for "Best Dating Company" and "Best White Label Provider."
Dating Factory CEO Tanya Fathers has been nominated for "Businesswoman of the Year".
Cristiana Scolaro has been nominated in the category of "Best Industry Representative".
You can vote here http://www.ynotawards.com/voter.htm
Also, you still have time to register for free for The European Summit – click on the link below
http://www.theeuropeansummit.com/en/registration-affiliate
If you have any questions or if you need any kind of assistance, please get in contact with me, I'm always happy to help!


September 1, 2014