Mobile device internet traffic is massive and growing. Dating Factory's sites are all mobile enabled, with user friendly screens that are customised for mobile phones.

Apps are also massive and a part of everyday life, there's almost an app for everything. And there are lots of apps for dating sites. Feel like you might be missing out? I did, so I looked into how I could set up a mobile app which linked through to one of my sites.
First, a few facts about mobile phones and apps. The number of active cell phones will reach 7.3 billion by 2014. In other words, there will be more in-use cell phones than there are people on the planet right now. (Source: Digital Trends). According to the latest report from Walker Sands, internet traffic from mobile devices surged to 28% in the third quarter of 2013, a 67% year-over-year increase from the same quarter in 2012. (Source: BGR). On one of my highest traffic sights, between June 30th and July 30th, traffic from mobile devices accounted for 53% of all visits, driven mainly by Google Adwords mobile ads.
I set up a mobile app for my site I Find Girlfriend, and mobile traffic accounted for 75% of traffic in July 2014, with 89% of traffic coming through my app. Convinced? Then read on.
Having researched the market, I chose Como.com as the platform provider, based on cost and functionality. Como.com provides a very easy to use drag and drop capability to build a user friendly mobile app interface for your site. This is a screenshot of the dashboard: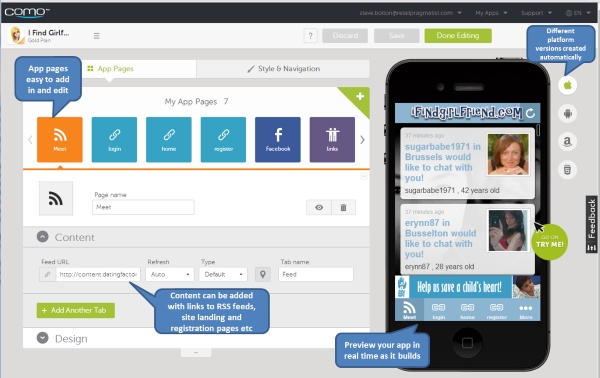 The functionality highlighted shows where you can:
Easily add in different app pages, which can load an RSS feed, point to the site's landing page, registration page, log in page, member profiles, links page to promote other sites etc
Different platforms for IPhone, IPad, Android and Amazon are all built automatically from one set of inputs
You can preview your app in real time as it builds.
One great feature is that you can build a link into your Facebook page for promoting your sites (see my recent articles on building Facebook pages here). This is a screenshot of my Facebook page Browse Dating Sites on my app: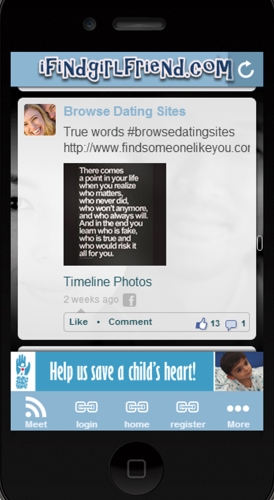 Under the "Style & Navigation" tab, you can choose how you want your app to appear from a number of different templates, and you can edit the colour themes on each one to customise further:
Scroll down in this section to change the app's background and add in some information on the brand identity for your app, including your logo and icon: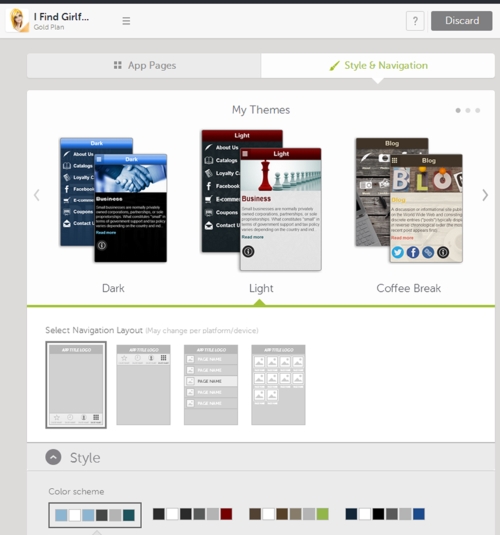 There are plenty of free sources of icons; one source I use is Iconfinder.com. Check that any you choose are free for commercial use. Or if you want a more bespoke and distinctive icon, try Fiverr.com where you can find low cost design solutions very easily. Fiverr.com is also a good source of logo design for your site / app, or use Powerpoint which has some good text manipulation features. See my post on creating unique logos here.
In Summary
Mobile is overtaking desktop as the primary access to the web, with high volumes of traffic especially for dating sites

Ensure that you have set your mobile dating site version live and edited it for a logo to make it stand out.

Consider creating a mobile app which links into your site and allows you to add in other features such as links to other sites of your own and Facebook pages.
Future posts will look at further aspects of how to develop your app and how to promote it.
Good luck!