At Dating Factory we are always impressed by the ingenious ways our amazing partners find to promote their white label dating sites on our platform and we aim at helping all of you improve your marketing efforts with the best tools on the market.

When it comes to growing their dating business, one of the coolest and most successful Dating Factory Partner efforts we have seen, led to the creation of a SaaS that automatically enhances your display ads – Perfectbanner. Without any manual interaction this software changes the look of your banners based on real time performance. By identifying and implementing the top performing variations of banner elements, for example image, copy, colour etc., your CTR and CVR is boosted.
We were so pleased with their results that we decided to partner with them and offer their product to the rest of our partners in order to boost performance on Google AdWords as well as RON display campaigns on different traffic networks. This would ultimately increase the performance of your sales funnel, all before the user even hit our platform.
So, what makes PerfectBanner so good?
The product has a simple value add but under the hood an advanced set of functionality is driving the performance and separating it from traditional optimization tools. Beyond the statistically-based algorithms Perfectbanner is defined by five main value drivers.
Bulk creative production
PerfectBanner comprises a bannerbuilder, specifically engineered for creating a large number of variations through bulk upload and bulk production. Add 20 images, write 10 headlines, define your color scheme etc. and let PerfectBanner produce your display ad variations through one simple click! Stop working manually and become more time-efficient, letting Perfectbanner drive speed and volume.
Reversed algorithms
Instead of focusing on the highest performing variations, Perfectbanner identifies and eliminates the worst performing variations until the top performer remains. Reversed optimisation incrementally increases conversions from the very first impression by constantly boosting average performance of all active variations. So not only is the banner content being optimized, simultaneously the testing process is optimized to minimal possible conversion loss.
Machine learning algorithm
Oh yeah, and the algorithm becomes stronger over time as it feeds on historic data giving additional competitive advantage over time.
100% automation eliminates all manual involvement
Once the highest performing element variation remains (image, copy, color etc.) Perfectbanner automatically updates all future banner variations, ultimately changing and enhancing your display ad. Since the following optimization round is kick started simultaneously, this process is 100% automatic improving your conversion rate with every impression you acquire.
Integration – The one-stop-shop for creating and auto-enhancing display ads
PerfectBanner has a native ad-server, banner builder and decision engine and is fully integrated with AdWords and other leading ad-networks making it a one-stop-shop for anyone working with banner creation.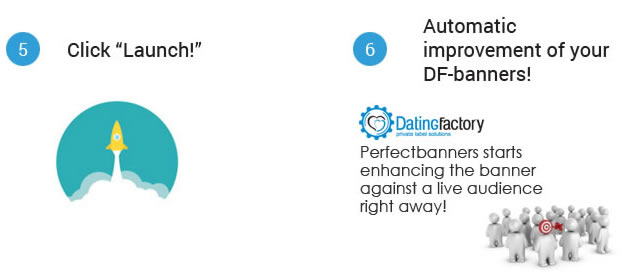 Book a demo now and get 25% subscription discount offered exclusively to Dating Factory partners! Just let us know by emailing us at aleksander@perfectbanner.com
Check out this video tutorial: https://www.youtube.com/watch?v=iEkaG-q8h4A&feature=youtu.be
The Dating Factory Team