This article will focus on the effective use of metatags in SEO (Search Engine Optimisation). Why are they essential to SEO and how can you leverage them to your advantage?
Metatags are the signals and signposts to search engines to tell them what your site and pages are about. Unique and relevant metatags for pages on your site are highly recommended, either for all pages or selectively. If you leave your metatags the same for all pages, search engines will interpret this as meaning that all your pages are the same. Therefore, all your pages won't be indexed – no indexation, no natural search results. So metatags are very important and worth investing some time to differentiate.
You can monitor the difference that changing metatags has on the number of pages indexed for your site through Google Webmaster tools. If you haven't done so already, set up a free account at Google Webmaster tools, which you can do by clicking here.
Add your site URL and add a tracking code to your site, which you can read about here in the Dating Factory tutorial – it's very straightforward and takes a few seconds. Once your site change has been approved, then verify the site – Google looks for the code to confirm that you are the owner of the site and gives you access to the tool set. Don't do this verification step until you have added the code to your site, then publish it and wait for your site to be approved, i.e. live with the updated code. Then add your sitemap.
This again is very easy. On the left hand side of the Google Webmaster site, under "Optimisation" the first Sub Heading is "Sitemap" – select this, then choose "Add/Test Sitemap". The extension for your sitemap is "sitemap.xml" – key this text into the box next to your URL name, and submit. If successful, you will see the total number of pages submitted. Check back in a few days' time to see how many have been indexed. Here's an example of one of my sites, before I edited the metatags; there are 22 URLs submitted and 12 indexed: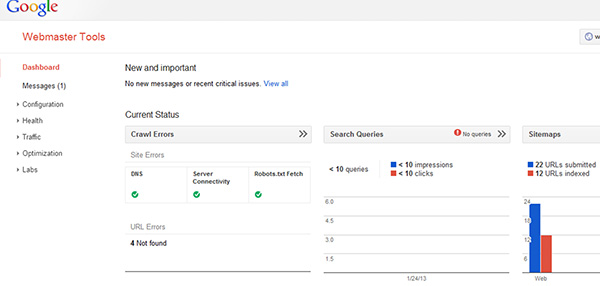 I spent some time on this site adding in language pages and unique metatags in all the selected languages, then resubmitted the sitemap. To learn more about updating metatags on your site, read this article from Dating Factory's tutorials.
Google Webmaster Tools Sitemap
After resubmitting my sitemap for my updated site, the results came back like this, after a few weeks to allow the indexation to take place: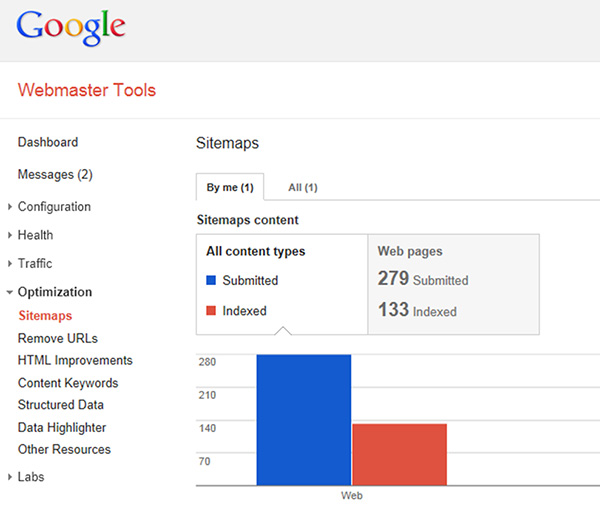 For just a few hours' work, I increased my site's presence in Google's index from 12 URL's to 133, effectively increasing my SEO chances by more than 11 TIMES. If you follow Dating Factory's guidelines on the structure and content of your metatags, and include a mixed variety of relevant, targeted keywords, then you have in place a good foundation for natural search results.
One result I have seen from applying this approach to differentiating metatags on pages is that all my dating site pages are beginning to be returned in natural search results. One example I saw was the registration page for one of my sites which returned the profile on Google Page 1 of a young lady in a particular location for a very specific niche search term, where the search was "find a lonely single girl in Polokwane (a town in South Africa)". This is a very powerful SEO dimension of effective metatag development – metatags open up your page content for indexation as well.
So in summary
Update metatags, with unique keyword rich content in all page descriptions and meta descriptions, in the appropriate language;
Unique landing page text linked to metatag keywords and description will help with SEO.

Whilst editing your site, you may want to:
Add unique footer text and links, again associated with your landing page keywords and metatags;
Page rank linking activities, i.e. links to pages by keywords from other relevant adult dating sites;
Links from blogs reviewing the site;
Link to other pages / sites with the same language as the linking page, where available.
Metatags are a key element of SEO, supported by keyword research. In a subsequent article, I'll be exploring some great free sources of keyword research. In the meantime, update your metatags, and track results through Google Webmaster and increase your chances of being returned in natural search results. Good luck!
Steve Bolton aka Dateblogger