Researching dating keyword terms and niches is a continuous, core activity for any webmaster serious about developing a successful portfolio of dating sites. Competition is fierce, some markets are very crowded and loyalty is hard to gain and sustain. So any edge you can find through keyword research is an advantage for you to exploit.
So the more relevant a dating site is to its niche, the better chance of recruiting and retaining paying customers. Dating Factory has a great range of niche dating platforms, with excellent templates and promo tools. Start by reviewing the list of niches and focus on one to start with. You may fancy senior dating, with ageing populations and people living longer and high divorce rates in some countries, this is an excellent niche. So, which country? You may choose your own, always a good starting point as you understand the culture and nuances that may shape your approach.
Search engines
Find the dominant search engine for your part of the world and start there. I will use Google as my base example; I am based in the UK and Google has by far the biggest share of the search market here. However, bear in mind that when researching different territories, Google segments its search engines by country. If I was thinking about senior dating in Australia, I would search on Google Australia for ideas and competitor web sites. Then I would go to Google's keyword tool as my first option (it's free!) which provides the basis to search keyword terms associated with a specific web site, specific keywords, by country and by device. So using senior dating in Australia as an example, let's work this through.
Searching on Google Australia for "senior dating" produces the following results (correct at time of publication):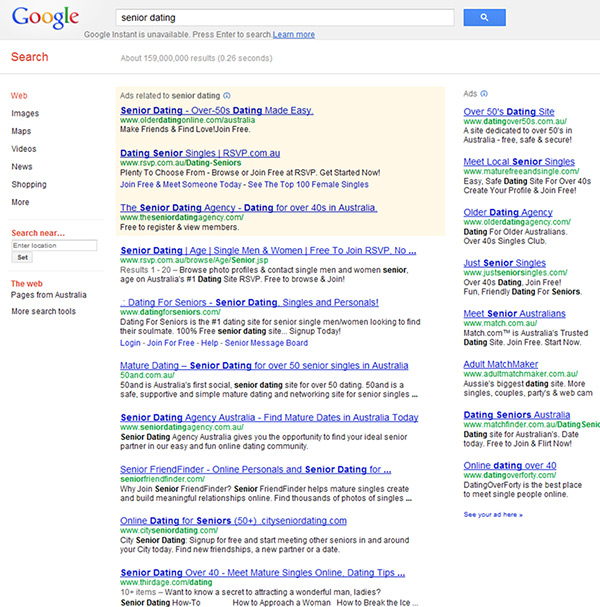 These search results give some fascinating insight into the senior dating market in Australia. All of these sites are worth investigating and exploring – the challenge is to re-engineer and improve on what the best in the market are achieving. The starting point is analysis. The top yellow box placements are awarded by Google; this is Google's view of the top advertised sites which match the particular search term best. The other advertised sites, listed on the right hand side, are those which are offering the highest cost per click rate to Google. The natural search results are those deemed by Google to be the closest natural match to the search term.
Keeping the search results page open, log on to your Google Adwords account if you have one and on the keywords page select keywords tool on the right;, if you don't have a Google account, search for Google's keyword tool. You will come to a screen like this: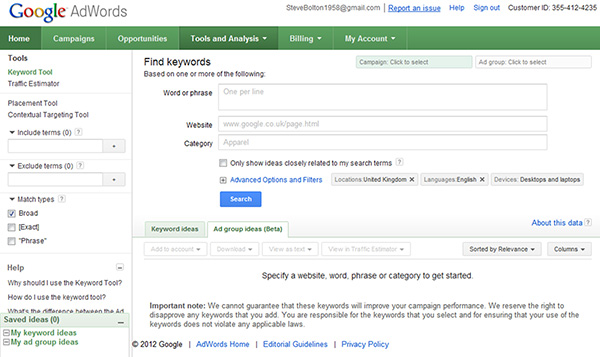 Now start to add in the specific search criteria: copy and paste a web site url from the previous search page into the "Website" box; change the country selection to "Australia", open "Advanced options and filters" and tick "include adult ideas" and under "Category" search through the categories and find "Dating & Marriage matching". On the right, click the fields for "Phrase" and "Exact" matches as well. You will then start to generate keyword ideas based on the top placed senior dating sites in Australia. Capture these using Google's "Save All" function.
The fascinating result for the top advertised site is that the term "senior dating" doesn't appear anywhere in the top search terms associated with the site www.olderdatingonline.com/australia, which comes top in the paid search box. In fact, if you do a search on the keyword string "senior dating", it only returns 2,900 local monthly searches – arguably not a great search term. The key message here is not to get emotionally attached to keywords; if the volume isn't there, move on and find another term to focus on. The search term results against the number 1 site for senior dating does just that.
The highest volume is attributed to the broad search term "online dating at" – see below: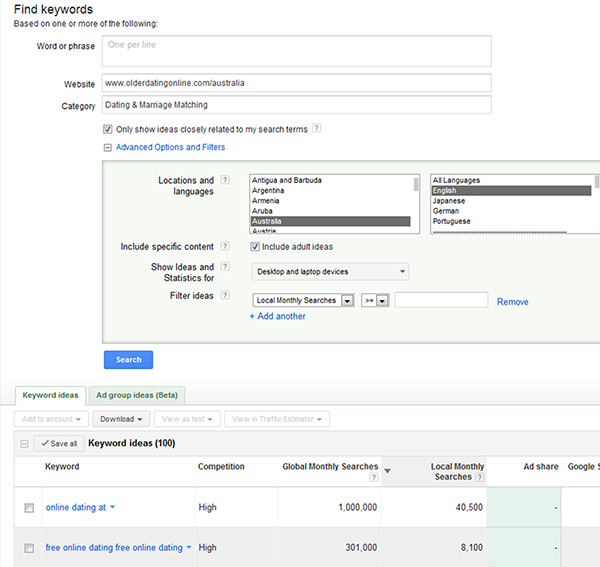 This result takes the search analysis into a different direction – arguably, senior people don't think they are "senior". I am fifty-four, and I wouldn't search for a senior dating site; I might end up registering on one, if I find the right site for me. But I wouldn't search on that keyword string. The key lesson here is not to think in stereotypes, but think like a prospective customer might.
"Online dating at" is worthy of more exploration. In the long tail world of keywords, what might someone attach to a keyword phrase? Maybe "Online dating at 40/50/60/forty/fifty/sixty" and so on. Develop this thinking and explore potential keyword phrases to home in on your keyword terms and phrases. "Free online dating" at number two in the search results highlights another significant search category for free dating generally. Don't shy away from this, it doesn't necessarily mean that none of these searchers won't sign up to a paying dating site; I regularly get conversions on my PPC campaigns for "free dating" related keywords.
A further critical point to remember on these search results is that the search volumes are indicative only; the number does not represent how many clicks you will get. You will get a percentage of clicks depending on your position in Google; front page near the top gets the most share.
The relatively low level of people searching for "senior dating" are highly likely to move on and search again for something else, maybe "find me a mature woman in Sydney" – this is getting into the long tail. I will be covering this in a future article in much more depth, along with negative keywords and their importance, particularly in pay per click advertising.
On closer inspection…
A closer inspection of the search results reveals that there are 1 million global searches for the term "online dating at", of which only 4% is represented by Australia; so change the country selection to see which countries produce the highest search volumes, as on these results, you are targeting the wrong territory, and richer pickings lie elsewhere.
This initial level of keyword research is important as input into content that you need to create both on your web site and in associated blog posts which link to it. Content must be unique and include variations on keyword themes around senior dating. Google increasingly is looking for unique content and authority; this again will be covered in more depth in future articles.
I would also like to share a few insights from my own personal keyword database accumulated over the last five years via my Google Pay Per Click account. As well as generating traffic and clicks to my dating sites, I have also acquired a keyword database that is now credible enough for me to use as a primary source of research.
Google's Adwords platform provides the capability to drill down into the actual detailed search phrases that generate the impressions and clicks for specific keywords. Naturally, the number of impressions generated is also based on the price I am prepared to pay for a particular keyword. However, in five years I have generated 451m impressions, across all search networks and platforms (i.e. computers, mobiles). The highest number of impressions is, unsurprisingly, on the broad keyword match porn at 1.7m – this is for South Africa only!
The excellent drill down facility is under the tab "Keyword details", which is very revealing. The drill down reveals that the keyword porn generated 740,000 impressions or 43% of results; the next most popular term was xxx, followed by sex.
The broad match keyword women has generated 1.1m impressions, again in South Africa; the phrase which generated the most impressions for the keyword was naked women at only 21,000, revealing a massive range of keyword terms generating impressions from just one core keyword.
There are a number of key learning points here:
The long tail on keywords combinations is massive;
Search engine techniques to match keyword to search terms need both understanding and managing, particularly in a pay per click environment;
This can be done by the effective use of negative keywords, phrase and exact keyword matching, and a little known technique called Broad Match Modifier;
These techniques will be explored in more depth in future articles.
In summary
Keyword research is complicated and needs deep research, analysis and understanding to be leveraged effectively;
Don't get emotionally attached to keyword search terms; go with the search result facts and seek out the higher volume searches;
Single and two word keywords don't reflect the real world of customer searches, unless they are searching for a brand name, like say Match.com;
Customers will use phrases when searching; search engines interpret the search phrases and provide the best match based on their own unique criteria;
For effective pay per click campaigns, in particular, and for blog content, developing long tail search keyword phrases is critical, supported by Broad Match Modifier, Phrase Match, Exact Match and Negative keywords selection.
Steven John Bolton