Today we are excited to announce some amazing news! Dating Factory has been acknowledged as the Best Dating Technology Provider at the latest YNOT exhibition, which was held in Prague this week.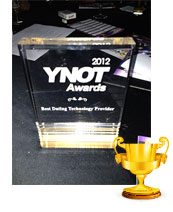 It is hard to express our feeling with words, we are just so happy to be the best in what we do. Read more on our blog about this special moment at YNOT awards dinner in Prague.
Our team is now wrapping up the exciting journey they began earlier this month and very soon they will come back home to hear words of congratulations from colleagues, and of course from you, our friends. We are absolutely positive that this win is something that we have accomplished together; we could not have done it without all of you.




For many centuries, human communication has been the only efficient way to move civilization toward progress. For each question posed there came a proper answer, resulting in a world full of planes, gadgets, and most importantly, pizza that is delivered right to your door!
Every time you find yourself stuck on a problem, try to turn the situation into a specific question and then look for the answer. The DF marketing blog is a proven resource full of proper answers to urgent questions about the dating market. Join our blog and stay up-to-date with all of the answers to your most important question about your on-line dating business.
You may notice that our marketing blog is a little extra full this evening due to the latest article we have posted. The Dating Factory team has started publishing a series of articles written by Steven John Bolton, an old friend and successful DF affiliate, who is sharing his experience with you. Don't miss the chance to learn how Dating Factory promo tools can help drive members to your sites. Add these important tools to your tool box right now! Read more…
Get to Know a Few of Our Best Affiliates
We would like to continue to introduce you to our good friends from all over the world, and this week you will meet Alex Bachinsky from Ukraine. Alex tells us the story of how he was able to break into the world of the on-line dating business with strong efforts and continual learning:
Who are you? Where are you from? What do you do in life?

My name is Alex. I'm from the Ukraine. I'm trying to do my best to make money online!

When did you start working in the on-line dating industry?

It all began 4 years ago. At that point I had never even heard about the on-line dating business.

Can you remember what you spent your first cheque on?

I realized the potential of this business very quickly as I made my first site payment during the first month. After a couple of months I received my first cheque which I invested into new sites. It was worth it!

What are your favorite promotional methods?

My main discovery was that the key to success with web sites are quality onpage optimization and smart link building. As soon as you do this, sites inevitably start bringing in money.

Can you tell us your words of wisdom for newbie's?

I would recommend this plan to any person who starts in the online dating business: First, create a plan taking into account the time and money you can invest into the site. Second, write (if it's possible and affordable in the budget) good content for your site and be unique in the market! Also, never stop improving your onpage optimization (write a good and different Title, Keywords tag, and Descriptions for all pages of your site), try to gain as many good links possible from trusted and high ranked relevant sites, try PPC advertisement, and last but not least, try to get more traffic from social networks!

And of course, don't panic if things do not quite go according to plan. Hard work always results in good money.
Best regards,
DF team
Make sure you read our marketing and company news at our Blog:
https://datingfactory.com/blog/
Take part in the discussion on the partner Forum:
https://datingfactory.com/forum/
Use your administration area tools to their full potential using our Tutorials:
https://admin.datingfactory.com/contact

Follow us on Twitter:
https://twitter.com/datingfactory


Join our Facebook group:
http://www.facebook.com/group.php?gid=172005894013


Join our LinkedIn group: http://www.linkedin.com/groups?home=&gid=2416698&trk=anet_ug_hm


Stay in touch on Google+: https://plus.google.com/107876291608517033848/posts