Dating Factory team carries on working on improving your partner experience with us and at the end of January we were concentrating on giving you more opportunities to promote your sites and expand your marketing campaigns.

Our offices:

Switzerland
Caerus AG
Lauriedstrasse 1
CH-6300 Zug
Tel.: +41 56 634 2202

France
3 Clos Buisson
Meylan, Grenoble, France

38240
Tel.: +33 950235336

United Kingdom
25 Ives St., Knightsbridge, London SW3 2ND
Tel.: +44 7775 852973

Italy
Via Coriano 58, Int 78J
47900 Rimini (Rn)
Tel.: +44 7551331621
We are very pleased to announce that our Affiliate program came 3d at iDate awards this year – straight after the well established FriendFinder and BeNaughty brands – even though it is still in "beta" mode and was presented to very few customers. Full release is expected in March this year.
We will also provide you with more exciting news from iDate 2010 in Miami a bit later this week.
Here are the main news headlines for the last two weeks:
Conquer new markets – Czech and Swedish languages launched.
We are getting requests for adding new languages to our platform on a daily basis and many partners cooperate and help us translate the web-sites to their languages.
We are proud to launch Czech and Swedish languages this month, and will be launching Polish, Turkish and Dutch in the nearest future.
More languages means more marketing opportunities for you as local markets are always easier to reach and advertising costs much less than on the English speaking market.
To add the new languages to your web-sites just go to:
Sites → Edit → Initial Settings:
…and choose the languages you want to use on your site from the list.
If the language you would like to have on your site is not yet available on our system, please contact your Account manager and we will add it to our priority list.
New niche markets and templates – more cross selling opportunities.
Based on your requests and our market research we have added the following niches to our platform:
Dating & sports – for sporty singles who want to find likeminded people (the ability to search by the kind of sport is added too)
Divorced singles – for those who have been married and are looking for the second chance in their lives
Professional singles – the niche for the professionals who are too busy to be able to find their love in real life
Swingers – those adults who like swapping partners and going to adult parties will definitely come to your swinger sites!
Be sure to create the sites on these niches and cross promote from your existing sites!
We have also added the new templates for various niches – take a look and change the template to the new one if you like them more: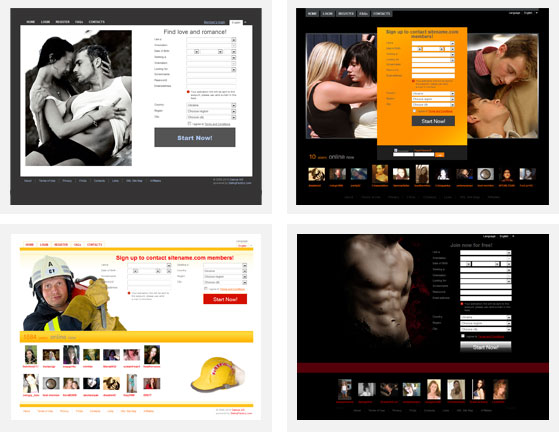 Optimise your marketing campaigns with the NEW dynamic landing pages.
When you are running PPC campaigns or optimize your web-site for different sets of keywords it is absolutely vital to be able to create different sets of landing pages for different campaigns and view the results broken down by the campaign.
You can do this now with Dating Factory platform as easy as you would create a new static page.
To do this you need to go to: Sites → Edit → Promotional materials → Landing pages
…and click on "Create new campaign" button there

Specify your campaign name that will be placed into the URL and edit your landing page as much as you need.
Want to pass your keywords and insert them into your page on the go?
This is also possible with our new dynamic landing pages. Just create a Get parameter macro, insert it into the page in as many places as you like and pass the keyword in the URL. This way you will get the necessary keyword dynamically pasted into the page as many times as you specified – a great tool to increase your keywords quality score in PPC campaigns!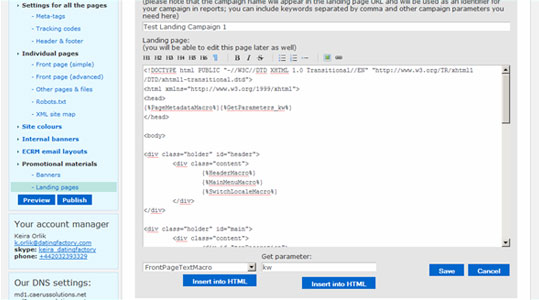 More detailed tutorial on how to use landing pages to their full power will follow shortly.
Discover administration area functionalities with Dating Factory tutorials.
We are working hard on making your experience with Dating Factory as pleasant as it can be but of course not everything is clear and straightforward when it comes to working with your web-sites in our admin area.
That is why we are launching our new admin section – Tutorials.
In our tutorials you will be able to learn what can be done using various sections of the administration area as well as learn the basic steps of starting your marketing campaigns.
This week we will cover the following topics:
•  How to become a Dating Factory partner

•  Editing your account details

•  Wallet section and your payment information

•  Referral program at Dating Factory

•  How to create your first site

•  Copy your existing site to the new URL

•  Domain name and hosting instructions

•  General rules and procedures for working with your sites

•  Editing your site's initial settings

•  Editing your front page. Simple editing

•  Editing your front page. Advanced editing. Macros

•  Setting up alternative landing pages for marketing campaigns

•  Working with other pages and files

•  Creating and viewing your reports

•  Action and entry dates in your reports

•  Sending newsletters to members to increase your site performance
If there is anything you would like to know or need to be covered in our Tutorials section, please ask your Account manager and we will be happy to explain it a.s.a.p. All the ideas you have are always welcome – please send them on and we will keep working on the new subjects!
More marketing tips from Tim Taylor
How you start out with Google AdWords can set the scene for plain sailing or digging yourself out of a hole later on down the line. If you're dipping your toe into the waters of Google AdWords, here are a few tips to – hopefully – help you avoid some of the common pitfalls and escape picking up those dreaded poor Quality Scores. Read the full Article here
More payment methods for your members – iTeleBill SMS payment solution is launched for the UK, Ireland, South Africa and Australia.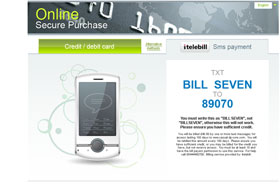 We are also pleased to announce that the full SMS payment solution has gone live on all our web-sites! Your members can pay by SMS in the UK, Ireland, South Africa and Australia, and more countries will be available very soon. This quick, secure and easy instant mobile payment helps members keep their private dating business to themselves and means more revenue for you in the nearest future!
Boost your conversions with St. Valentine's approaching.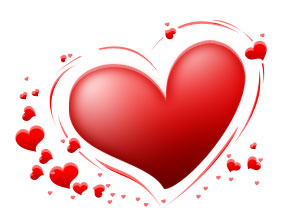 With St. Valentine's day approaching we decided to boost your conversion rates with the special offer for the Trial members on your web-sites.
Only from February, 1 till February, 14 they will have the opportunity to buy the 3 days Gold membership in their local currency to try how the site works and communicate with their matches. After the first three days the membership recurs into the full 1 month Gold membership unless the member cancels it before that.
We will keep you updated on the results of this offer throughout the system so you can compare your results with our averages.
As always – we are open to any suggestions and if there are any features we can add to your dating sites or administration area, please let us know and we will do our best to implement them in the nearest future!
Remember that you have a dedicated account manager who is always happy to help you, and of course we will keep you posted with the latest news and updates!
Thank you for reading!
Best wishes from
DatingFactory.com Team