I would like to cover an area that can be easily overlooked when setting up Blogger blogs, and that is the basics of Search Engine Optimisation, or SEO. There are a range of actions that should be taken when setting up your Blogger account, and I will run through these actions for you now.
I mentioned in my article on Dating Factory promo tools that I recommend opening a Blogger account as, in my experience, Google blogs rank very well in search results on Google. It is important, however, that you focus on the settings for the blog and for each individual post as well as the content of each post.
Firstly, make sure you edit the basic settings on your blog; choose "Settings", which will default to the "Basics" section, and then edit your title and description, making sure that you use core keywords that you have researched (see my article on Keyword Analysis for ideas and guidance on this subject):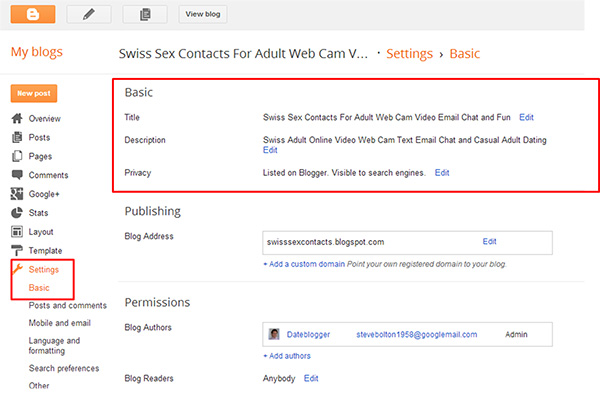 Save your settings and then select "Search preferences" within "Settings":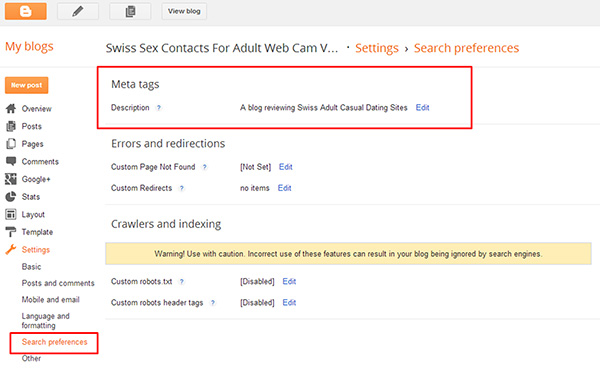 This is where you add in the meta tags for your blog with a description of it, including appropriate keywords from your research.
When you create a post, remember to add in "Labels", "Location" and "Search Description" tags under the "Post Settings" section on the right side of the page: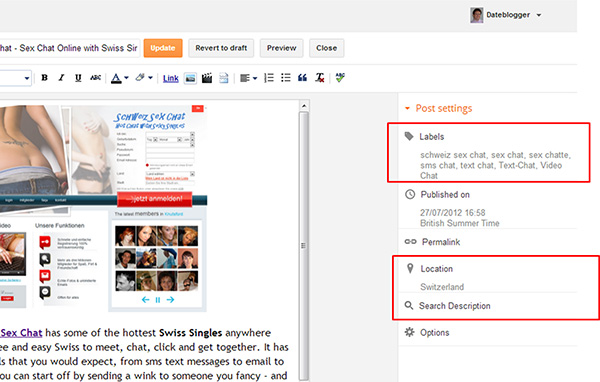 Finally, register your blog at Google Webmaster tools. This will enable you to submit a site map of your blog to Google, and use further settings within Google Webmaster tools to refine things like geographical targeting. You will also get some very good tracking and analysis information here on keyword searches and the page position your site has achieved.
When registering your site, you will be asked to verify it. You can get help on how to do this by following this Google Help link. My preferred method is to use the unique meta tag that Google generates for your site. Once you have this copied, don't press verify yet as you will need the code in your blog for Google to find. To add it to your Google blog, which you add into the blog's template, choose "Template" and "Edit HTML":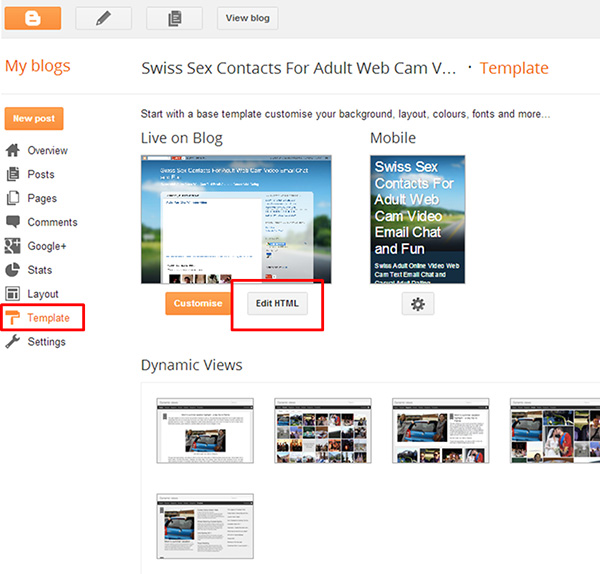 You will receive a warning explaining that changing settings can affect the blog's performance but this is very simple to do, so don't worry! Press "Proceed" and find the tagtowards the top of the code and insert the Google metatag just above it, so it's the first piece of code, then press "Save Template".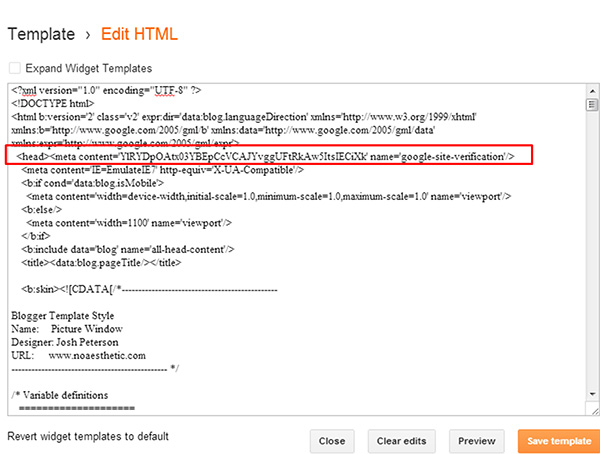 Then go back to Webmaster Tools and verify; the site should now be accepted as verified, as Google has found the code in your Blog header.
Finally, add in your site map, which for Blogger is your blog's URL with "/atom.xml" added at the end. Submit this and your site map should be accepted and URLs indexed for search purposes. The final stage, if you have a country specific blog, is to go to "Configuration", choose settings and change your targeted country.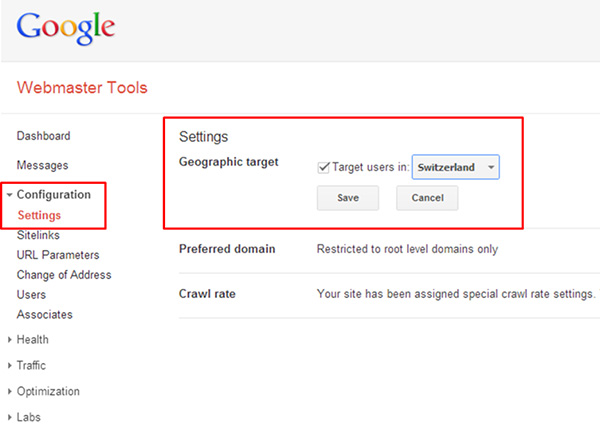 The methods outlined above for registering your Blogger blog with Google should also be undertaken for your dating site as well, same principles apply.
In Summary
Take the time to ensure that all your SEO basics are set up from the outset;
This will help get your site indexed more quickly around your targeted keywords.
I hope you have found this article useful in setting up your Blogger blog for best SEO effect.
Best regards,
Steve Bolton aka Dateblogger Follow me on Twitter