This article is a follow on from my recent article on SEO best practice checklist, covering basics, content, anchor text, images and heading tags. To conclude on best practice SEO guidance, I'll cover robots.txt, no follow links, mobile sites, backlinks and recommended free tools.

Robots.txt
This is a file which must be loaded into your root directory, with instructions for search engines not to access, crawl and index certain parts of your site. Certain pages are better excluded as they may be considered as duplicate content, which can be a negative ranking factor for a site. However, if the page is adapted for unique and relevant content then it should be delisted from the robots.txt file exclusions; otherwise the page won't be visible to search engines.
Fortunately, Dating Factory provides easy access to a site's robots.txt file in the Individual pages section of the site editing area. The default settings are ok and in general should be left as they are. There is a Dating Factory Tutorial which you can read here which tells you more about the settings and why.
If pages are added to the site, always consider whether they should be crawled and adjust the robot.txt file accordingly.
No Follow links
This is relevant in a couple of instances – where there is content with links to a site that may harm the site's ranking, and / or where there is a blog on a dating site with public commenting. Links which are included in content can be flagged to be ignored by search engines by adding the rel="no follow" tag into the link code: <a href=http://www.urllinkname.com" rel="no follow"</a>description text</a>.
Links within a blog's public comments could pass on reputation to pages that don't warrant it, or are "spammy sites" themselves. Blog comment areas are highly susceptible to comment spam, which is a negative indicator for page rank in SEO. Two good methods to avoid comment spam: 1) use CAPTCHA's which identifies the poster as human with grammatical and numerical checks, and 2) turn on comment moderation, where every comment needs to be approved prior to posting.
Mobile sites
Dating Factory sites are all mobile enabled by default, which is a fantastic benefit of working with Dating Factory. There are some tweaks that should be made to the default mobile settings, such as adding a mini logo (a smaller sized image based on the site's main logo) to make it distinct and appealing to mobile visitors. There is a link in the Individual pages editing section of the site to access the mobile page settings.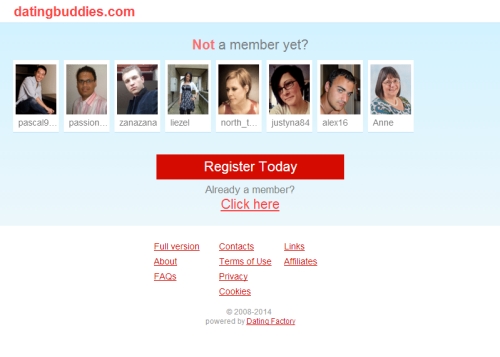 The first thing to do is to click on the check box to switch the front page mobile site icon to "on", then remember to press "Save"! Then upload a logo 32×32 in size, and amend the text to a strap line for the site, subject to whether the logo is properly legible or contains the words describing the site. Then choose the format of the mobile site landing page, preview them to see what they will look like and save the most appropriate version.
Search for the site on a mobile phone to check that it is indexed and displaying correctly.
Backlinks
Backlinks must be one of the most discussed and contentious issues in SEO. It can be a great way of effectively promoting new content, leading to faster discovery by those who are interested in the same subject. One method is to use a blog in WordPress or Blogger, and post about sites on these blogs, effectively creating backlinks to the sites, and information which others can share or comment on. Avoid buying links to other sites, and ensure that links are relevant to the site being linked to and from.
Free tools
Google Webmaster provides some great free tools to give insight into a site's performance and can provide pointers to page rank issues. Always check for crawl errors on the Crawl Error page of Webmaster tools, which shows the urls in a site that Google tried to access and couldn't. Review and fix where required, and Google will pick the changes up on its next visit.
HOT TIP: REMEMBER – There's almost nothing a competitor can do to harm a site's ranking or have a site removed from a search engine index. If you're concerned about another site linking to yours, contact the webmaster of the site in question. Google aggregates and organizes information published on the web; it doesn't control the content of these pages.
So the bottom line is that site owners are in control of how a site is indexed and ranked. Ensuring adherence to basic SEO principles give the site as good a chance as any other from being ranked highly, with Page 1 Spot 1 being the goal.
In Summary
The basics in this article need reviewing and monitoring to ensure both compliance with SEO best practice and avoidance of issues which could downgrade the site;
Align the robots.txt file with the content that search engines can link; it's a waste of time generating new content on a page that's blocked by the site's own robot.txt file;
Review any links from the site to other sites, and vice versa, and check that they are relevant and worthy of a link;
If there is a blog embedded in the site, ensure that blog comments are set to need pre-approval before posting and use CAPTCHAs to filter automatic spamming; also ensure that "no follow" is set against blog comments to avoid association with spammy sites;
Update the site's mobile page settings so that the site looks good on a mobile device; check it out on a mobile as well, don't just assume it will look ok;
Backlinks muse be relevant, quality and not over-used; never buy links from link farms;
Use the free tools on Google Webmasters to monitor a site's health, in conjunction with others, especially Google Analytics.
Good luck!