In my last blog post, I introduced you to MozBar to use as a tool for analysing on page content, which is critical for good natural search rankings.

The main focus of the post was to ensure that when you add in additional landing pages as new content, you also add in specific metadata for your pages. This will enable search engines to recognise your content as unique and register it for search.
Mozbar, which is free and integrates neatly with Chrome or Firefox as a toolbar option, has lots of other features as well, which you should use to review your site's SEO quality and check out competitor web sites as well. The pro version of the tool allows you to:
Access important SEO metrics at a glance as you surf the web.
Create custom searches by search engine, country, and region or city.
See how difficult it is to rank for a given keyword.
Expose page elements with the Analyse Page overlay.
View social metrics for Facebook, Twitter, and Google+
Let's look at the free features. The tool will integrate with Google Chrome to place an analytics tool bar underneath each site returned on a search for match.com as an example: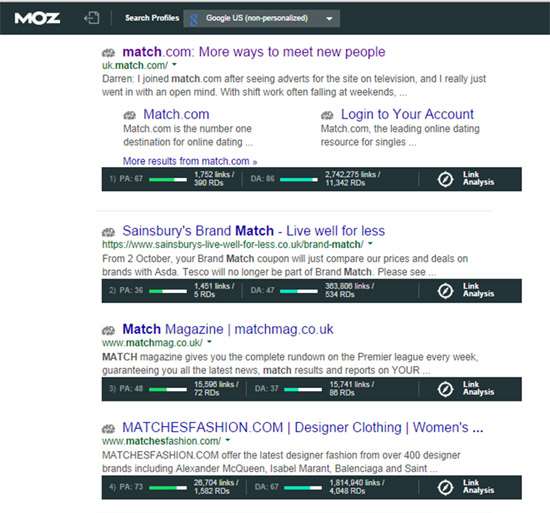 The analysis shows the site's page authority, and links to and from the site, with a link analysis available. Clicking through to Moz.com's site displays key information about the site and allows you to compare up to 4 sites. I compared three of my sites with two main stream market leaders to understand their ratings and my sites' relative scores: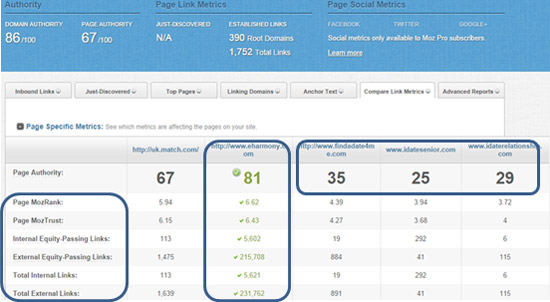 This analysis gives me a clear understanding of the areas I need to work on to build my site's domain authority and SEO rankings:
Number of equity-passing links that come from pages on the same root domain as this URL.
External equity-passing links are those that search engines generally consider to pass ranking value that comes from external websites.
Clearly internal and external link building is a major element of SEO quality and will be looked at in future blog posts.
MozBar has features which enable you to analyse a site's key SEO features, which can be found in the drop down at the top of the search page:



The on page elements cover metadata, H1 and H2 tags, bold / italic text and alt tags. If you discover any gaps in these areas, address them as they are fundamental good SEO practice. General attributes include the Page Load time, which is one of Google's algorithm components. Link metrics report the number of internal and external links for the site – take a screenshot of these so you can reference how they improve (or not!) over time based on actions that you take.
The Markup section highlights some more factors such as structured data, open graph protocol, Twitter cards and microformats, all of which will be explored in future articles. The main one to ignore is Google authorship – until recently Google Authorship played a key role in site authority on Google, but this is no longer the case.
The Link Highlighter tool will identify links on your pages and the type of links that they are: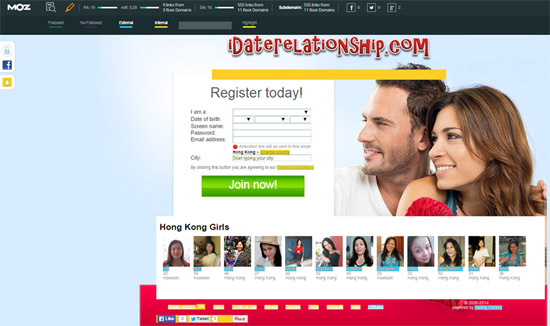 This is a great way to analyse your site's content and look at the balance of internal and external links on your page.
In Summary:
The free analytics provided by MozBar are very useful insights into how your site is constructed and where you can improve it for SEO
Focus on getting the basics right then move onto more advanced structured data improvements
Compare your site's rankings against other competitor sites and focus on improving your site based on where other sites outrank you.
Good luck!