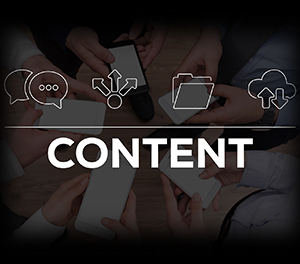 Let's say you're planning on buying a boat. The first thing you'll probably do is check out the offer online. Google has become our ultimate answer-provider, so you'll type in a query in the search box and browse through different websites. After half an hour of looking through different boat catalogues, chances are you'll notice the prices are basically within the same range, as well as the offer of models. Now, what will determine what provider, i.e. merchant you're going choose?
We all intuitively seek the opportunity to build relationships with companies and that's exactly why we prefer one over the other. How do brands manage to woo you? Through the power of words and by being well aware of the value of marketing built on relationships, not solely on profit.
That's where content marketing steps in. It is an essential part of every carefully crafted, inbound strategy. No matter what your business is about, having a blog section on the company's website is mandatory. Same goes for personal websites.
Although in the past, there were a lot of doubting Thomases when it comes to the effectiveness of content marketing (mainly because measuring ROI isn't always that easy and tangible), producing quality content today is an absolute must. It helps you position yourself as the thought leader in the industry, connect with your audience on a deeper level, and drive intelligent traffic while implementing savvy SEO practices. So, in addition to engaging your target group, you're also working on climbing up the SERP ladder, i.e. becoming more visible in cyberspace.
Talk about killing two birds with one stone.
The higher the number of people who know you exist, the greater the chances are of converting those site visitors into customers and, eventually, turning them into your brand ambassadors. The content you produce is your most precious ally when it comes to positioning your brand image and gaining the trust of your potential buyers. If executed properly, this approach will bring great results, which is why today 93 percent of the B2B marketers are investing.
But what about your whitelabel site? How can you uplevel the content marketing game for greater results? Here are five things you can easily start implementing.
1. Always Have Your Audience in Mind
Owning a white label website implies having a site with a specific focus, so the content should be built around your target audience. One of the biggest mistakes marketers make is writing blog posts in which they are personally interested, forgetting what their readers want to know more about. It's not always easy, however; to fathom what they actually want to read. There are several different ways you can learn more about the profile of your audience as to adapt the content to their needs:
Check What Your Competitors Are Doing
Try to define the techniques they are using, their set communication tone, the topics they cover, the frequency of publishing blog posts, how they handle interactions and motivate people to engage in a conversation, etc. There's nothing wrong with stealing a few tricks from those who are already successful in your niche.
Find Out the Questions Bugging your Audience
You can search through communities such as Quora and Reddit, or snoop around social media and explore suggested queries when typing a keyword connected to your business in the search box. This will help you find those fiery questions your target audience wants to know more about. You can also use the tool called Answer the Public to see what interests them. Given the fact Dating Factory is the white label and private label dating platform, let's have a look at the appropriate example. If you type "online dating" in this tool's search box, you will get over 150 popular questions, such as:
How online dating changed relationships;

How online dating works;

Can you trust online dating sites;  

Why online dating doesn't work for me;
… and so on. You can use this when brainstorming about possible blog topics. Knowing your audience inside and out is what makes your strategy purposeful and eventually successful. You cannot just write random blog posts, hoping that they'll resonate with at least someone. In addition to being intriguing, engaging, and unique, your content also has to be relevant, i.e. it has to provide an answer to the question your target audience actually searches.
Ask The People What They Want
There's nothing wrong with directly asking your audience what they would love to read about. The best way to do it? Lightly composed surveys that don't take too much of people's time. Don't give too many choices or demand detailed answers; it's likely people won't respond. In addition, you don't need to know everything about them, just enough for creating meaningful content. Ask people to answer your questions via social media or within the email newsletter, and make sure to underline that you appreciate their time and effort.  Mind the way in which you're doing it in order to provide them with better and more relevant content.
In addition, people usually react positively to special edition or thematic posts. For example, if you own a white label dating site, you can craft some posts with a focus on Valentine's Day or New Year's Eve, which are popular dates for your specific target group.
2. Work On the Quality of Your Content
Needless to say, people won't stick around your website if you don't provide value. In addition, they are used to instant gratification, which is why you should make hooking their attention your top priority. Always focus on improving the quality of your content. This means you should strive towards being original and fresh. But doing so doesn't mean you have to reinvent the wheel; sometimes it's more than enough to find a new angle to an existing topic.
Here are a few tips on how to increase the quality of your content:
Always have the end goal in mind, i.e. know what you want to achieve with the article.

Rephrase the headlines (the results of an extensive

study conducted by BuzzSumo

showed how important it is to formulate the title so that it triggers action and engagement).

Don't be afraid to take a controversial position (this is usually what sparks interactions).

Use the language that's familiar to your audience.

Paint the picture with analogies and adopt the method of storytelling.

A little bit of humor and a few chuckles make your content more consumable (and shareable).

Provide unique, expert insights (this will set your content apart from the crowd).

Write as you speak (it creates a good flow for the text and makes the process of reading more pleasant).

Include a call to action where appropriate.
Given the fact content marketing is based on trial and error, it's always a good idea to use Google Analytics in order to measure the performance of your texts. It can be challenging, but also exciting to figure out what can be done better.
3. Don't Be a Slave to Only One Content Form
Most of the webmasters rely solely on text format, accompanied with some images to make the post more eye-catching, appealing, and readable. However, this prevents you from reaching a wider audience and generate leads, as you miss the opportunity to communicate on a more visual level, too.
When it comes to content forms, there are written articles, white papers, case studies and eBooks, infographics, and videos. Video has perpetually been called "the future of content marketing," although it's highly debatable whether or not it will ever push the text out of the picture. In any case, numbers don't lie: adding a video to marketing emails can increase conversion rates by 80 percent, which is huge! Around 87 percent of online marketers integrated video into their digital campaigns, and the reason is clear: videos require less cognitive strain and through the power of image, they influence our emotions on a deeper level compared to written content.
Try to understand that the way users consume content has severely changed. A stunning 81 percent of people only skim through the content without actually reading it from top to bottom. This means our fast-paced, everyday life has made us look for key information in every text we encounter, which is exactly why you should pay attention to clever text formatting, great visuals, and turning to other forms, as well. Repurpose your content so as to tap into different segments of your audience.     
4. Invest Your Efforts in SEO
Optimizing your web pages for search engines is something you need to do if you want to become successful and survive on this highly competitive market. Google is all about providing users with the most relevant results. By implementing simple, white-hat SEO techniques, you can slowly work towards earning better rankings.
First, let's talk about the article length.
Most of users firstly scroll through the text to see how long it is and if it's too long, that might be a deal breaker and they'll probably close the page. There has been quite a discussion about the optimal length of articles that is both SEO and user-friendly. Long-form content (1000+ words) is what performs the best, but you should always prioritize quality over quantity. In addition, you should break chunks of text with relevant images, format the text properly, and maybe even leave a little note on the top of your article, where you will say how many minutes a person needs to read through your post.
Here are the basic SEO practices you should implement:
Insert keywords (do a keyword analysis using

Google's Keyword Planner

in order to determine what phrases are most commonly searched for);

Be careful when linking (link only to reputable sources as Google interprets these connections positively);

Use keywords organically and avoid keyword stuffing (include relevant keywords in titles, headings, and subheadings, and don't even think about manipulating the search engine, that is – if you don't want to get penalized);

Try appearing in a featured snippet (write "how tos" and other posts that clearly answer a certain question and provide the main part of the answer in the first 58 words, so that Google recognizes it as the best possible result);

Create ALT tags for all of your images, so that search engines can index them and they appear in relevant search results;
You should always have users in mind when writing and never subordinate your content to search engines. Focus on providing your site visitors with relevant, valuable, and engaging content, while mindfully placing keywords.   
5. Don't Forget About Distributing Your Content
Has the following scenario ever happened to you: you write an awesome piece of content that is completely in line with what your audience wants and expects, you've formatted like a boss, and included great images that make the post look appealing and still, it has been read by just a few people. Why is that?
Well, while there might be many factors at play here, the most probable reason for your content not performing that well is poor promotion – or the total absence of it. Logically, in order for people to discover your amazing content, they need to know it is there. Don't worry, there are many channels you can use for promoting your posts.
Social media is extremely valuable here. According to the Digital in 2017 survey (originally published on We Are Social ), there are over 2.8 billion social media users across the world. Now, that's quite a lot. This makes all kinds of audiences far easier to reach, especially in comparison to marketing in the pre-digital era. Use your Facebook, Twitter, Instagram, and other social pages to maintain the relationships with your followers and share content you post on your whitelabel site.
Avoid making the common mistake: every social network functions in a different way, especially in means of the content formatting and the way of communication that people expect. You shouldn't apply the "one-size-fits-all" rule and share the exact same content all across different channels, without changing the snippet. You can share the link to your content everywhere, but mind the format of each post placed on different social pages. Another way to ensure your content is put in front of the right audience is by using hashtags on Twitter or posting to niche-focused Facebook groups. Hashtafigy is a useful tool you can use to explore the popularity and relevance of hashtags you plan on choosing.
In addition, you can promote your content through subtle commenting on various community sites (e.g. the mentioned Reddit or Quora), or instantly submit it to websites such as StumbleUpon and GrowthHackers, if the topic fits the guidelines and requirements. Other proven methods include email marketing, sponsored posts, and paid advertising. Ego-baits do wonders for white label online dating sites, although it might take some practice until you find the right way to do an outreach.
Final Takeaway
When it comes to Dating Factory's white label sites, the setting up part is easy. You're provided with the full database of members, options for customizing your website, the best content management system, online marketing tools, and much more. The harder part, however; can be creating meaningful content for your blog section once you put your website onto its feet. Relax – it can take some time before you get the hang of content marketing for your white label site. But once you do and people start talking, you'll start generating significant revenue. Just take in mind these five tips and be patient, as well as agile, when implementing them.