The promo tools provided by Dating Factory are a great way of increasing the presence of your dating site across a number of different marketing channels, and as well, these tools can be used your dating web site itself.
I have been actively using the tools on all my web sites and blogs, and I'll share with you some of the techniques I use, and how I believe the promo tools can enhance your site, increase traffic, and increase sign ups.
This article is not a user guide on how to generate and use the promo tools – if you need help with this, there is an excellent tutorial provided by Dating Factory here. Instead, I will explain how I use these tools and where I use them to increase the visibility of my sites.
Member Lists
Let's start with member lists. In summary, the tool allows you to create a bespoke member list for your site, which you can specify based on a number of filters, including the viewer's IP address. This, in my view, should be the preferred filter; prospects who are searching for a date ideally want to find dates close to where they live. By ensuring that your site drives member profiles based on IP addresses of viewers, this is more likely to increase the credibility of your site with your visitors, and match more closely with what your site visitors are looking for.
The other advantage of using member lists on your site is that it gives your site a more individual look and feel. It also enables you to display a broader number of members than is specified in the template. Below is a screenshot of the Log In page for one of my sites with the member's block added in the footer. This brings the page to life by promoting a range of member profiles and gives the page more authority. There is also some unique text wrapped around the members' block.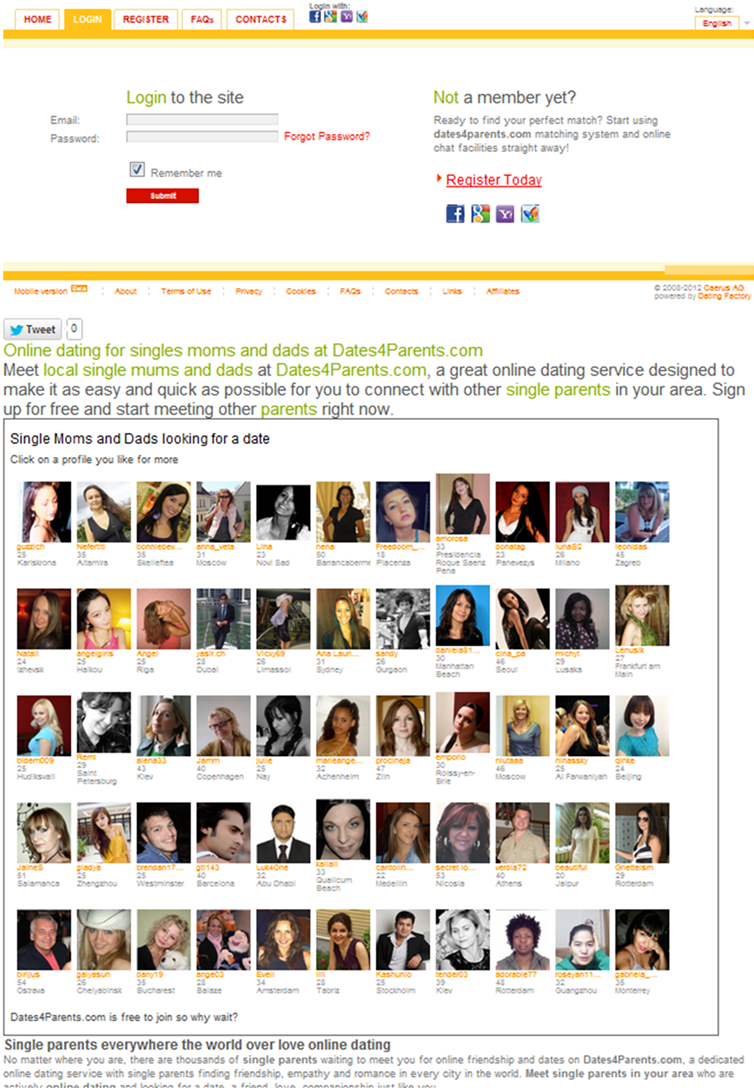 Using the footer spot on the landing page will generate the members' block on each page; you can add it into just the home page if you prefer but it is worth experimenting with position and placement. I personally think the members' block adds weight and credibility to a site, and gives more landing page options to test when advertising. The Log In and Registration pages are a bit bland for landing pages without this extra content, in my view. To add the code, simply open the header and footer tab on your site admin page and copy the promo tool code into the footer space, save and publish, job done! Write some unique content based on long tail keyword research on your niche as well. For help on this, see my article on "Keyword Analysis and "The Long Tail" – Introduction".
I also use the members' block in WordPress and Blogger blogs. An example of the members block in a WordPress blog is on my site for Top Nudist Beaches. I post reviews of nudist and naturist beaches around the world, but its primary aim is to cross sell my nudist dating sites. Here's an example for Dutch nudist beaches; as you scroll down the page, you will find reviews, directions and videos of various Dutch beaches, and at the bottom, a members' block linking to my Dutch Nudist dating site Nederlandse Naturisten. I also add a link to my Dutch nudist beach blog post on my dating site landing page. By the way, please Google+ my posts, tweet them and follow me on Twitter – I'll cover social signals in later articles; they are important, thank you!
Blogger
I'll now demonstrate Blogger as a way of using member blocks, and show how the other promo tools can be used on Blogger. If you haven't got a Blogger account yet, I strongly advise that you get one. Blogger is Google's blogging platform and it's free to open an account if you have a Gmail (Google mail) account. You can set up as many blogs as you want on the one account. Blogger is a very powerful SEO option, let me demonstrate. I have a number of sites targeting South Africa, and I have a Blogger blog called www.SouthAfricanSexContacts.blogspot.com.
A hot tip is that if you are targeting country specific sites, do your research on the Google country specific search engine, which for South Africa is www.google.co.za. If you search for "South African Sex Contacts", you get these results (correct at time of publication):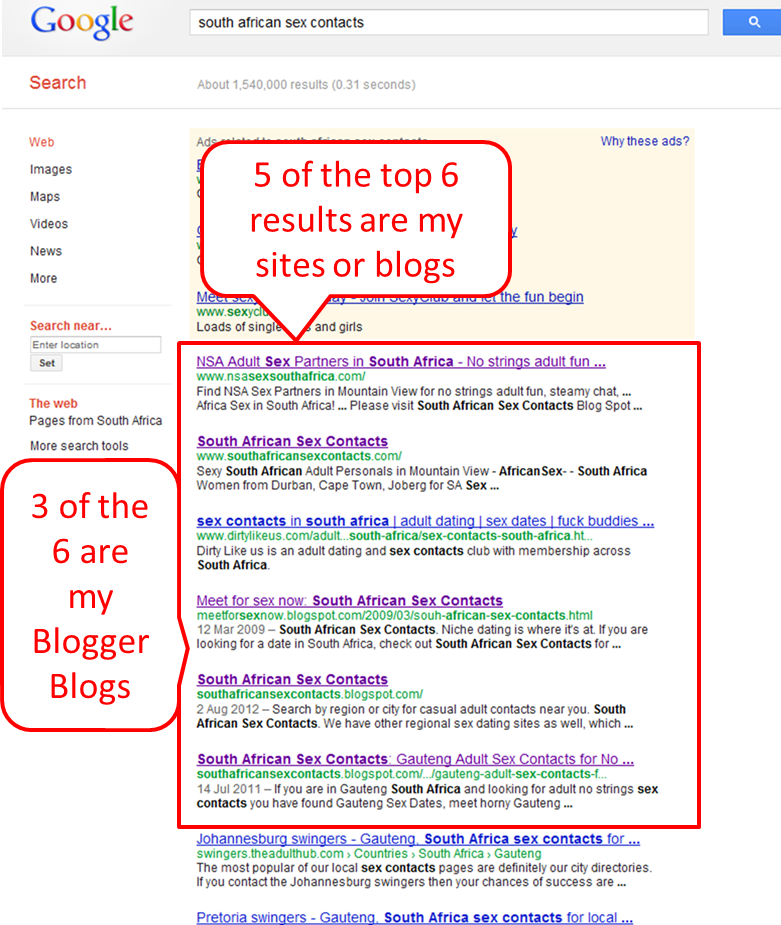 This emphasizes how important Blogger blogs are within Google; the key is to keep the content fresh and not to over-emphasize too much the commerciality of the links on the blog. I recently had one blog closed down by Google as it was too overtly commercial. But for now, my South African blog is serving me very well, and I get a lot of natural traffic from this source. The members' block is integral to the flow and content of the blog post: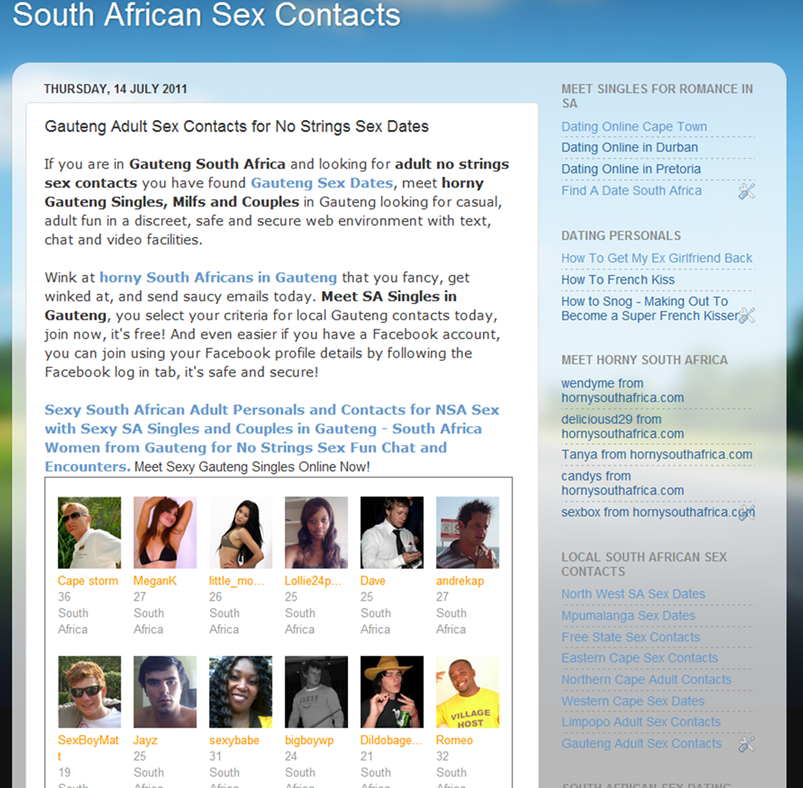 You can also use the other Dating Factory promo tools within both WordPress and Blogger blogs which is the IM pop-up; another favourite of mine. The IM pop-up breathes life into a blog post, engaging and encouraging the visitor to click on the invitation to chat and a direct link to your site. I use the pop up on all my dating sites and in my blogs. If you add the code into an individual post (which you do in the HTML code view of the blog, not the text view), the pop up will appear specific to that post. I have some examples on my DatingPersonalsDirectory WordPress blog, where the pop up is directly linked to my DateANudist.com dating site, and is only associated with this individual post, so very targeted as the post is about dating for nudists.
This post also includes the Quick Search box, which again links directly to my DateANudist.com dating site. You can also choose the registration option as well, and insert into the post; don't just post them for posting's sake, make sure they fit in with the flow and context of your post, inviting the reader to engage.
The code for the Dating Factory promo tools can be added into Blogger posts just as easily; just remember to use the HTML view of the editor, and preview the post to see where the promo tool appears.
Last but not least, RSS feeds are very useful to populate side bars with specific links to member profiles. On both WordPress and Blogger there are "widgets" that you can use to place RSS feeds in your sidebars. An example of how these appear is here on my South African blog:


I hope this article will inspire you to use these great tools to their maximum effectiveness and increase your conversions and revenues.
In summary:
The promo tools are there to be used, so exploit them to your advantage.
Review your dating site themes and templates, and determine which of the tools, if any will work on the site, particularly the members' block in the footer and IM pop-ups.
Sign up for a Blogger account and create blog spots to showcase your site or sites.
Create fresh, unique content for your blogs, and embed the promo tools as appropriate in your blog posts.
Use Blogger's widget to add in RSS feeds to the side bars of your blog.
Replicate these actions in a WordPress blog, but use fresh content, don't copy the content from Blogger.
Add in links to your blogs on your dating site's home and links pages.
Steven John Bolton