Did you know that around 20% of Google searches are unique? Research has shown that the "most popular" searches account for a very small percentage of search engine traffic. The top 1,000 terms in any niche will only be getting an average of around 11% of the traffic. Long tail keywords account for somewhere around 70% of searches on average. In fact every day, about 20% of the total search engine queries are completely unique terms that have never been searched before. If you learn how to manage these "long tail" and very unique keywords properly, a greater amount of traffic will be driven to your site. Source: NETLZ Consulting SEO Blog.
I conducted some keyword research recently and tested long tail keywords in Google's Keywords tool, based on keyword combinations and locations. I chose the search term "hot girls in LA", as I was looking at setting up a site targeting casual dating in Los Angeles. The area had come up in my research as a reasonable volume for a tight geographic niche. I was initially amazed and then a bit perplexed by the results: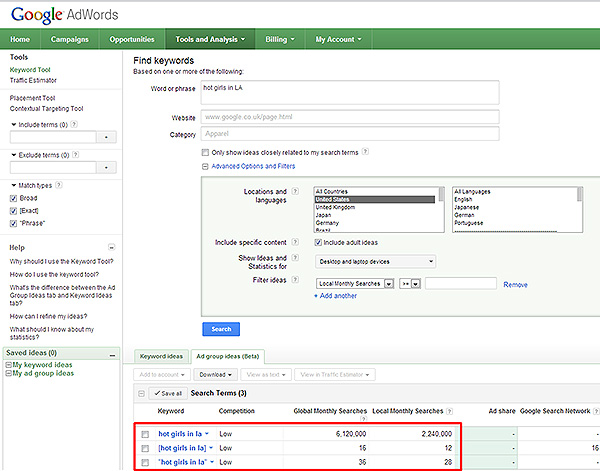 The "broad term" search returns 2.24m monthly searches in the USA alone, which looks amazing as a target, right? So I bought the URL, which was available, on the basis that it would be a great URL to acquire with strong keyword content and very high search volumes. I then remembered to do a phrase match and exact match search; the search volume disappeared! So while the site name itself is a good description of the target niche, the URL itself will not generate natural search volumes given the very low phrase and exact match results.
So, I need to do more research on dating in Los Angeles to target keyword content on the site's landing page, and for any PPC campaign I might want to set up around it. My advice here is don't jump in too soon on what might initially appear to be a great potential URL or keyword search term.
The keyword conundrum that I refer to in the article title is: How can Google return 2.24 million search results on a broad match search term like "Hot Girls In LA", when the phrase and exact match searches are so low? The only way to really find out I think is get a job with Google! However, given that is unlikely for most of us, we are left with analysis and interpretation. So let's look a bit deeper into long tail keywords, that is, the search terms that people key in when searching.
Google Searches
A source that shouldn't be overlooked is located at the bottom of many search pages that Google returns, there is a list of related searches, which effectively is an extended list of long term keywords. Look at this example below for the term "women seeking men":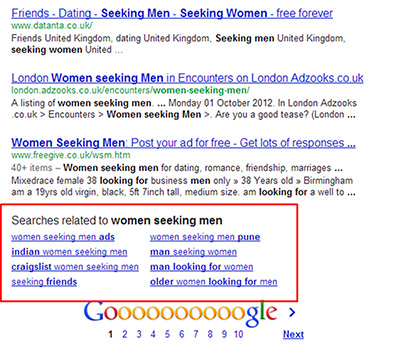 You can see that Google suggests search terms related to the initial search, which extends the original search and provides more analysis and research angles to investigate.
Google Adwords
So back to this conundrum of unique searches that may only ever be used once in some cases; the key is to look for patterns, try to identify combinations of keywords that unique searches could be grouped into and then monitor these traffic patterns and activity. In my opinion, this is very difficult to do without tools to support you, and in some cases, requires a modest investment to buy tools to do the leg work for you.
I have been using Google Adwords for around 5 years now, and as well as driving traffic, it provides me with analysis of broad terms and the specific searches that are grouped against a specific keyword or group of keywords. This is an example below of the term "women seeking men", lifted from my Google Adwords account: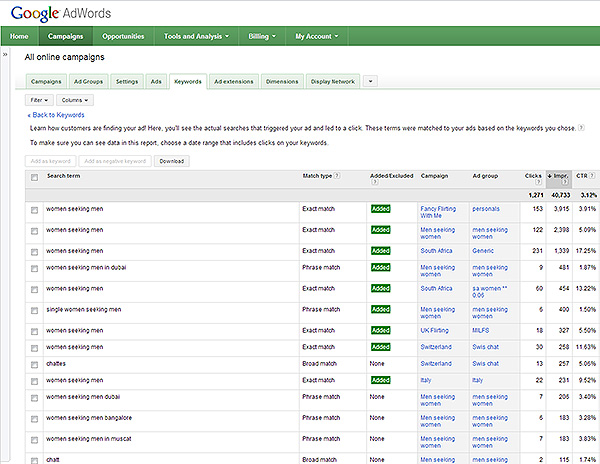 Most of the results are based on exact and phrase match for the exact search term. However, there are a few surprises in there, for example "single women seeking men" has been returned against the search term, as has "chattes", "chatt" and locations included for Dubai, Bangalore and Muscat. This is an example of how Adwords, over time, can help with understanding how top level keywords accumulate long tail search terms. I still haven't quite worked out how "chattes" and "chatt" found their way into my list, but what it does do is give me some new keyword leads to research further.
A set of tools that I have found very useful is Market Samurai. There are some great tutorials on keyword research and an analysis tool which drills down into long tail keywords, and creates a list of suggested terms that you can select or deselect as you see fit. This tool allows you to select specific countries as listed, or choose all territories, choose different languages and whether to include adult content. You will need a Google Adwords account to allow the tool to access and extract the keyword data: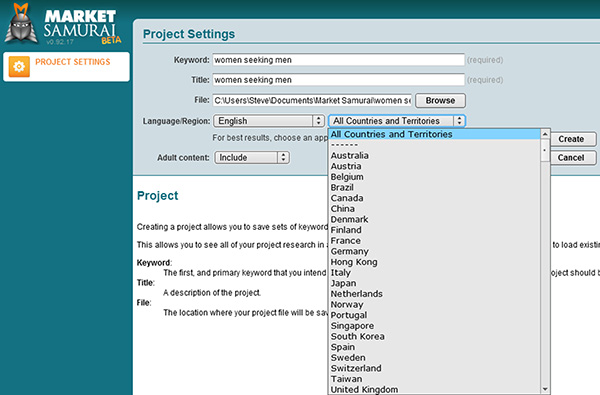 A "project" for your search term is created, and a number of analysis tools are then made available:



I'll be coming back to some of the other options available in this tool in later articles.
I chose keyword research and this is an example of the first stage keyword analysis on "women seeking men", with the project set as UK location, and English language with adult content: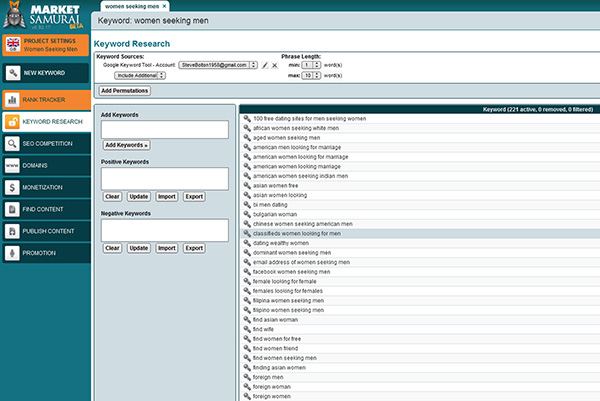 The search returned 221 keyword variations, which can then be analysed further for daily search volume: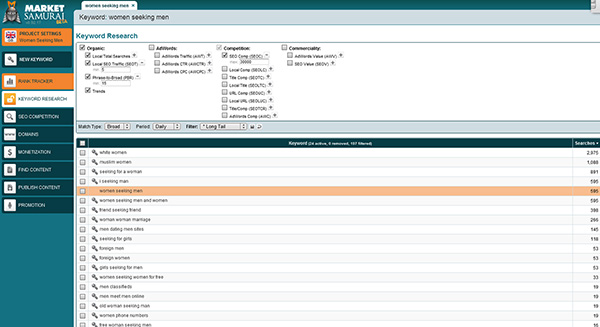 The results show that there are four keyword terms with a higher daily search volume than the original search term – how valuable is that information? The tool takes out the guess work and is excellent at pulling together an overview of long tail key word search term volumes. I recommend Market Samurai for a closer inspection; I use it all the time to find long tail keyword targets to explore further, including different language keywords.
In Summary:
Keyword research is complex and needs effective support tools to help with analysis, interpretation and finding new keyword combinations;
There are a number of tools available, some of which can be very expensive; I use Market Samurai as my preferred analysis tool to support Google Keywords and research from my Google Adwords account;
Given the nature of long tail keyword searches, my personal view is that there are amazing opportunities to find keywords and combinations that are under-exploited;
Don't forget to explore different language keywords as well, as in my experience these have not been farmed as much as English keywords yet.

Good luck with your keyword research, I hope this article has given you some insight into an approach to support your keyword research efforts.
Best regards
Steve Bolton aka Dateblogger Follow me on Twitter