One of the most frequent questions we get is "Okay, my site is now ready, how do I get traffic?" If you are a site owner and need to drive visitors to your site, there are two most popular and obvious ways of doing it: Pay Per Click (PPC) Marketing and Search Engine Optimization (SEO). There are pros and cons of using both of these marketing techniques.
First of all – what are they?
Pay per click campaigns (PPC). Is the Internet advertising model, used to direct traffic to websites, where advertisers pay the publisher (typically a website owner) when the ad is clicked. With search engines, advertisers typically bid on keyword phrases relevant to their target market. Content sites commonly charge a fixed price per click rather than use a bidding system. PPC "display" advertisements are shown on web sites or search engine results with related content that have agreed to show ads.
Search engine optimization (SEO). The process of improving the visibility of a website in search engines via the "natural" or un-paid ("organic" or "algorithmic") search results. In general, the earlier (or higher ranked on the search results page), and more frequently a site appears in the search results list, the more visitors it will receive from the search engine's users.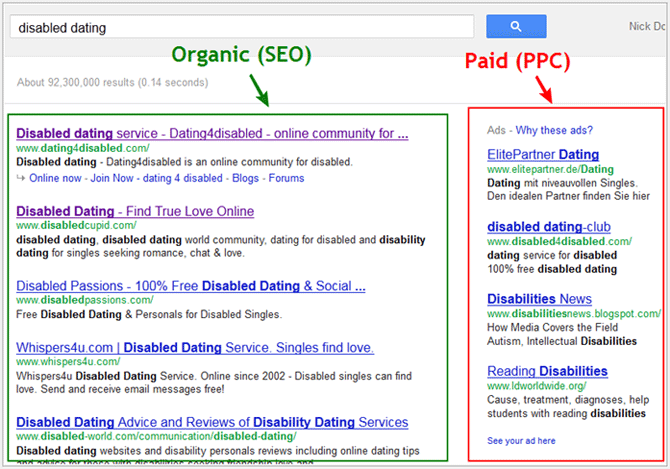 Pay Per Click Marketing
There are several famous PPC programs that you can use such as Google Adwords, Microsoft AdCenter or Yahoo Search Marketing (the last one has actually migrated to Microsoft AdCenter now).
Pros: you can easily get instant traffic for the keywords that you bid on in your PPC account.
Cons: it's always a cost. Sometimes for certain keywords (especially in online dating industry), there are a lot of advertisers bidding for the same word as you. That is why you need to be very smart running PPC campaigns. The main idea for you here is to find an ideal balance between a keyword price and a member value (which it is quite easy to find via the Reports section in your admin panel)
Check the Google PPC case study to get more information on how to start your PPC campaign.
Check our early marketing blog articles to learn some tips and tricks of PPC strategies.
Search Engine Optimization (SEO)
SEO is also very well-known way to get traffic to your site. Mainly, because using SEO, you can get a free natural traffic from the search engines such as Google, Yahoo, Bing, etc. With SEO, your traffic will be consistent for a long period (however you'll have to keep an eye on search engine updates, as sometimes they announce new searching algorithms).
Pros: if you manage to get high rankings, you'll get traffic to your site for free.
Cons: it always takes long time to optimize your site and get a better ranking. Apart from that, there are a lot of competitors optimizing their sites for the same keywords as you.
You'll find more articles regarding basic SEO tricks in our blog.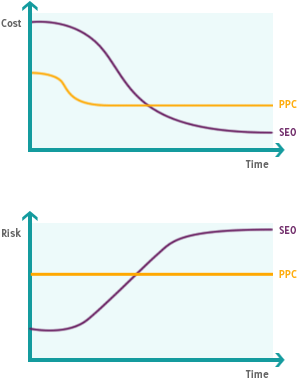 Few tips:
If you run PPC campaigns, limit them geographically, otherwise you'll pay for poor-converting traffic.
Don't hesitate to ask your account manager for the stats to know which niche markets are the most profitable ones and which countries are performing better than others.
Conversion rates to new payments from PPC campaigns are higher by 3-5% than from SEO traffic.
When running your PPC ads find out what your price per member is and compare it with your member value (you can also get average member value from your account manager before starting the campaign).
If you decide to cooperate with a SEO Services Company, make sure they're good enough (there are a lot of companies pretending to be professionals).
What would we advise?
The best way to get good traffic is to combine these two marketing methods. It will cost you more initially, but eventually you'll get better ROI.
PS: when writing this article I found a great iconographics site to share with you on the subject. Happy marketing!
Nick Dovgopolyy
Head of Partner support